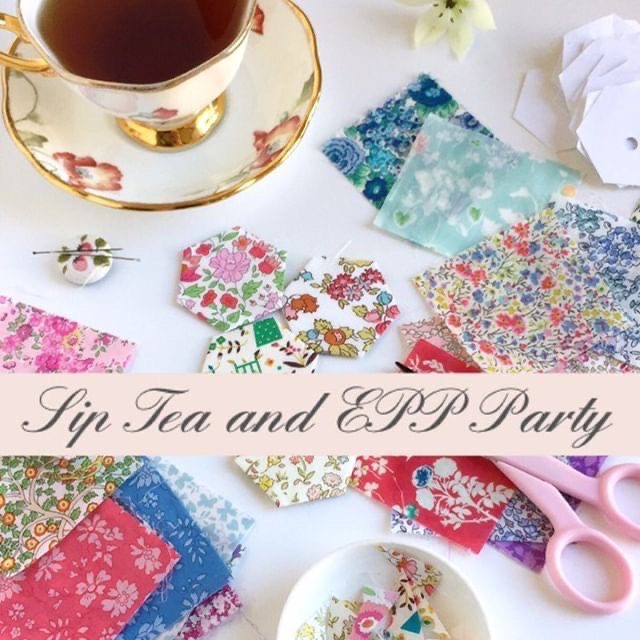 2021 Update – As much as I love EPP, I have decided to hand over the hosting of the weekly SipTeaAndEPP to Larisa from Stitching Notes and Irina from Nordic Crafter for 2021. I know they'll continue to build and grow this wonderful community! So please tag these wonderful ladies in all of your future EPP posts on Instagram!
Welcome to our Sip Tea and EPP party! This is the second year that Larisa from Stitching Notes and I have decided to host this weekly 'English paper piecing' event on Instagram. It's a lovely, inclusive, International sewing party that kicks off every Thursday night. We're all about encouraging slow sewing, and taking some restorative time for yourself, to work with your hands, sew with needle and thread, and join a like-minded community of encouraging makers who support each other. We sit and stitch, while sipping tea!
What Is EPP?
EPP (or English paper piecing) is a traditional hand sewing technique, where fabric is basted around individual paper shapes that will tesselate or fit together to form a pattern. Once the shapes are stitch-basted or glue-basted, they are sewn together to form a new 'fabric' and the papers are removed. There are so many designs and shapes used, but the hexagon (or hexie) seems to be the most popular.
If you'd like to find out more, you might like to read my beginner's tutorial.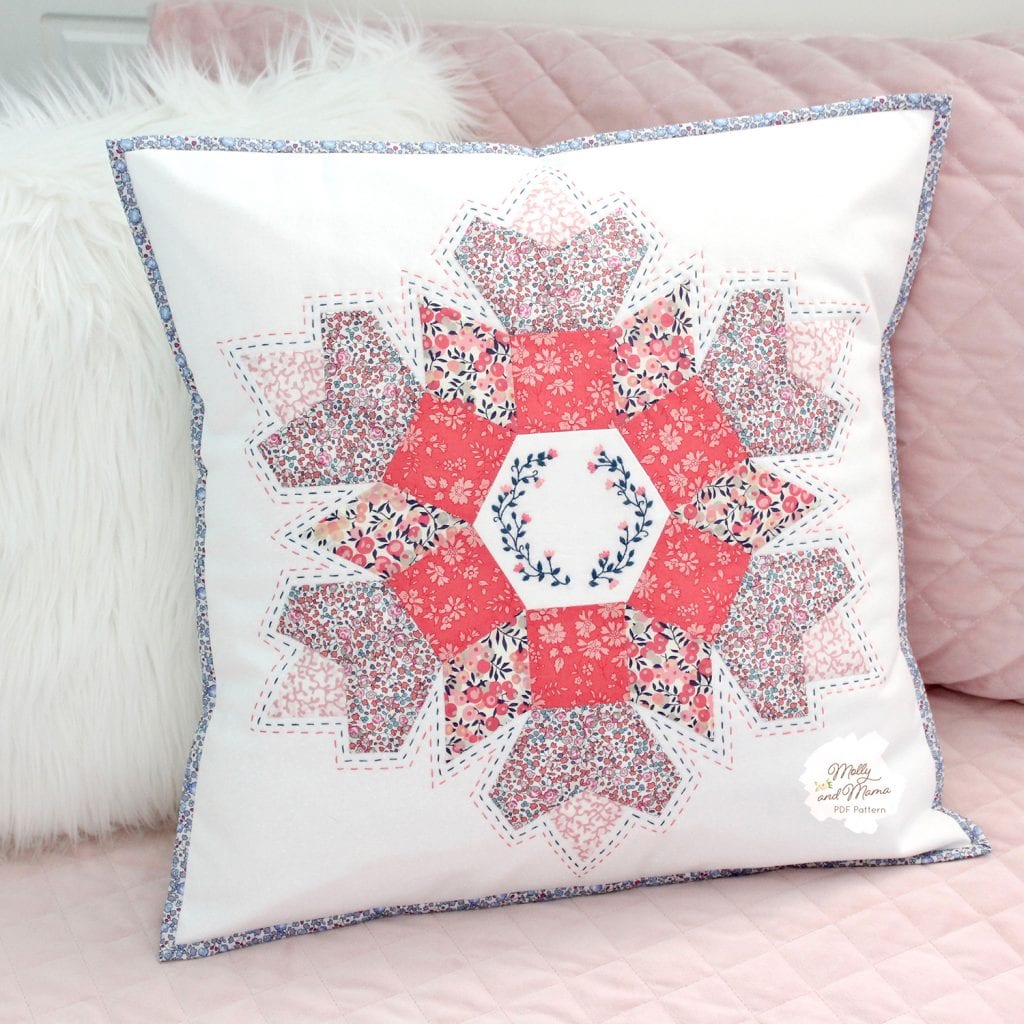 What Is #SipTeaAndEPP?
Larisa and I were both finding it hard to find time to work on our English paper pieced projects because they can be so time consuming. But rather than be overwhelmed, we wanted to encourage each other (and you too) to spend even a small amount of time each week making progress on our favourite quilts, or small sewing projects.
Originally we posted a photo prompt on Instagram on Sunday nights to serve as a friendly reminder to take out your stitching and share your work. We added the hashtag #sipteaandepp and encouraged you all to use it, so that we could all visit each other, and leave friendly comments.
What Are The Themes?
Many of you were (or are) new to English paper piecing so last year we worked with some loose themes. But this year Larisa and I have decided to add a little more structure by creating monthly themes. We're starting back at the beginning again so that newbies can learn from the start and those of you who are more experienced will be able to share your knowledge and expertise with others.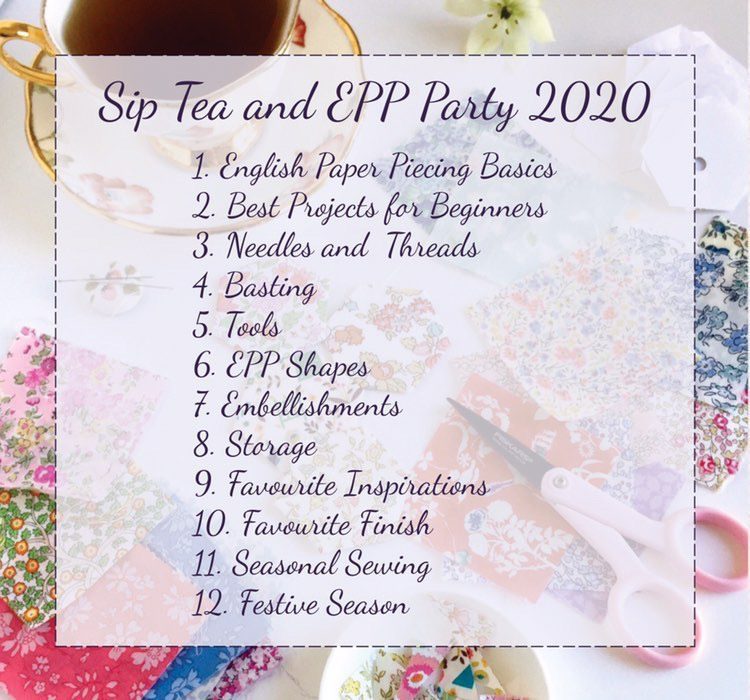 So starting in January, here are the monthly themes we'll be discussing.
English Paper Piecing Basics – what it is, basic shapes, papers, fabrics
Best Projects for Beginners – something easy to sew while you are still learning
Needles and Threads
Basting – glue and thread basting, which one to choose
Tools – thimbles, scissors, thread conditioners
EPP Shapes – ideas to use, tips for curves and sewing shapes together
Embellishments – adding embroidery, foundation paper piecing to your EPP projects
Storage – organising EPP for sewing on the go, storing it at home to increase productivity
Favourite Inspirations – books, Instagram accounts, patterns
Favourite Finish – "show and tell" what you have finished so far
Seasonal Sewing – projects for Christmas, sew along
Festive Season – slow stitching, tips how to include sewing in daily life during this busy time
How To Join In
If you'd like to join us, everyone is welcome. Here's how;
Meet us over on Instagram on Thursday evenings (Australian Eastern Standard Time) or any time that suits you during the week.
Start an English Paper Piecing project or pull out a long forgotten work-in-progress piece.
Post it on your public Instagram account using the hashtag #sipteaandepp. Be sure to tag #NordicCrafter and #StitchingNotes in your post so we can find you too!
Use the hashtag to find new friends who are also sharing their EPP. Like their posts, leave an encouraging comment, or answer a question. The idea is to be supportive, so if you have a little time to spare, this is such a great way to reach out to others.
Please consider following @nordiccrafter and @stitchingnotes. Larisa and I run this wonderful weekly event for fun but we also really appreciate your support.
You can still can join #sipteaandepp even if your Instagram account is private, by liking posts, leaving comments, and asking questions.
Happy stitching, Lauren x