Tilda Bloomsville and the Hettie Hexie Mini Quilt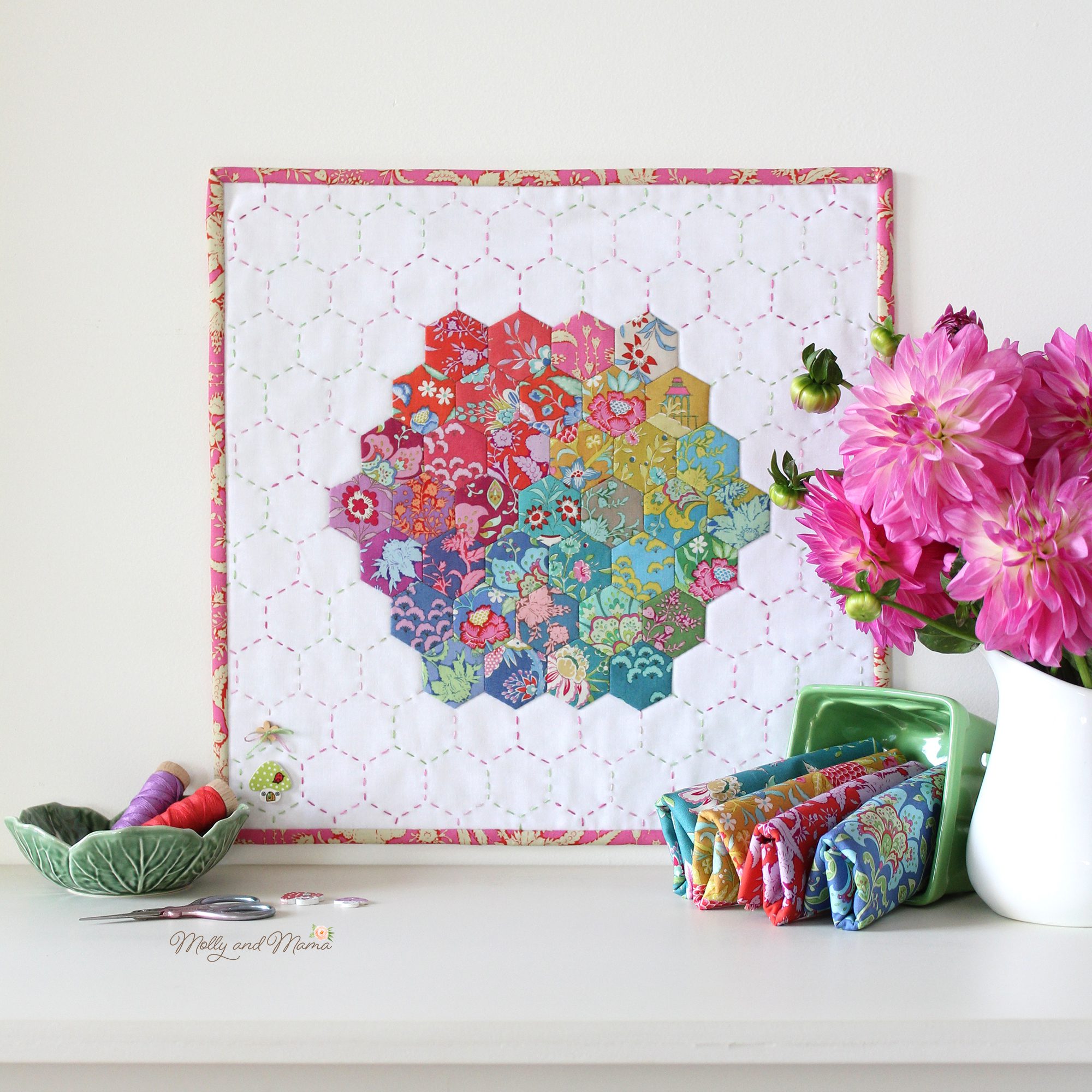 Tilda Australia recently asked me if I'd like to work with the latest Tilda Collection – 'Bloomsville'. If you've been here for a while now, you'll know that I am a pastel girl, through and through. But it's always nice to change things up and I found the bright prints in this latest collection to be both beautiful and inspiring!
So I decided to sew another version of the Hettie Hexie Mini Quilt. This English paper pieced pattern was perfect for showing off all the lovely colours and floral motifs in the fabric. I love this project because it's an easy introduction to English Paper Piecing and sewing hexies. It also walks you through the hexagon hand-quilting technique and the quilt binding process too. So it's perfect for beginners.
Pictured below is the entire collection of 'Bloomsville' prints (in the bundles on the left and the right) and also the coordinating blender collection called 'Abloom' in the centre. Isn't it fun? The vibrant colours, flowers and patterns create a bold and fresh collection inspired by old Chinoiseries and Indian chintz.
This collection will be released on the 1st of June, 2023. Ask for Tilda 'Bloomsville' and 'Abloom' at your favourite fabric retailer. You can also purchase it from The Fat Quarter Shop*.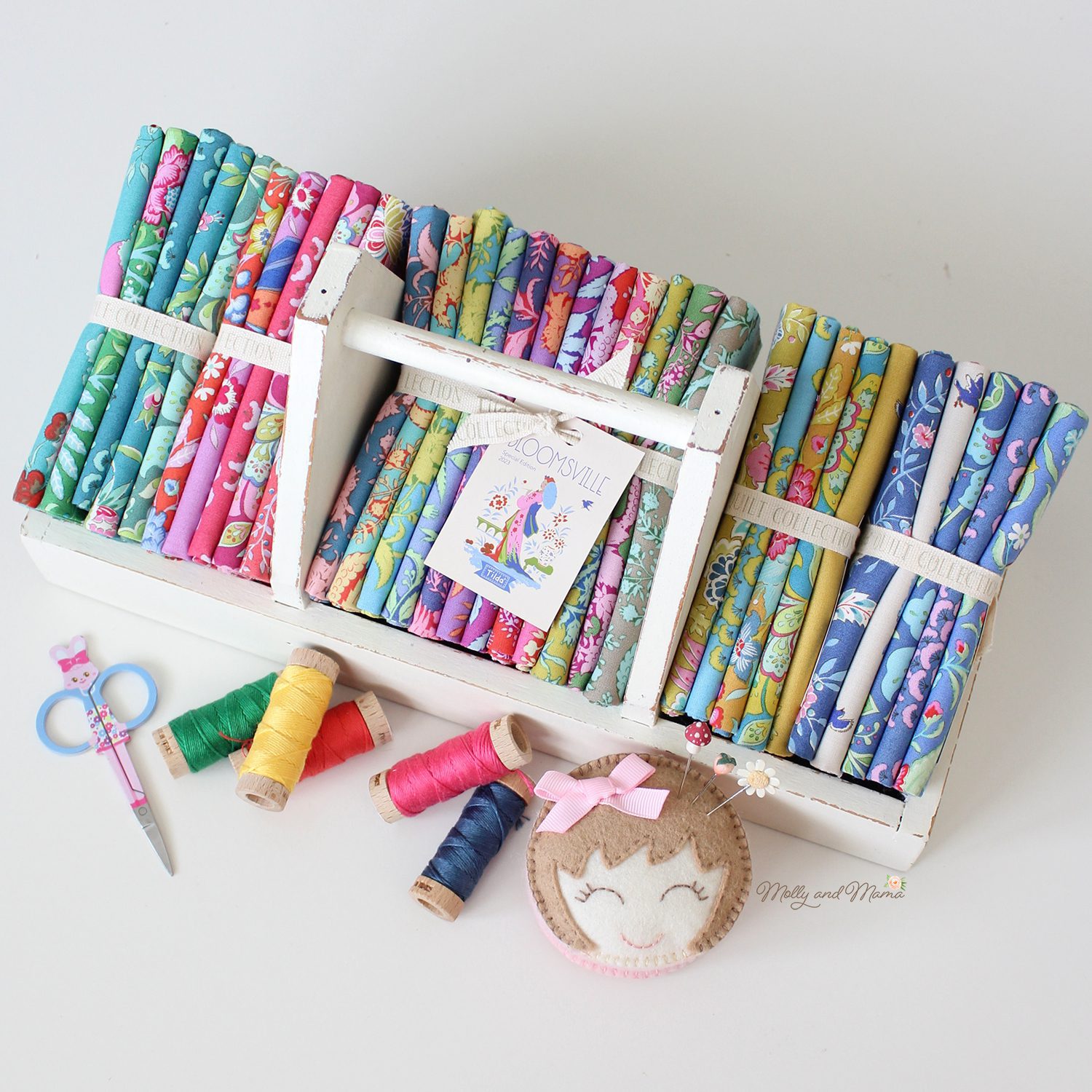 *This post includes Affiliate or Ad Links. If you make a purchase using an affiliate link, I will earn a small commission that doesn't change your purchase price, but helps me to continue to bring you this content. Thanks for your support.
Putting Together the Hettie Hexie Mini Quilt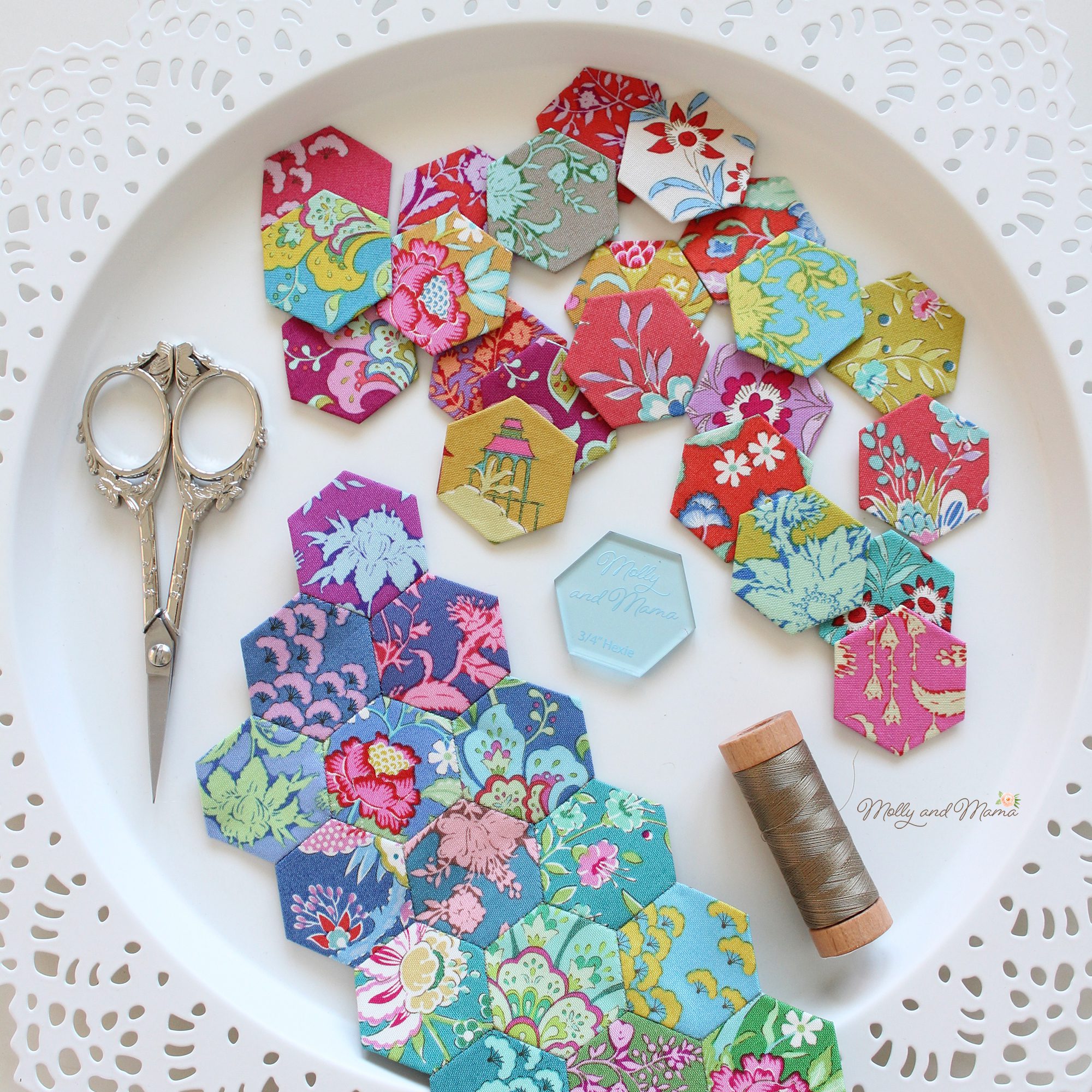 The first stage in creating this mini quilt was to glue baste a whole bunch of cute little hexagons. It really was fun choosing which elements in the design to fussy cut and highlight. Can you spy the little pagoda above? Most of the prints are lovely florals so they all worked together really well.
How you arrange your hexagons for the project is completely up to you. But I chose to graduate the colours so that the completed panel moved from the red, pinks and mauves to the blues, greens and mustards. I love the effect it gives!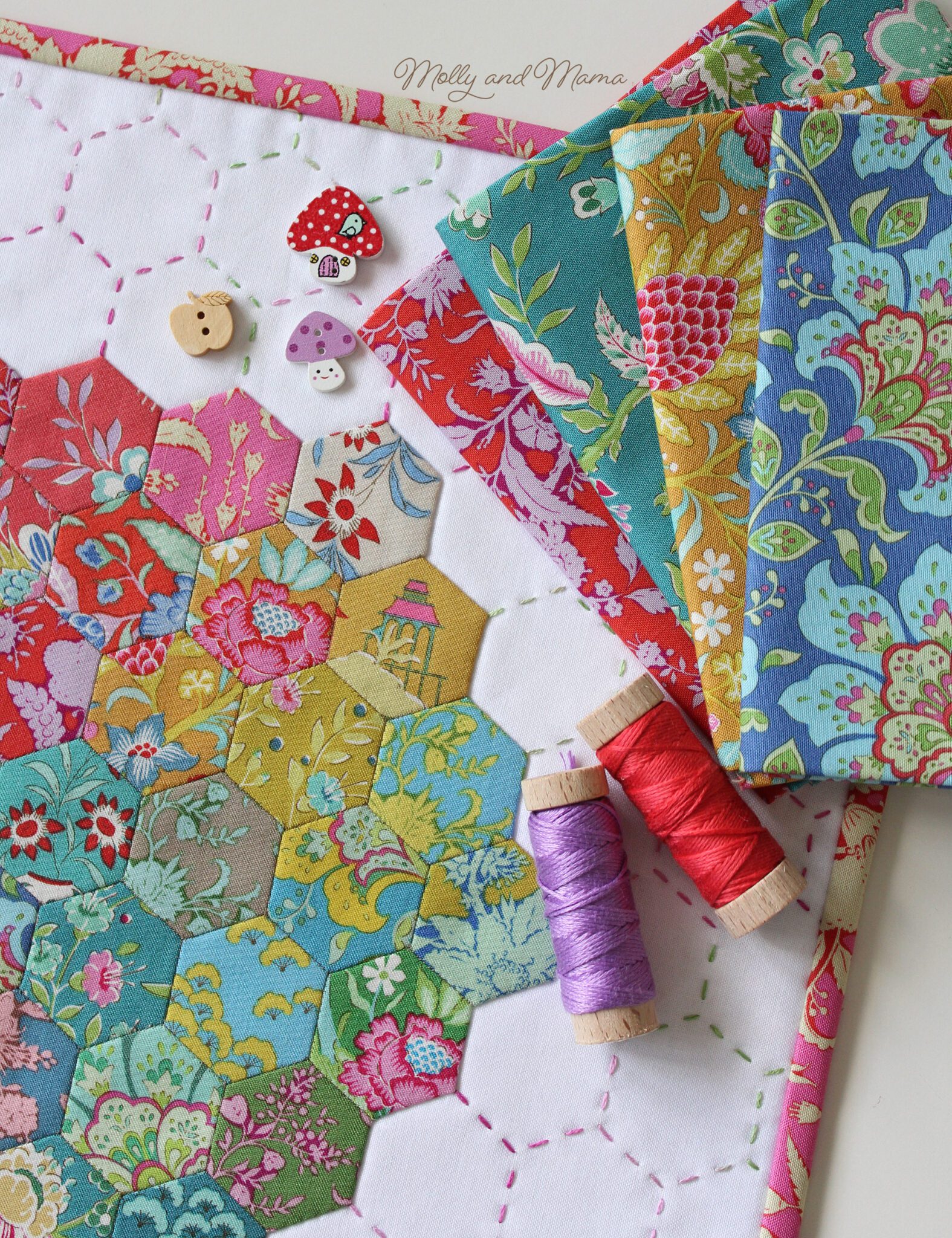 After trying a few different alternatives, I chose a plain white background fabric for the mini quilt top. It's my 'go to' colour, because nothing makes fabric 'pop' like crisp, bright, white! It's also great for showing off that fun echo hand-quilting stitched with variegated floss.
This pattern calls for the use of decorative buttons. And whilst they're completely unnecessary, I think it's a lovely way to use some of those cute little bits and bobs we buy for our sewing, but don't always remember to use (or can't work out how to use!). You can see from the image above that I was auditioning a few different options (top right) before settling on the green toadstool and flower buttons in the final version (bottom left).
I really had fun photographing this mini quilt too. As most of the decor props in my house are neutral or pastel coloured, I decided to visit the local flower farm for some vibrant living props instead. How gorgeous are the hot pink dahlias and deep pink snap dragons shown in the photos? I think they work perfectly with the fabric.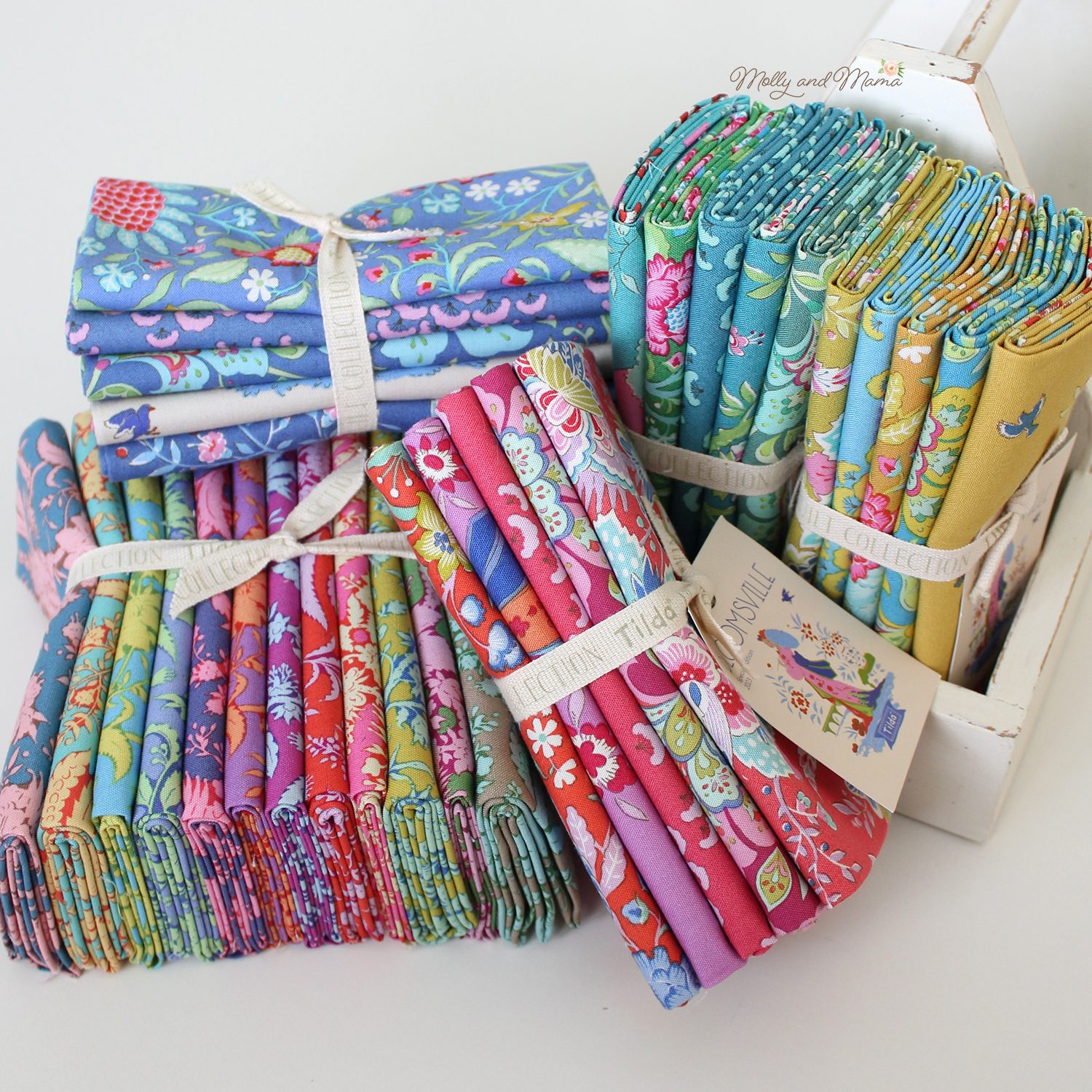 Is Tilda Bloomsville something you could see yourself sewing with? A few of my sewing friends have made some beautiful projects with this collection. Visit the #tildabloomsville hashtag on Instagram for more inspiration and ideas!
Other Versions
I've also made a few other versions of the Hettie Hexie Mini over the years. Here's the original in scrappy Liberty Tana lawn. I really love this version.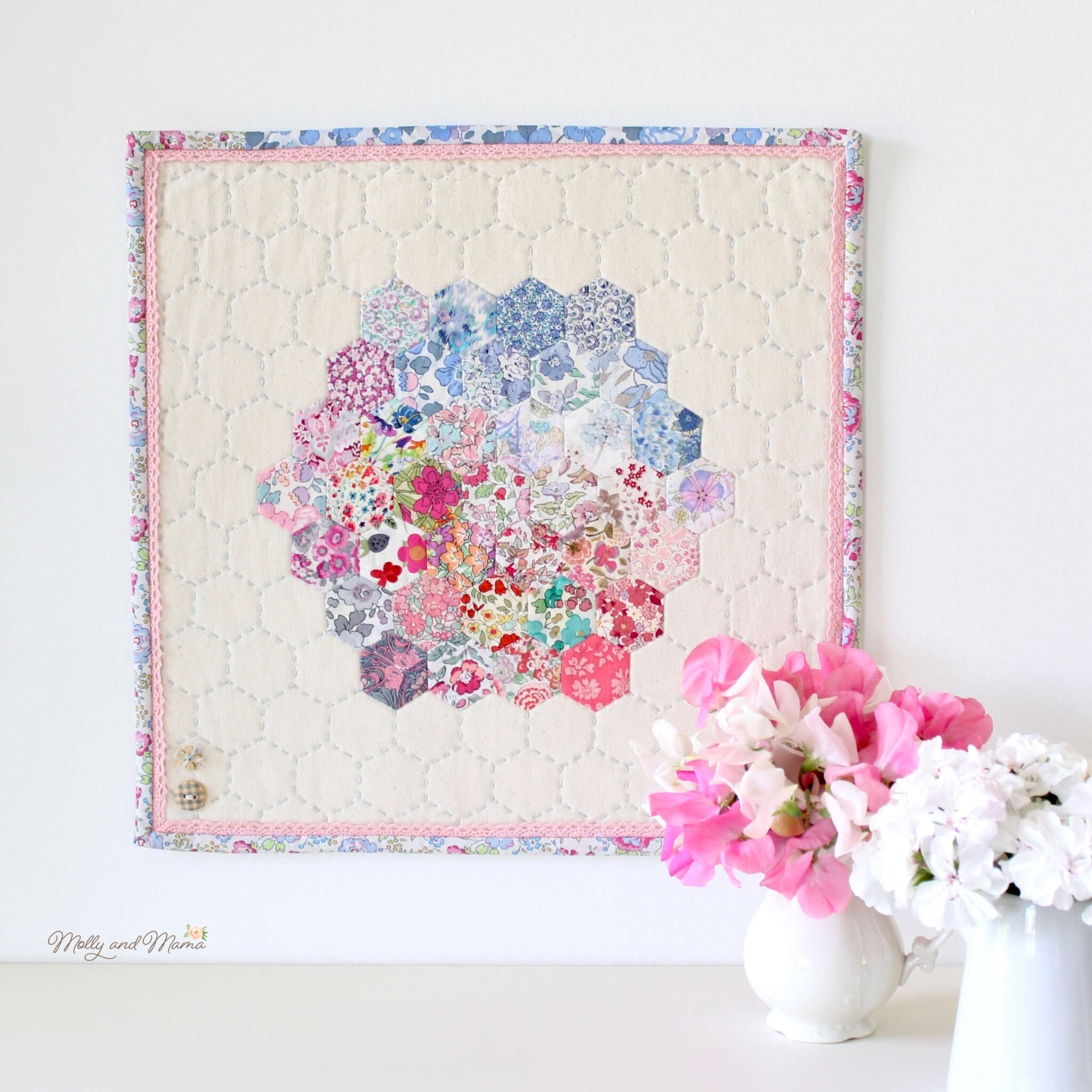 This is my Liberty Carnaby version. You can read more about it HERE.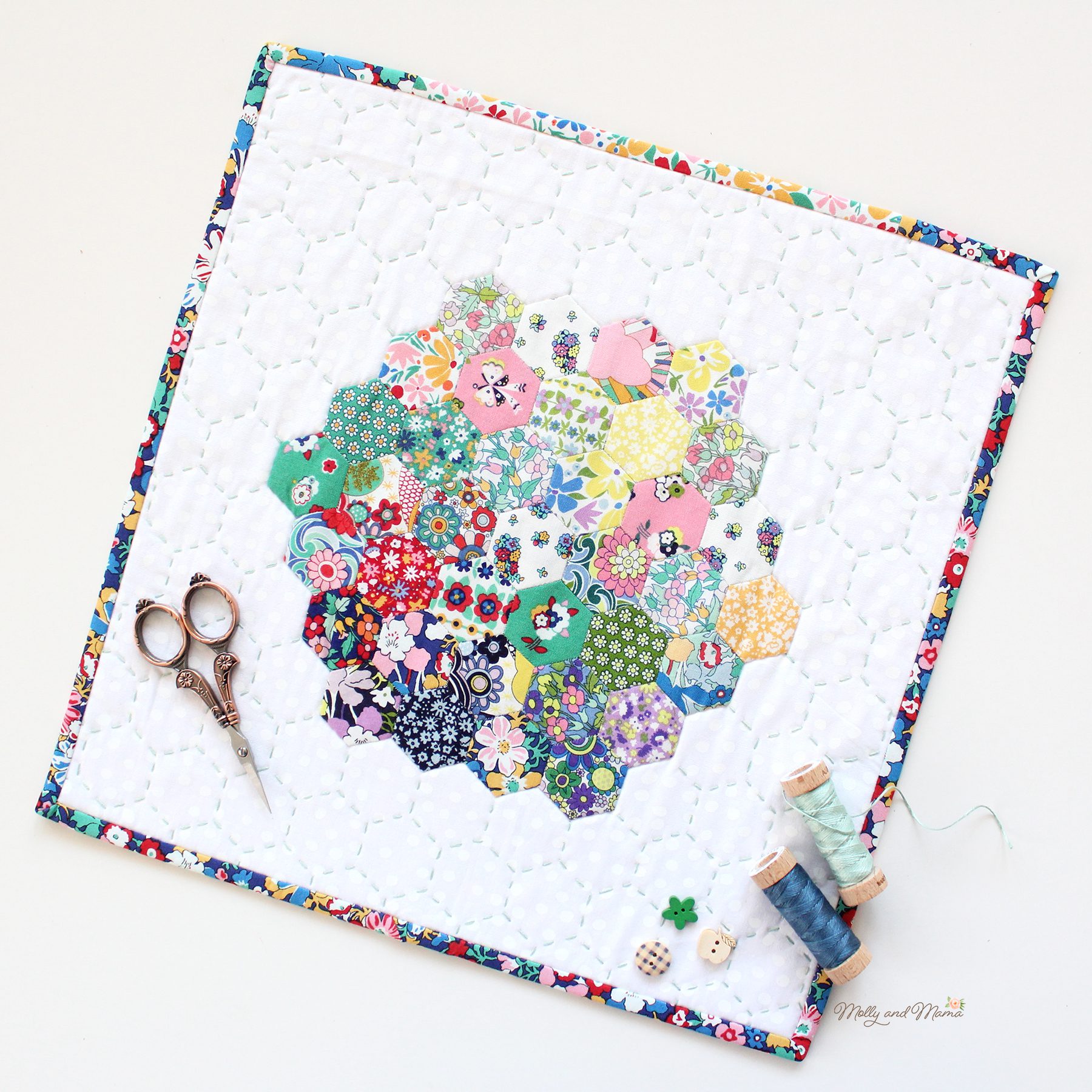 Happy stitching, Lauren x