A New Version Of The Sadie Sewing Machine Mat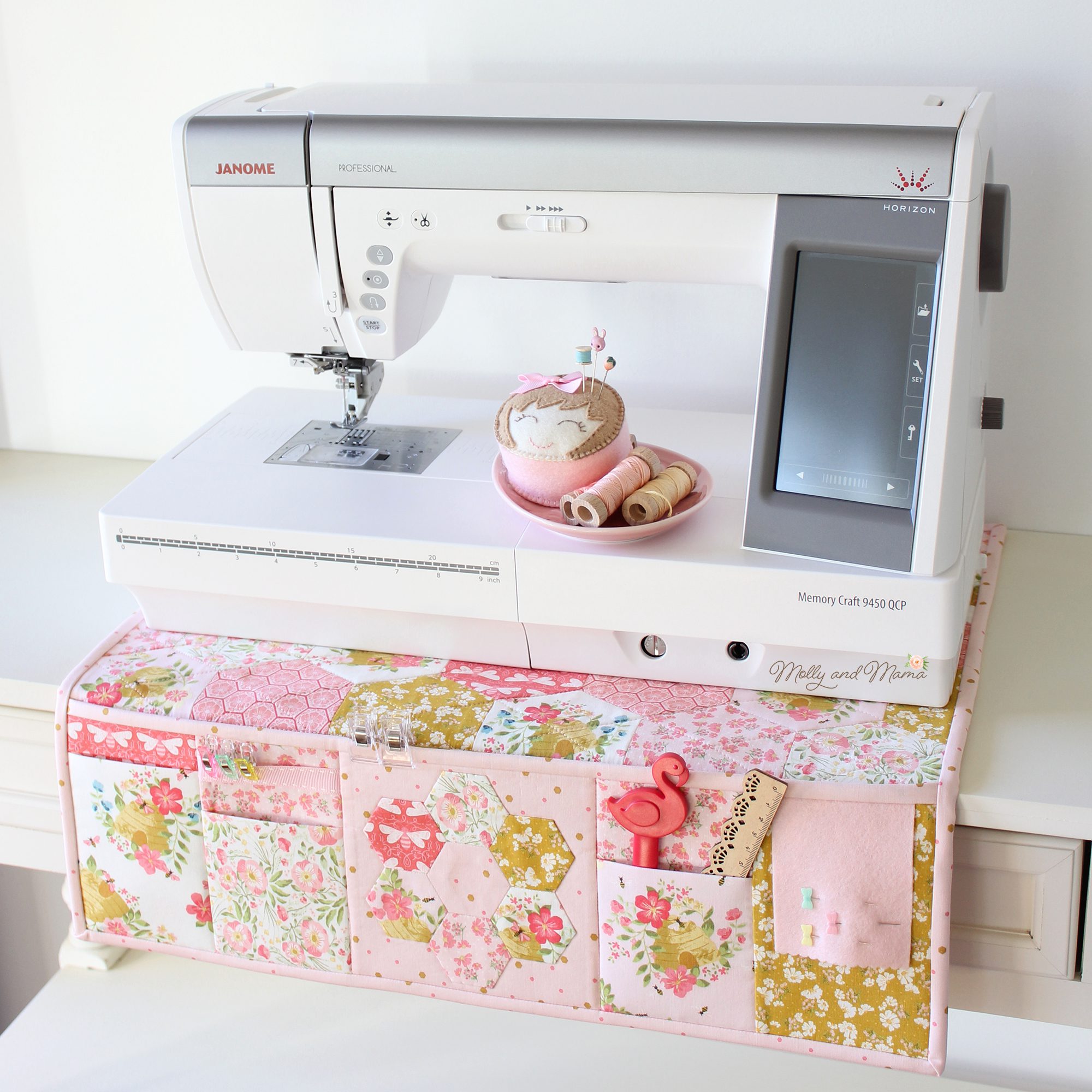 I love designing pretty and practical sewing patterns for you all. But because I'm always onto the next thing, I don't get a chance to revisit my sewing patterns often. I've only just released the Sadie Sewing Machine Mat Pattern and I already have another version to show you.
As a Fabric Blogger for Riley Blake Designs, I get to select fabrics from their upcoming collection releases to sew with. Because we're working so far in advance (and because I'm such a visual maker), I don't always know what I am going to make until I have had the fabric for a little while and have had a chance to just enjoy looking at it.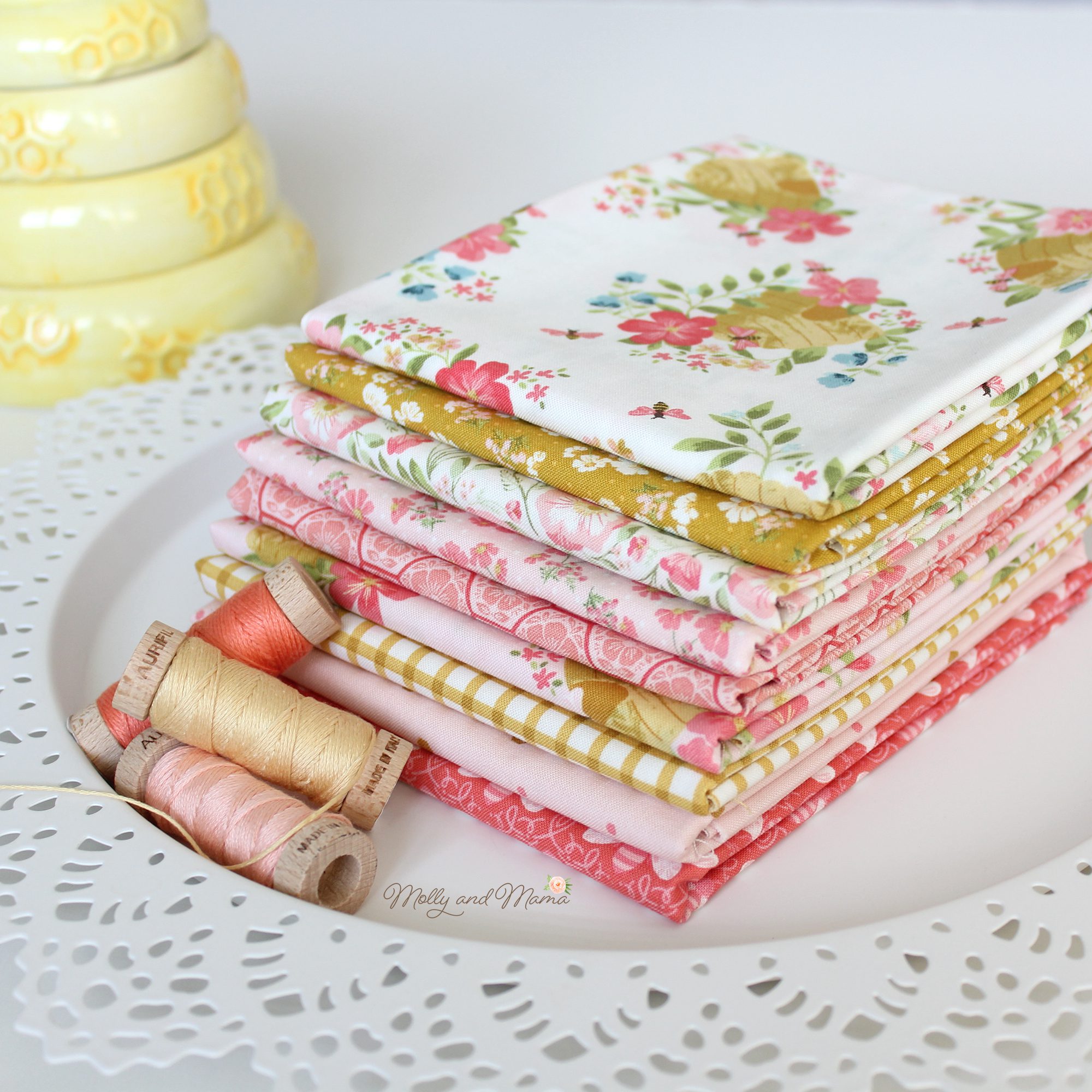 New fabric is exciting like that, isn't it? It's full of possibility and promise! Sometimes it takes a little bit of time to decide how best to feature the prints and colours in a collection.
When these pretty prints from the Honeycomb Hill Collection arrived from Riley Blake Designs, I was so excited. I seem to be really drawn to peach and mustard lately, so this little bundle was especially lovely to look at.
I knew I wanted to show off every fabric that I had selected and the Sadie Sewing Machine Mat is perfect for that, especially because of the English paper pieced hexagons. If you're new to sewing hexies, you can read all about the process in my beginner's tutorial.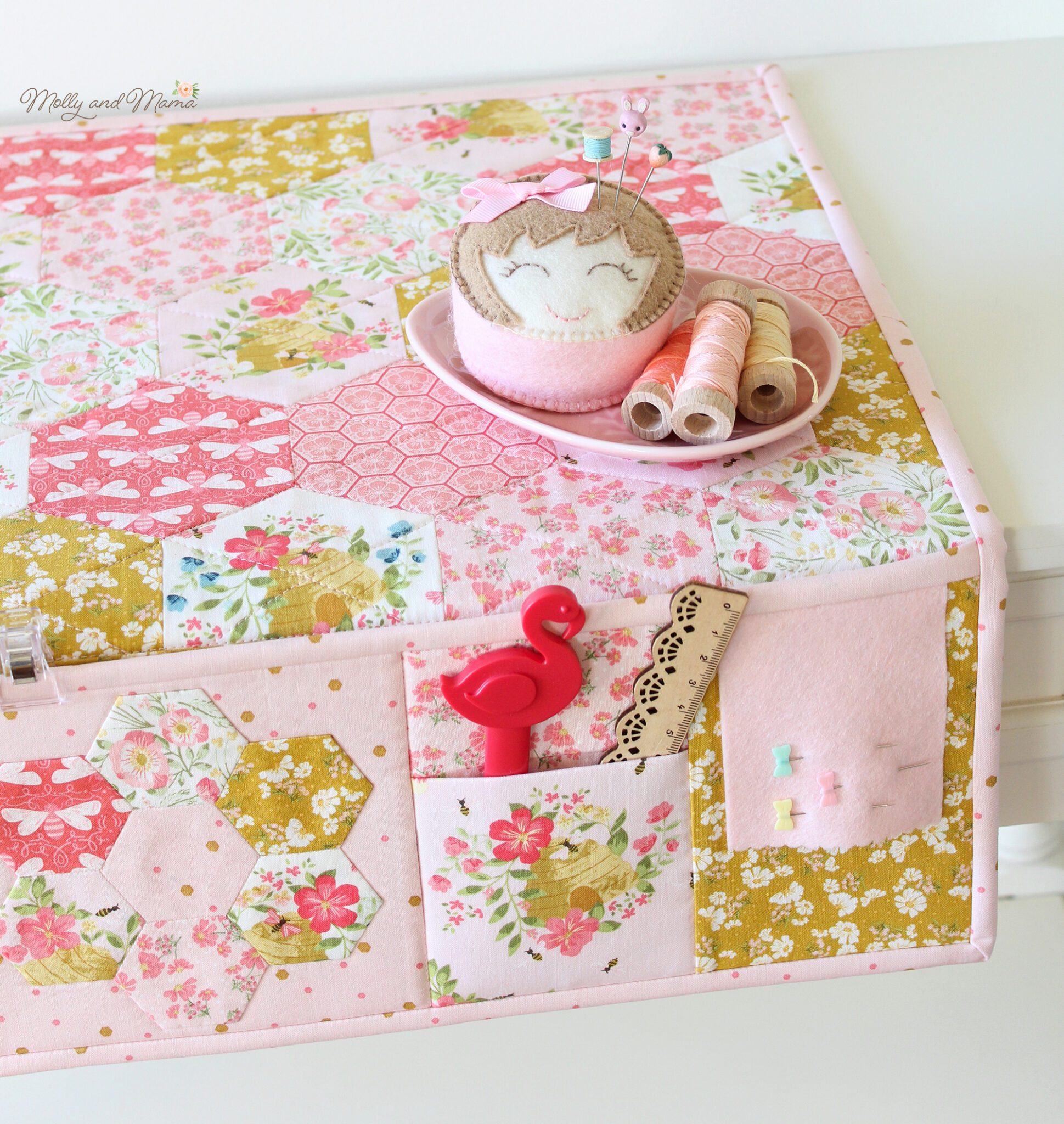 I really love how this second version turned out. The only problem is that I now have two machine mats that I absolutely adore and I'm not sure which one I want to use! Here's the version I made in the original pattern. You can read all about it HERE. Which do you prefer best?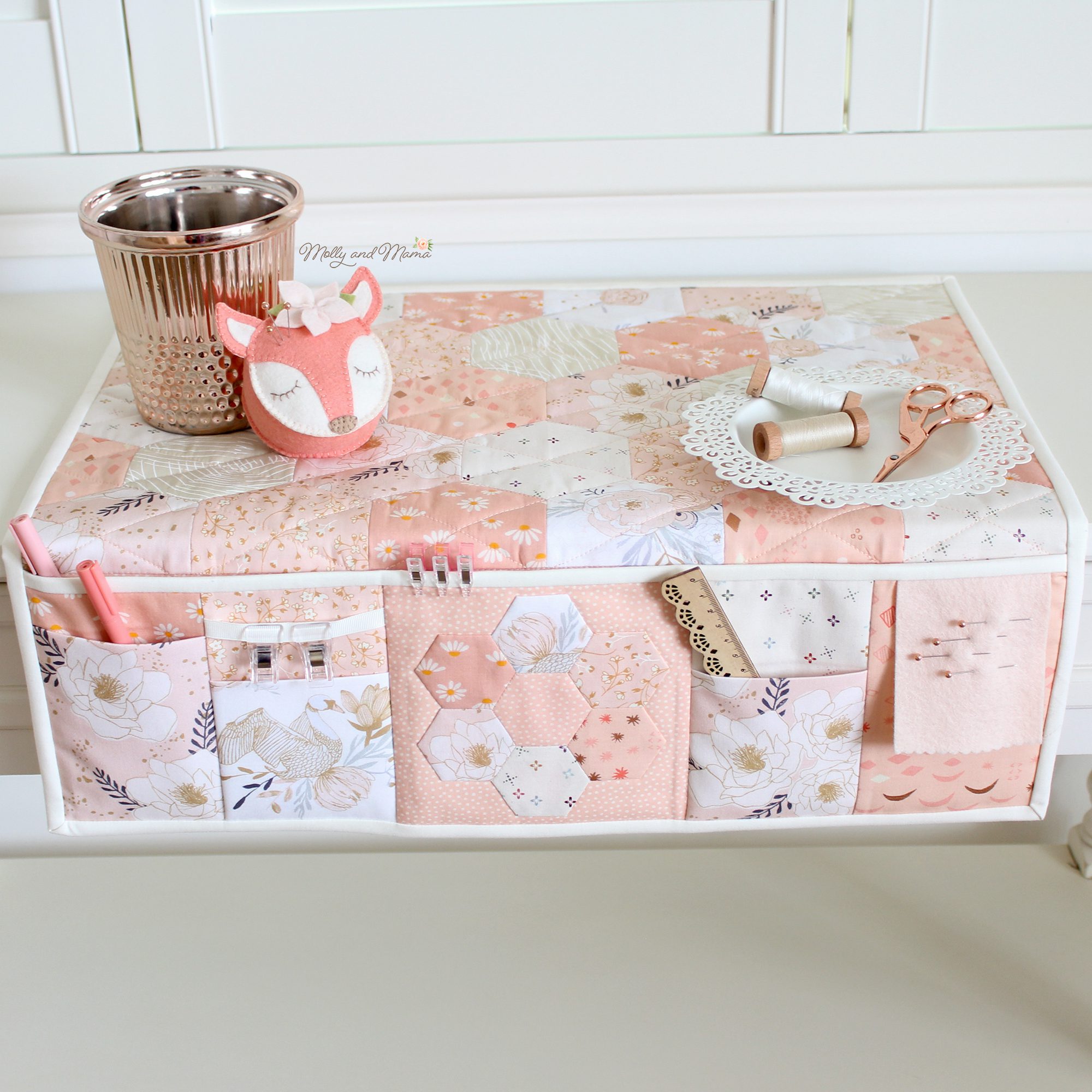 The original version was made with fabrics I selected from Gnome Angel*. Again, there's those peachy tones!!! My Fifi Fox Pin Cushion matches perfectly!
And I love seeing the Miss Molly Pin Cushion featured here with my new version below. There's just something so nice about sewing in a space filled with cute makes and pretty fabric that I love!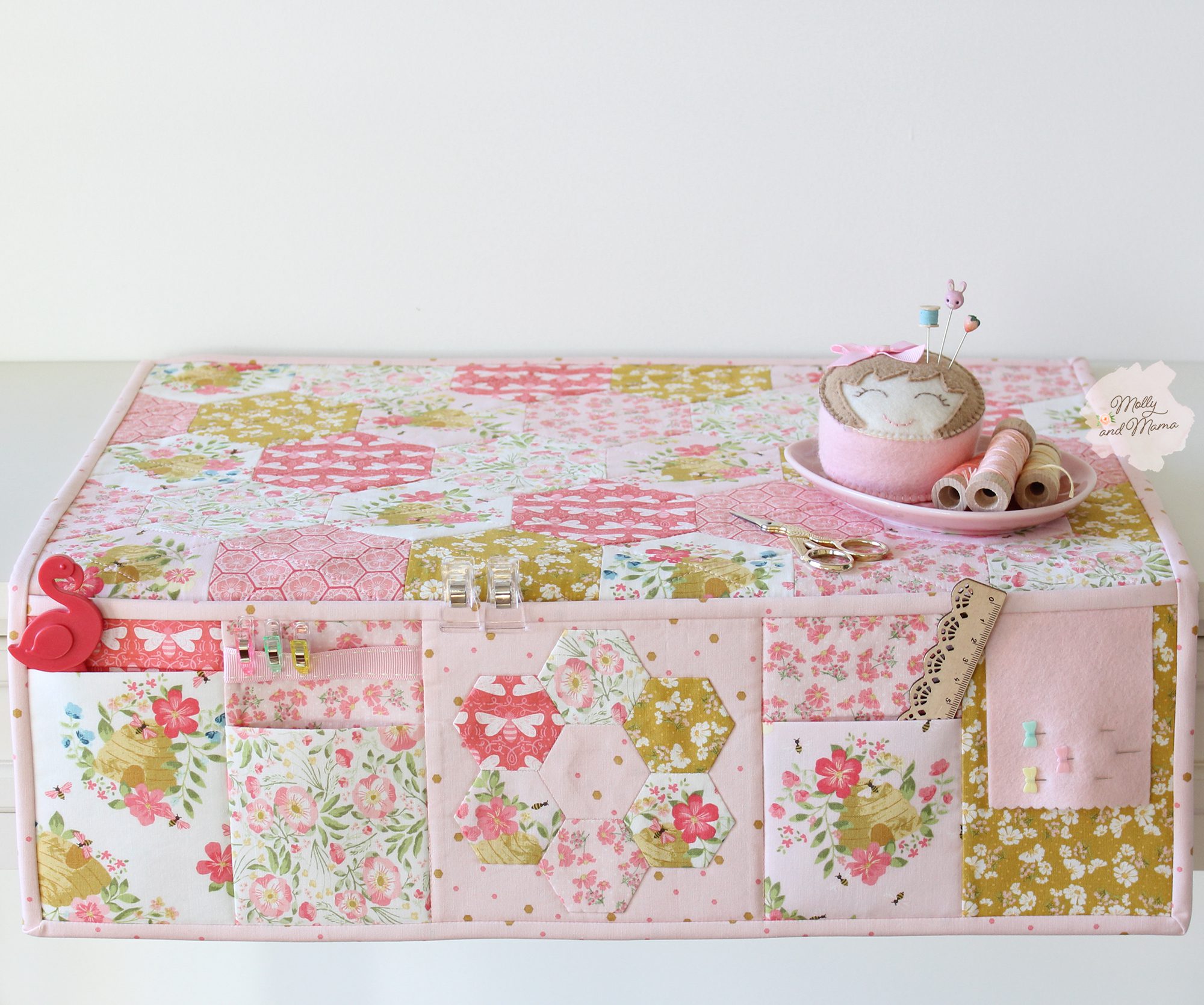 If you like the look of the Honeycomb Hill collection, be sure to ask for it at your favourite local quilt shop. It releases in April 2023 and should be arriving in stores shortly thereafter. And if you want to sew my mat, the pin cushions, or any of my other pretty and practical patterns, please visit my shop using the button below. Your support means the world to me.
Thanks for stopping by. Happy stitching, Lauren x
*This post includes Affiliate or Ad Links. If you make a purchase using an affiliate link, I will earn a small commission that doesn't change your purchase price, but helps me to continue to bring you this content. Thanks for your support!