'Perfectly Pretty Patchwork' Book Tour
Welcome to the Perfectly Pretty Patchwork* Book Tour! If you're new to Molly and Mama, I'm so thrilled to have you here! When you've finished reading about this beautiful new book, I'd be honoured if you spent some time to look around the blog. Enjoy x
When Kristyne of Pretty By Hand fame asked if I wanted to join the book tour for her latest publication, I was so very flattered and so thrilled to take part. That's because 'Perfectly Pretty Patchwork*' is absolutely lovely! And the tour line up is amazing. Just look at those names below!
*If you make a book purchase using this affiliate link, I will earn a small commission that doesn't change your purchase price, but helps me to continue to bring you free content. Thanks for your support!
As the book title would suggest, the pages are filled with beautiful patchwork projects, from quilts, pillows, and pin cushions to tote bags, pouches and needle books.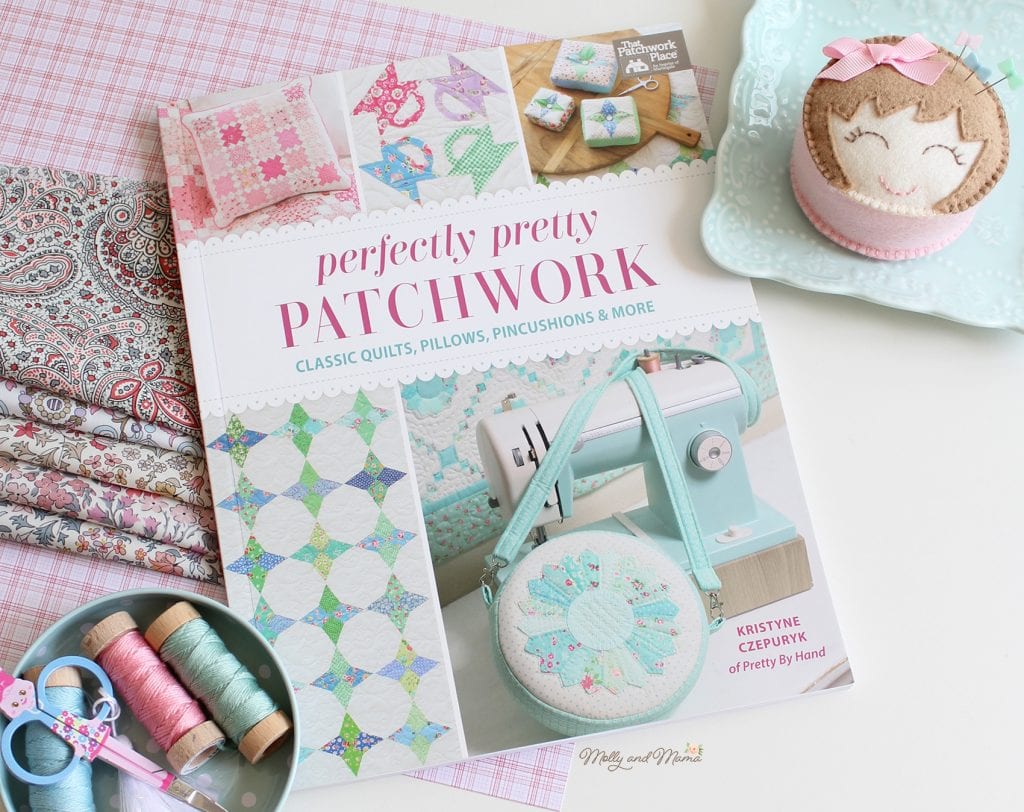 Kristyne shows you how to take traditional quilt block or quilting techniques (like Flying geese, Dresden plates and Checkerboards) and apply them to quilts and small projects too. The sixteen projects in the book are organised "into pairs – one quilt and one non-quilt project, each featuring the same traditional motif."
With so many beautiful options, it was difficult deciding what to make! But I chose the Honeybee Tote Bag. School starts back here soon, and this project looked like the perfect bag for carrying school supplies.
I chose to use the author's very own fabric range called First Romance (with Moda Fabrics), as I remembered I had some squirrelled away in my stash for a special occasion. It seemed the perfect match!
First came the nine patch square on the front.
The rest of the bag was created with simple co-ordinating solids. It was lovely to sit and stitch to add the hand quilted details.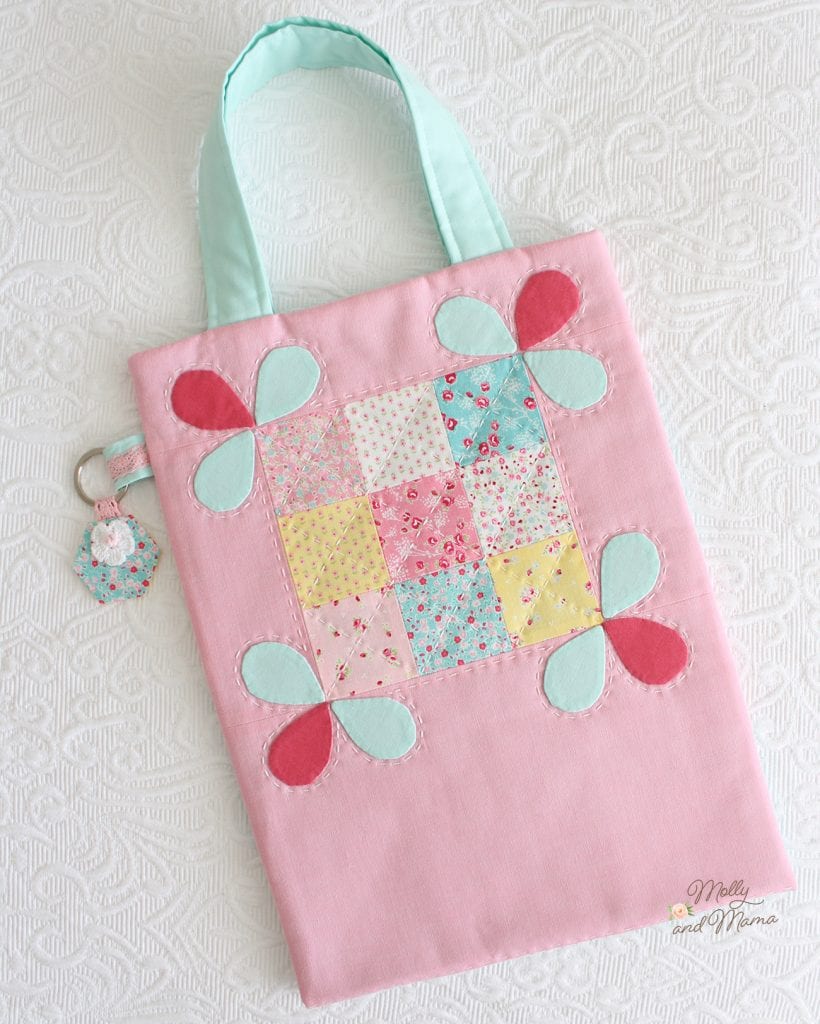 I especially love the effect of the bee wing appliqués that adorn the nine-patch corners.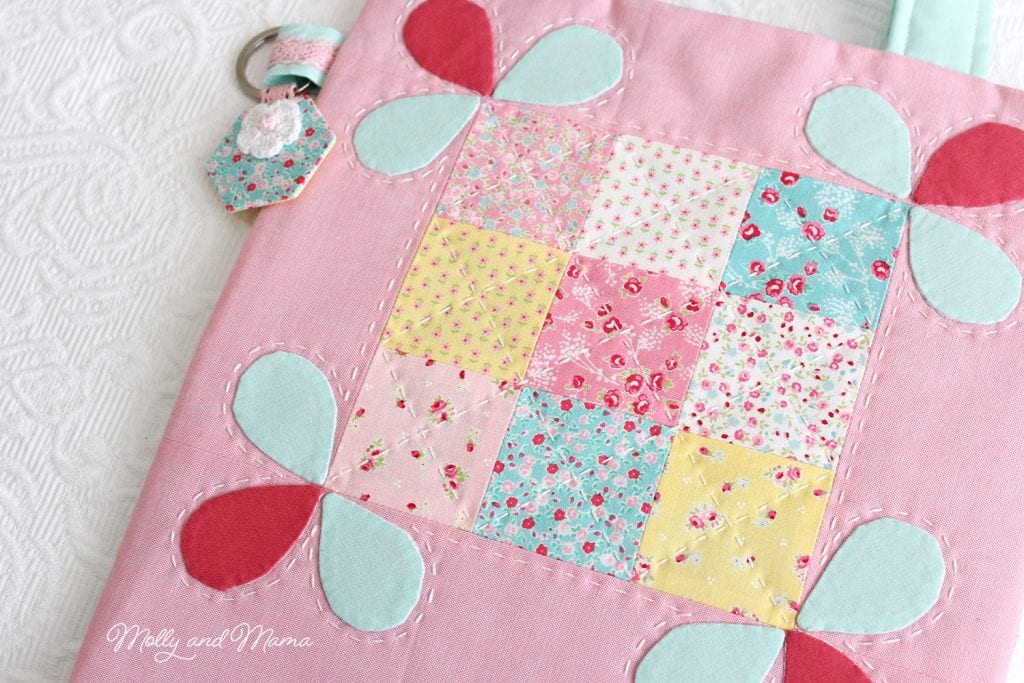 I decided to patchwork the back of the bag using more of Kristyne's beautiful fabric (instead of leaving it plain). Again, the hand quilting was a fun addition.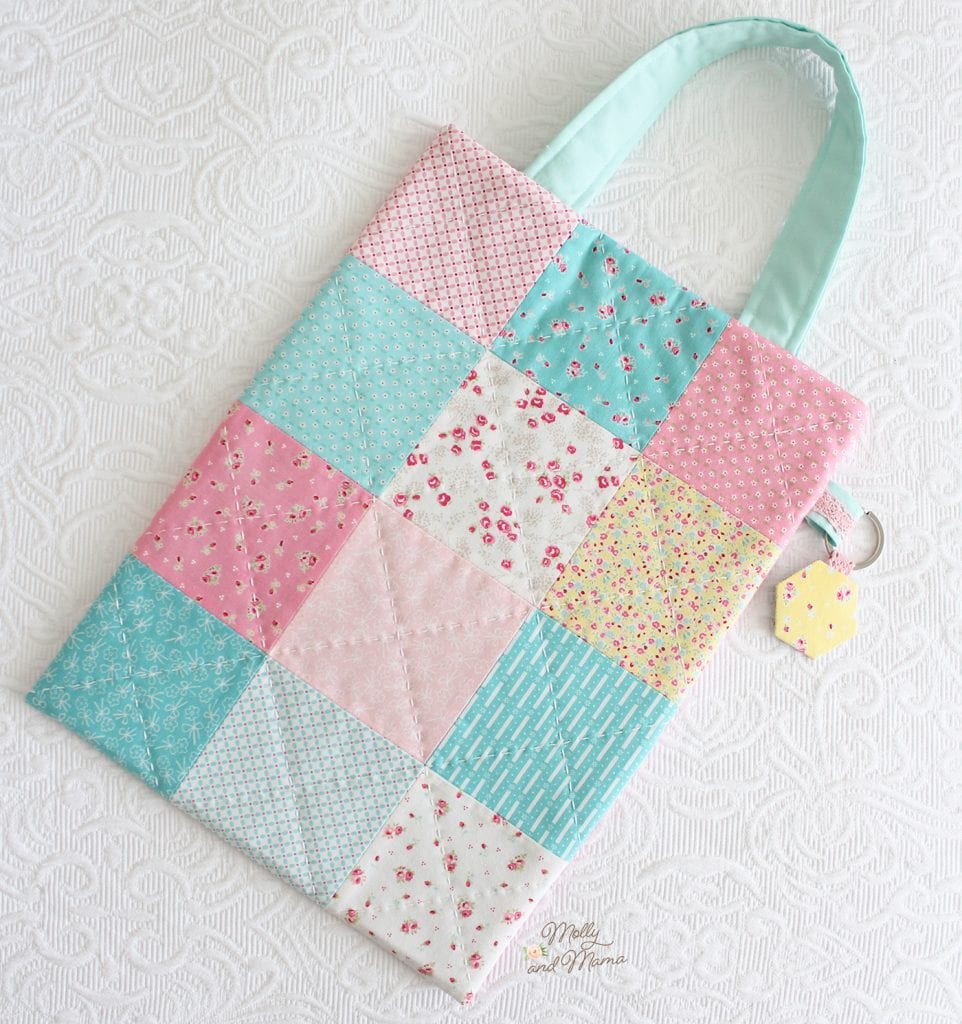 I also moved the side tab up to the top of the bag so I could add a sweet and simple bag charm.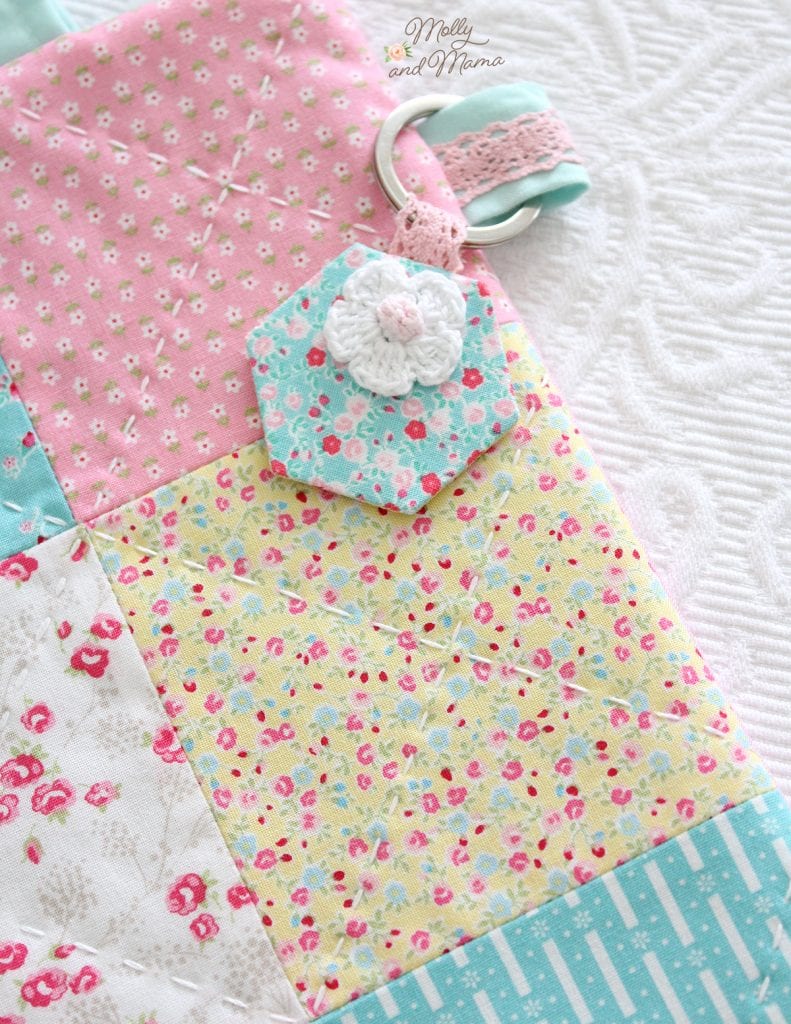 This bag charm was made using the same techniques I share in my Simple Hexie Keyring Tutorial. Simply put, I glue basted two 1 inch hexagons. (My beginners guide to Hexies will help you with this process).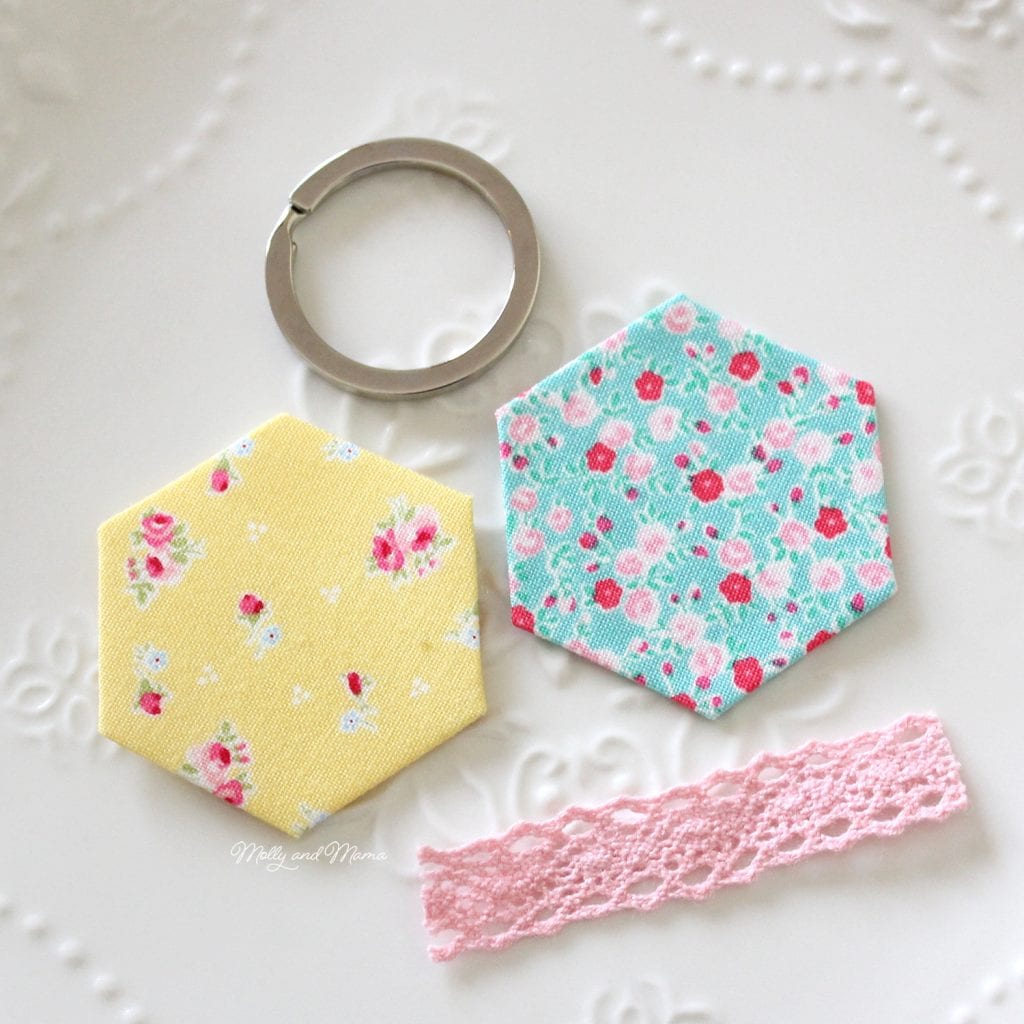 Then I just whip stitched them together using fine 80 weight thread. On the last side I inserted the lace ends (looped through the metal ring) into the opening and stitched it closed, sewing through the lace as I went.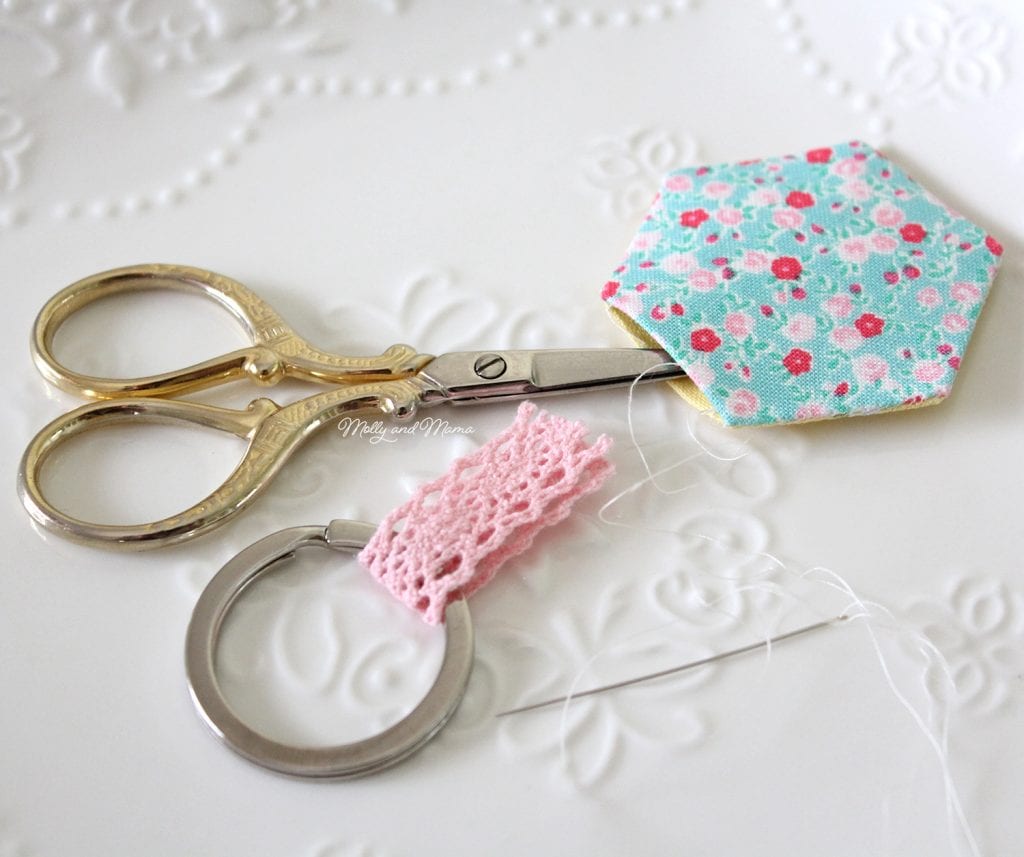 I used fabric glue to secure a simple crochet flower and then attached it to the bag. Sweet, right?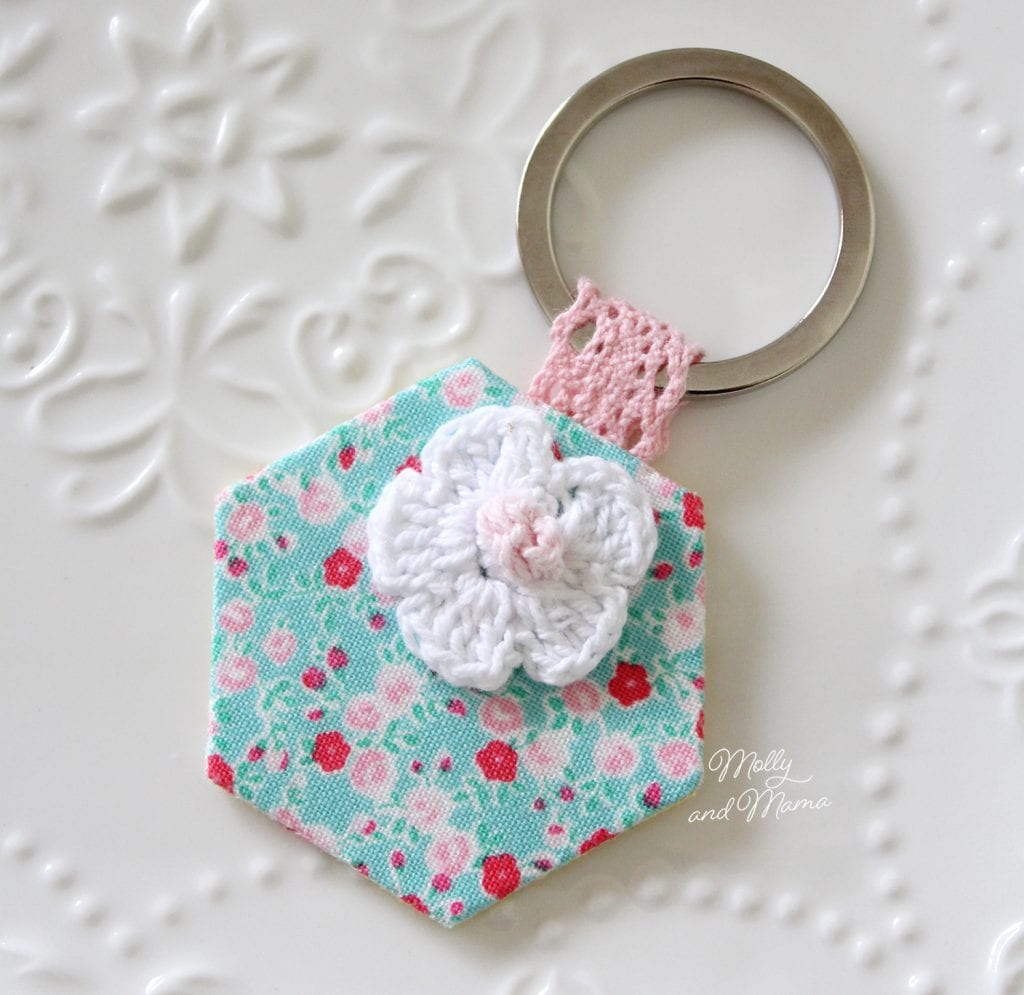 There are so many lovely projects in this book, I'm already planning a pin cushion (or two).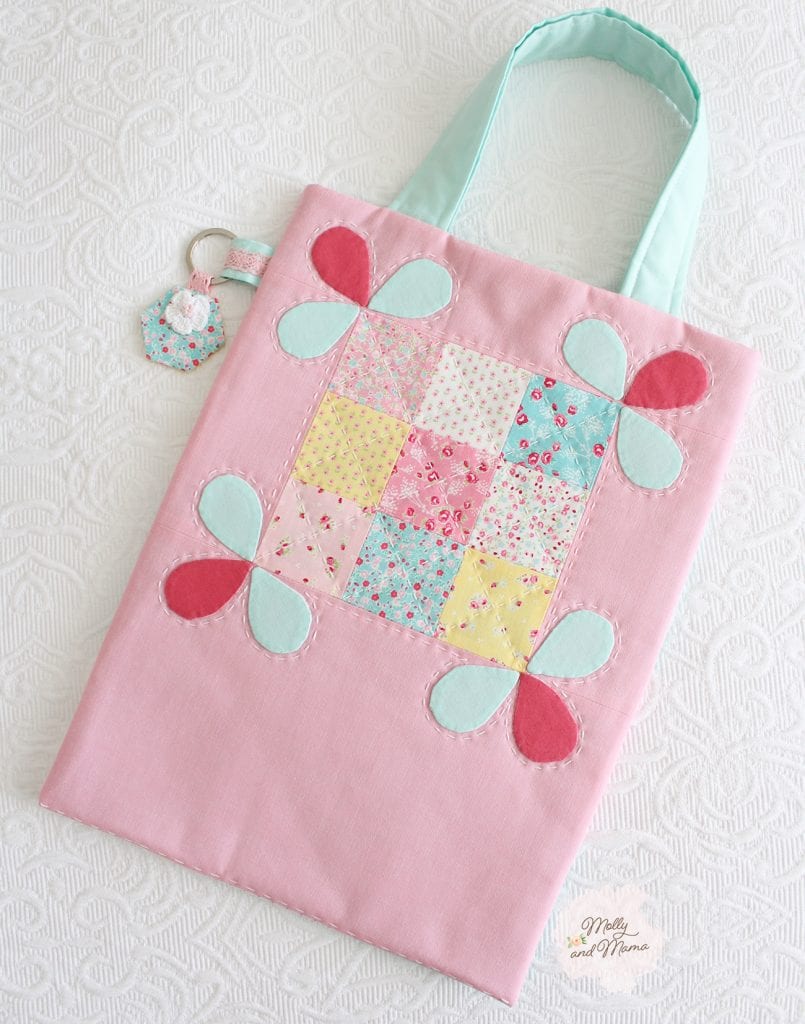 Thanks for joining me on the tour. Head to Pretty by Hand on Instagram to see Kristyne's shares of other maker's projects and posts.
Happy stitching, Lauren x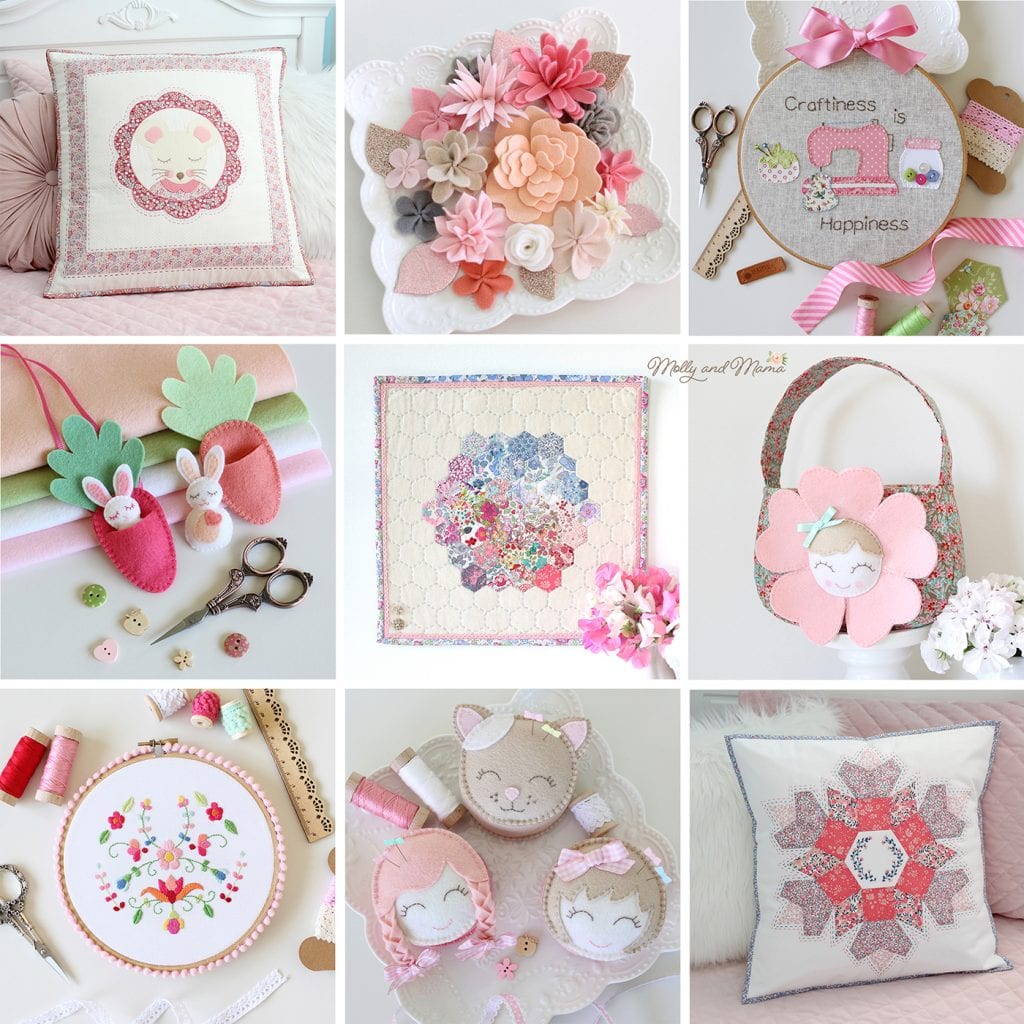 This post was written by Lauren Wright and appeared first on Molly and Mama http://www.MollyandMama.com.au