Make a Lucky Pin Cushion for St Patrick's Day
I love this Lucky Pin Cushion, because it's such a pretty way to incorporate four leaf clovers and Saint Patrick's Day luck into a pretty sewing project. The whole thing is sewn by hand, so it's a great portable project too. Plus you can never have too many pin cushions. They make the perfect gift!
To create this easy pin-cushion, you'll need to make a felt four leaf clover (or a three leaf shamrock if you prefer), then stitch a fabric yo yo, and finally sew the pin cushion base. It's then a simple task to put it all together. And most of it can sewn while watching the tv, or listening to your favourite podcast.
GATHER YOUR MATERIALS
a fabric circle with a 16.5cm (6.5″) diameter – for the yo yo
green felt scraps (at least 5 inches x 1.25″) – for the shamrock
2 circles of green felt with an 8cm diameter (3″ across) – for the pin cushion top and bottom
1 strip of candy pink felt measuring 3cm (1.25″) x 25cm (10″) – for the pin cushion sides
a needle and thread
an embroidery needle and pink embroidery floss
scissors
crochet flower, button or other embellishment for the top of your shamrock
polyester filling
rice or similar to weigh down the pin cushion
MAKE A FOUR LEAF CLOVER OR A THREE LEAF SHAMROCK
Use this tutorial to follow the instructions and make a four leaf clover. You'll find the template there too.
STITCH A YO YO
Now let's stitch a pretty yo yo (you may also know it as a suffolk puff). If you haven't made these before, they are super simple. And I have very conveniently included a link HERE to a previous tutorial that explains exactly how to make them.
To make the yoyo used for this project, I used a 16.5cm (6.5″) fabric circle. This made a yoyo with an 8cm (3″) diameter. But you can play around and choose a yoyo size that works best for you. You simply stitch a running stitch around the outside edge of the fabric, and then pull the thread to gather the fabric into a puff. Flatten it out and secure the stitches.
MAKE THE PIN CUSHION TOP
Now all that's needed is to use some small stitches to secure the shamrock or four leaf clover to the yo yo, and then stitch a flower or button embellishment on the top. I used a pretty little crochet flower on top, but you can use whatever takes your fancy!
MAKE THE PIN CUSHION BASE
I have already written a super detailed blog post on how to create this type of felt pin cushion base. So if you're after instructions that cover things with a little more depth, be sure to head HERE.
Cut two felt circles for the top and base, with a diameter of 8cm (3"). I used the same green felt as the four leaf clover. Cut one felt strip for the side of the pin cushion measuring 25cm (10") x 3cm (1.25"). The shade of pink I chose complemented my fabric and embellishment perfectly.
Pin the strip carefully around the perimeter of one circle. This will make the base and side of your pin cushion. I found it easier to pin a section, and then stitch a section, at a time.
Thread your embroidery needle with two strands of separated embroidery floss in a shade to match the felt. Stitch the side strip of felt to the base using blanket stitch. Continue to stitch around the perimeter of the base until you reach your starting point. You may need to change your thread once or twice.
As a quick refresher, this illustration shows you what Blanket Stitch looks like. You can also read more about it HERE.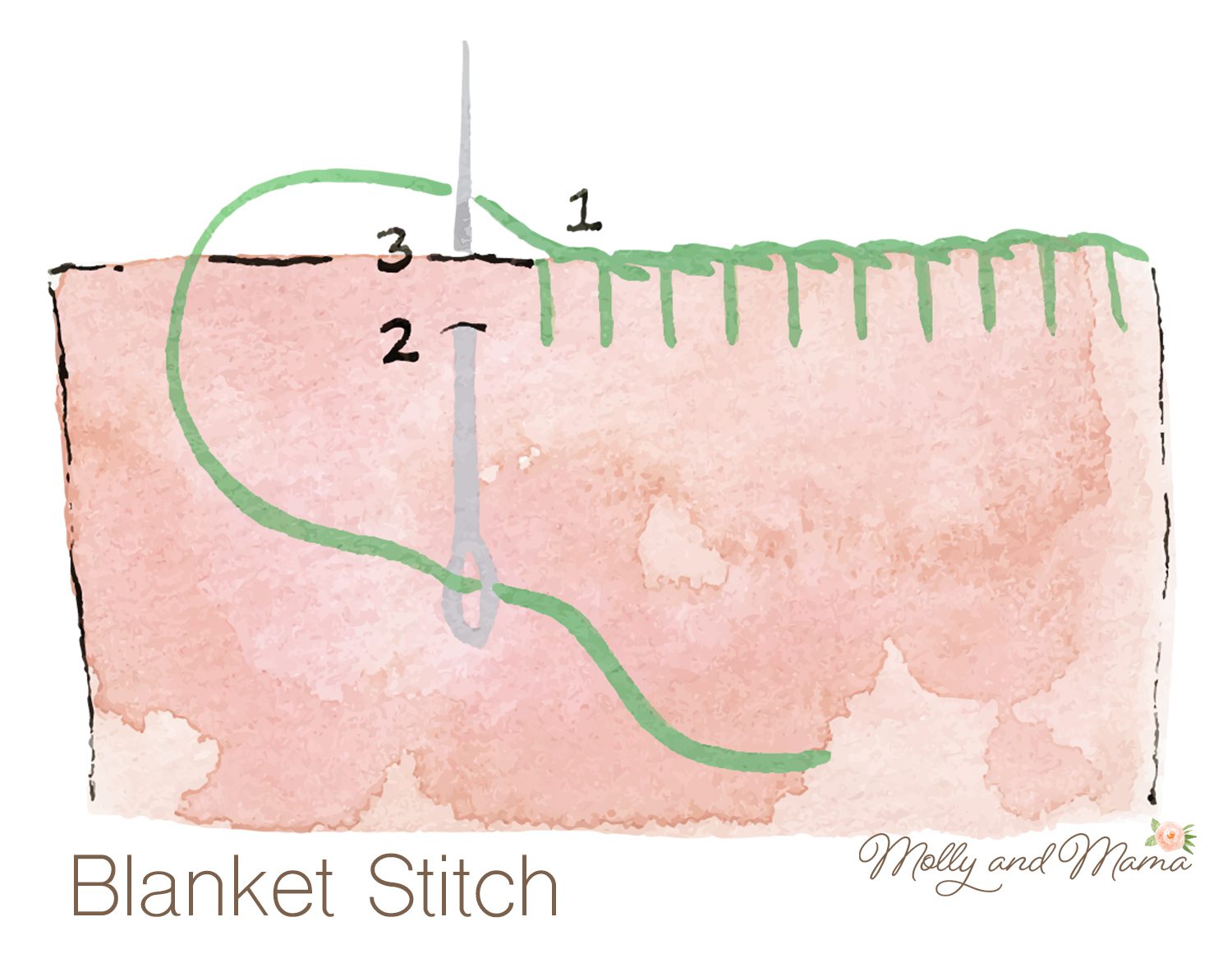 Overlap the felt of the side piece by 5mm or a 1/2 inch (and trim away any excess felt length). Blanket stitch the sides together (image 1 below).
Pin the top circle of felt to the rim of the pin cushion. Blanket stitch the top in place by starting at the side seam. Change thread when necessary.
Stop stitching when you are three quarters of the way around the circle, but leave your thread intact (to continue stitching after stuffing). Fill the base of the pin cushion with a layer of rice. This will add weight (image 2 above).
Add polyester stuffing to firmly fill the pin cushion (image 3 above). Continue to blanket stitch the pin cushion closed (image 4 above).
Your completed pin cushion makes the perfect base for any pin cushion project. And it's so easy to add our 'topper'.
PUT IT TOGETHER
Sew the shamrock and yoyo pin cushion 'topper' to the base using small, well disguised stitches. Mine were hidden in the folds of the felt shamrock and in the crochet flower. Once secure, you're all done! And your pin cushion is all set to take on some sewing pins!
Here's another pretty version I made is pastel shades.
You can also make brooches and hair clips by attaching the pin cushion top to a brooch back or an alligator clip. And surprise, surprise, I have a tutorial explaining how to do that right HERE.
For more tutorials from Molly and Mama, be sure to check out the TUTORIALS tab. The PATTERN store shows all the new sewing patterns available at the moment also.
Happy Saint Patrick's Day to you. I hope your day is fill of luck!
Happy stitching, Lauren x
This post was written by Lauren Wright and appeared first on Molly and Mama http://www.MollyandMama.com.au