Week 2 – Stocking Sew Along
Welcome to Week 2 of the Night Before Christmas Stocking Sew Along. Over the next four weeks, we'll be working together to sew my new Christmas stocking pattern that features a hexagon front panel, a little pocket and a felt mouse to place inside.
If you're new to the sew along, head to the main post to find out all the details. Last week was all about gathering supplies for our stocking (like fabric and felt) and our English paper piecing. On the Week 1 blog post I talked about fabric selection and my favourite tools for EPP. I shared short videos on Instagram about cutting fabric hexagons, basting hexagons using the glue basting method I love, and working on the layout of your hexies for your stocking front. I shared some good tips there so be sure to have a look!
Many of you shared photos of your fabric pull and supplies for the stocking, using the #NightBeforeChristmasStockingSAL hashtag on Instagram too. And Marcelle from @piwakawakapatch was selected as the week 1 winner!
I was so thrilled to see so many of you participating and joining in the fun. It really meant a lot to me too!
Week 2
Week 2 of our Christmas Stocking Sew Along runs from the 25th November to the 1st of December. This week we'll officially start sewing our hexagons together to piece the front panel of the Christmas stocking.
If you haven't had a chance to baste your hexagons yet, that will be your first job!
Basting Hexagons
My beginner's tutorial and videos on Instagram show you how to baste hexies using the glue basting method, and of course there are details in the pattern too!
Arranging Hexies for Stitching
Once your hexies are basted and pressed, it's time to place them on a flat surface and start arranging. In my short Instagram video I talk about what I try to consider when I lay them out.
Here's some things to think about when arranging the hexagons;
WHAT'S UNDER THE POCKET? Make sure you haven't positioned your favourite hexagons where the pocket is going to sit! They'll be hidden away.
WHAT'S ON THE STOCKING EDGES? Did you create fussy cut hexagons that feature a special image or design? Be careful that these special hexagons don't get chopped off on the edge of the panel. To help, you can assemble the stocking template and cut it out, then lay it over your proposed layout to see which designs will be cut off the stocking panel.
IS THERE AN EVEN DISTRIBUTION OF PATTERNS AND COLOURS? A clever trick I learnt at art class is to squint at your painting (or in this case, your hexies) to make sure the tones and patterns in your panel are balanced. This helps me decide which hexagons need to be rearranged!
ARE YOUR HEXIES UPRIGHT? I try to make sure that the fabric grain of all my hexies runs vertically and horizontally (rather than diagonally). That way they don't warp and stretch when sewn together. The only exception is when I need to play with the direction of a print on a fussy cut hexie.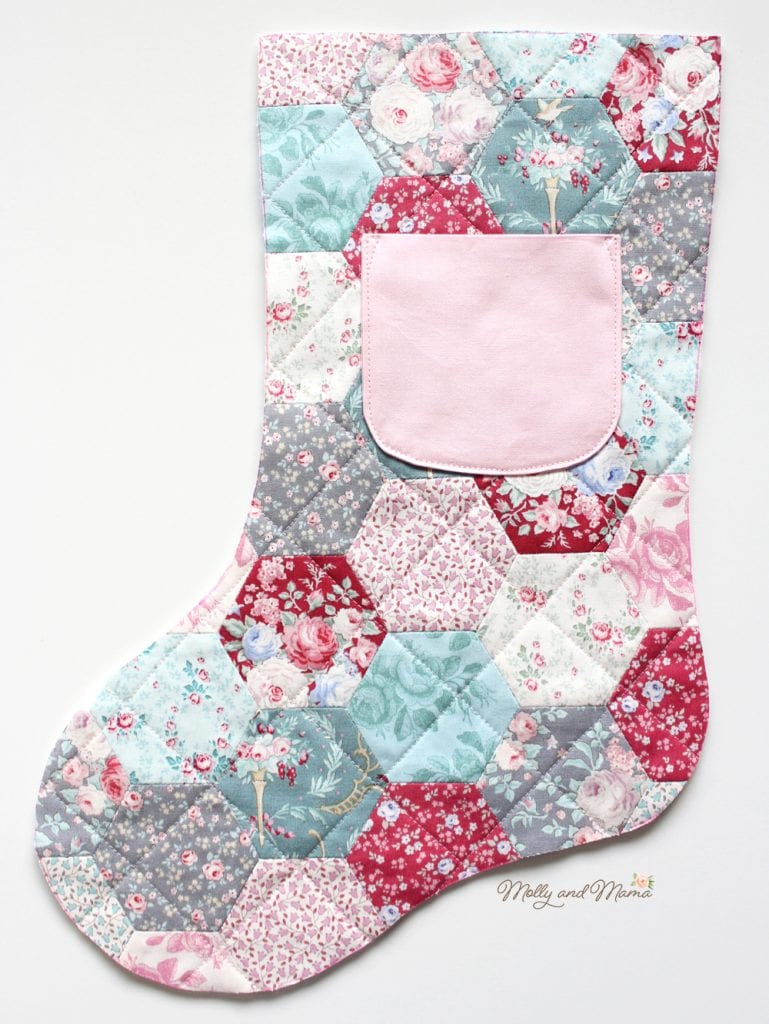 Stitching Hexagons Together
Once I am happy with the layout, I take a photo and print it out to refer to as I stitch. Here's the Christmas version I am working on for the Sew Along.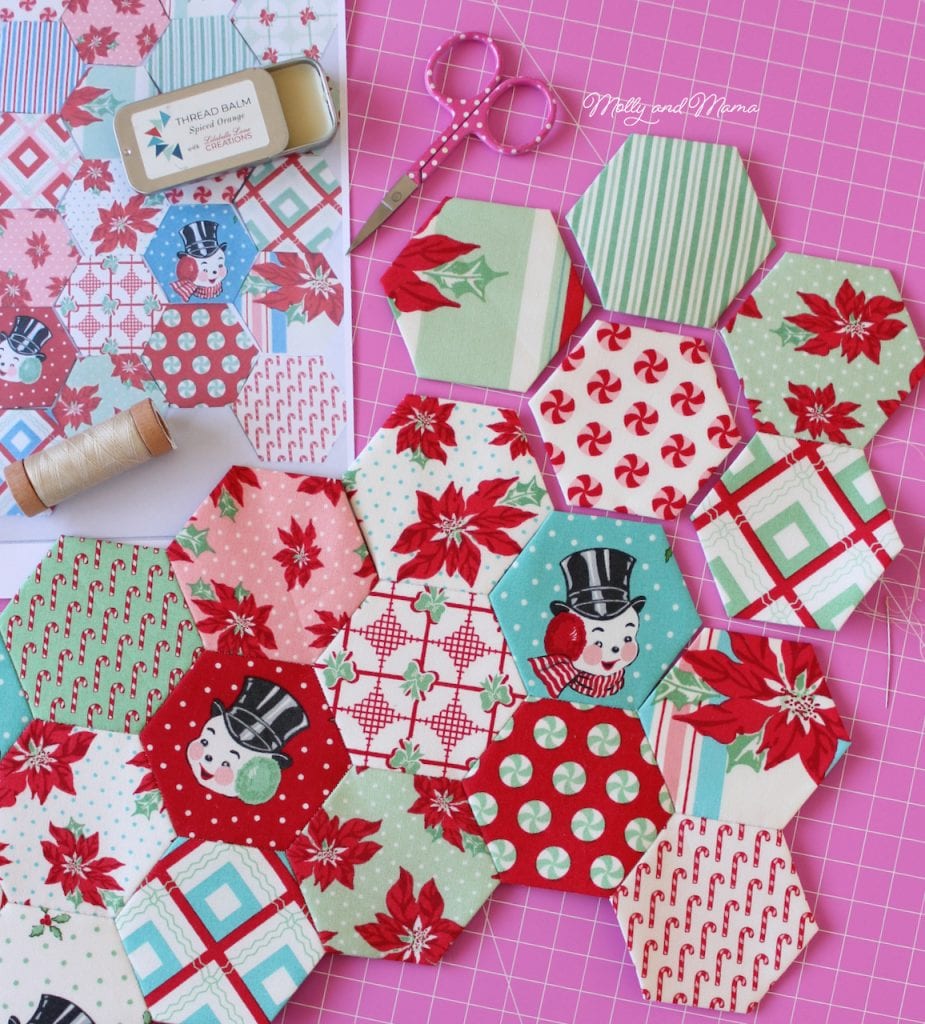 When sewing my hexies together, I don't like to have to stop and start my stitching. I always try and sew in a meandering (and sometimes spiral) way so that I cut my thread the least amount of times. That's just my personal preference. Others like to sew hexies in rows and then stitch each row together. How do you tackle it?
I use fine 80 weight thread and cut a length of about 18 inches. If it's too long, you'll get knots. Too short, and you're changing it too often! Find a length that works for you.
This week on Instagram and Facebook, I will share videos showing how I stitch hexies together and also how I remove the papers when the panel is complete. So please stop by and have a look if you're curious about my process.
Week 2 Prize
This Sew Along isn't all about prizes. I like to think of it more as building a community of like-minded people who are happy to share tips and ideas, their inspiration and questions too. But it's also nice to create a little bit of excitement and some of my sewing friends have very generously offered prizes for participants.
Sharon from Lilabelle Lane has kindly offered her Indulgence Pin Cushion kit for this week's prize pack. This English paper pieced project also comes with the acrylic templates and EPP papers too. In addition, Sharon's new thread balm has just been released and we have added a tin of the vanilla scented balm to the prize pack! Sharon sent me her Spiced Orange thread balm to try and it's giving me serious Christmas vibes too. I'm loving it already!
If you'd like to be eligible to win the Week 2 prize, you'll need to share a photo of your hexagons being stitched together for the stocking panel. Post the photo on your public instagram account and use the hashtag #NightBeforeChristmasStockingSAL so I can find your entry. Please consider following Lilabelle Lane to show Sharon your support. If you're not on Instagram, never fear. You can email me your progress too. Use the CONTACT form, or send me a message at hello (at) mollyandmama.com.au. I'll also be keeping you updated on Facebook, but you won't be able to enter to win the prize there sorry.
On Monday the 2nd December, I will select one weekly winner and notify you by personal message, or email. If you are the selected winner, I'll need your residential address to send you your prize. I may also share your winning photo. By entering via Instagram, you are also giving me permission to share your instagram handle and your first name on the Molly and Mama social media platforms.
The competition is open to all participants over the age of 18 who submit a photographic entry via Instagram or email. This giveaway is in no way sponsored, endorsed or administered by, or associated with, Instagram or Facebook. I think that covers all the legal stuff?
EDITED TO ADD: Congratulations to @stef_andthefabricpieces on Instagram for being selected as this week's winner!
Thanks for playing along.
Happy stitching, Lauren x