The Pretty Handmades Sew Along

Welcome to the 'Pretty Handmades' Sew Along. To get started, simply purchase your copy of the book Pretty Handmades: Felt and Fabric Sewing Projects to Warm Your Heart* and read ahead to find out all the details.
WHO CAN PARTICIPATE?
The sew along is open to everyone world wide that wants to sew a project from their own copy of the book Pretty Handmades
. You can purchase a copy of the book from the previous link, or from your favourite online book retailer. Some sites are using an image of the original promotional book cover shown on the left. But please don't let that deter you. It's the same book and the actual book you'll receive looks like the image on the right!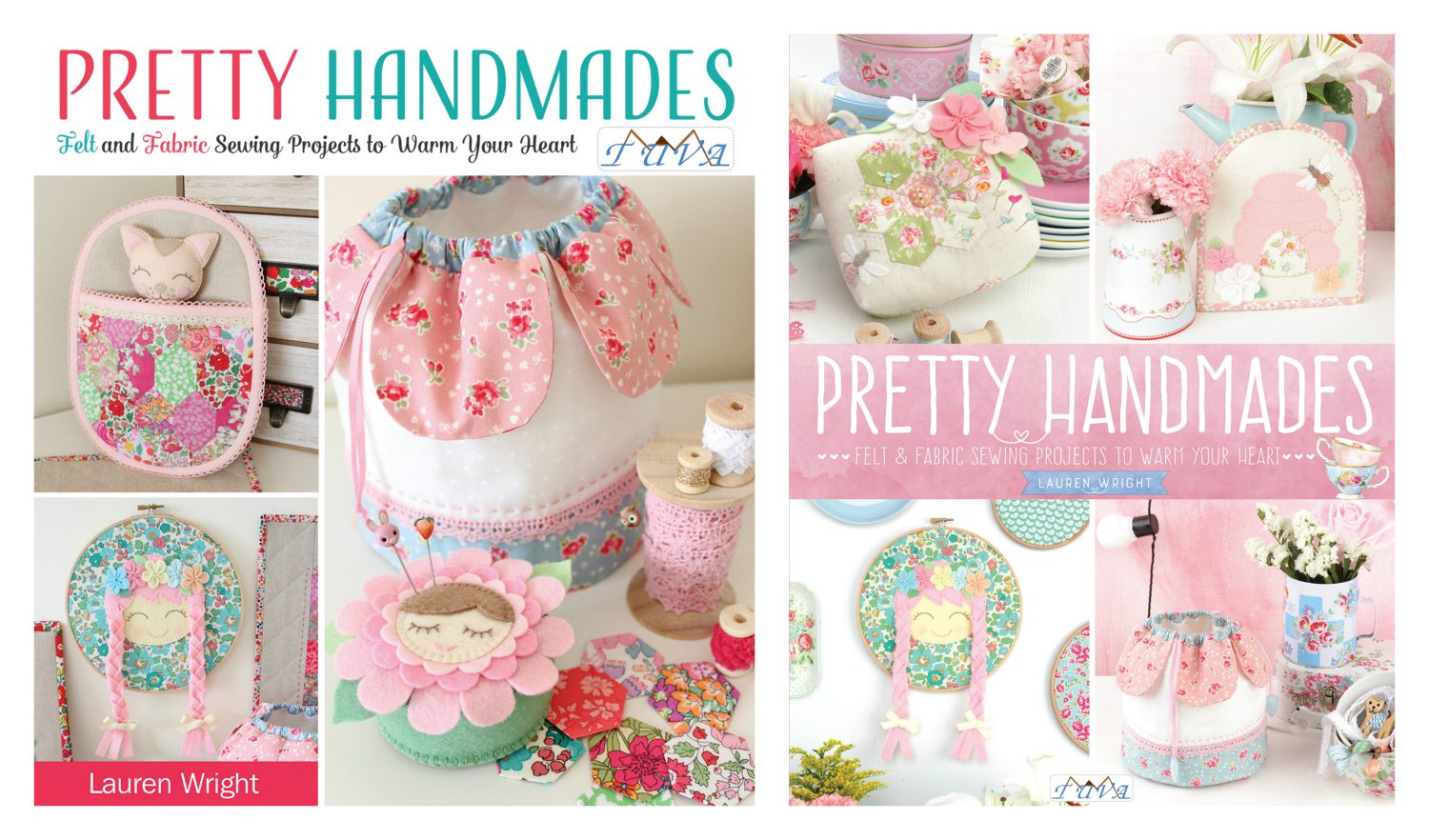 *This post contains affiliate links, which means if you purchase a book using the link I will earn a small commission. This does not affect your purchase price. But it does help me bring you this blog containing free tutorials, giveaways and more. Thanks for your support.
WHERE IS THE SEW ALONG BEING HELD?
The Sew Along will be run on Instagram. I'll be posting daily updates, information and tips at Molly and Mama. I'll also be sharing fortnightly updates here on the blog as each round wraps up.
HOW DO I PARTICIPATE?
How can you enter to win a prize? To be eligible for the fortnightly prizes for Round 1 – 4 and the grand prize at the end of the Sew Along, you must sew a project from the book Pretty Handmades
 and then share a photograph of the project on your public instagram account. In the written description of your item, use the hashtags #prettyhandmadesSAL and #mollyandmama. You can also tag the photograph with the @mollyandmama account, to be sure I'll see it. You can also add the tags #prettyhandmadesbook and #tuvapublishing if you wish.
There are no official sign ups for the sew along. You can enter once or a few times in one specific round. Or you can enter all four rounds. However, for your entry to be eligible, you must make, photograph and post a picture of a different item for each entry.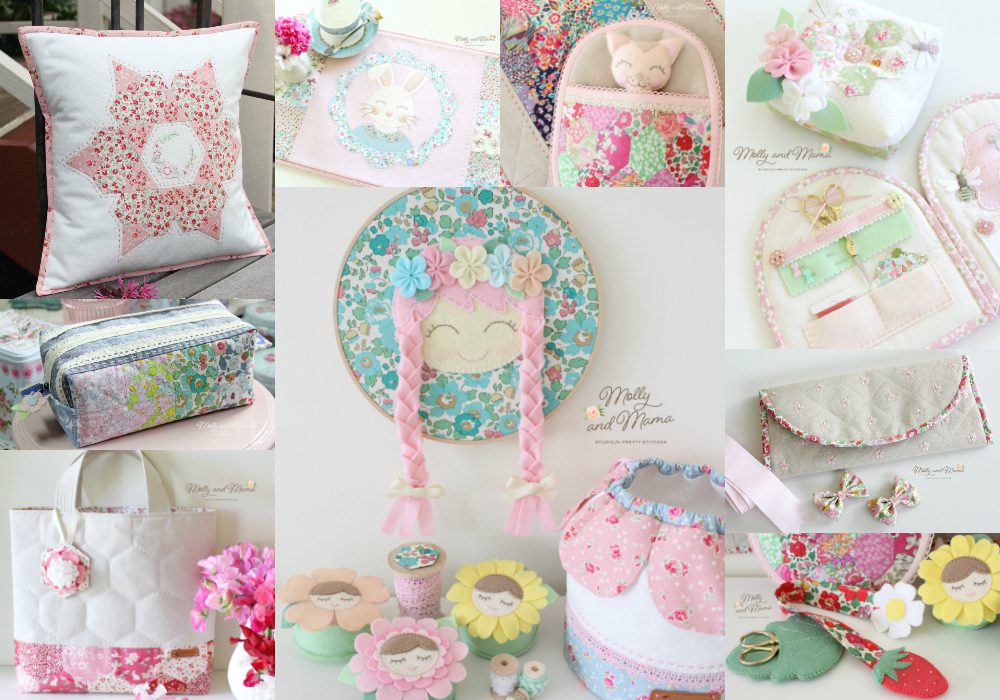 The book contains 20 different projects made with a range of techniques and materials. While there are a lot of projects to choose from, the best part is that all the instructions were written with beginners in mind and many of the projects are quick to make. So if you're just starting your sewing journey, you'll still be able to create something sweet for the sew along. And at the end of it, you'll have made something lovely for yourself or will have a ready-made gift for a creative friend.
WHEN IS THE SEW ALONG RUNNING?
There are 4 fortnightly rounds that run from March to the beginning of May. Our special guest judges will select their favourite project at the end of their Round. The winner will receive the prize bundle listed for that round (outlined a little further down) .
Round 1 – 5th – 18th March (winner chosen by Sedef from Down Grapevine Lane and announced on the 19th March)
Round 2 – 19th March – 1st April (winner chosen by Minki from Sewing Illustration and Zeriano and announced on the 2nd April)
Round 3 – 2nd April – 15th April (winner chosen by Sharon from Lilabelle Lane and announced on the 16th April)
Round 4 – 16th April – 29th April (winner chosen by Bev from Flamingo Toes and announced on the 30th April)
Grand Prize Winner – chosen by me, Lauren, and announced on the 1st May
Please note that the Sew Along will be run on Australian time, specifically AEST. This time zone is GMT+10. So it's around 10 hours or so ahead of the UK and around 15 – 18 hours ahead of the USA (depending on where you live specifically). To avoid disappointment, be sure to get your entries in early!
WHY?
Who wouldn't want to be in the running to win some lovely prizes including sewing fabrics, notions and supplies? It's also really lovely to be involved in a community of sewists, working on similar projects. We can all offer each other support, encouragement and advice. And if you're anything like me, you'll buy books with the best intentions of sewing things from them, but you never quite find the time. This might just be the motivation you need!
Creating the book gave me the most wonderful sense of achievement. It was my hope that the projects in the book inspire you and encourage you to try a technique or to use a material that you mightn't have tried before. So I am so excited to see all of the creations that everyone comes up with!
For ideas and inspiration, you might like to look back at the projects that my blogging friends created for the Pretty Handmades book showcase and blog tour. Use these links to see the round ups for week 1, week 2, week 3 and week 4. You'll be so inspired!
PRIZES?
Now, to the fun stuff! I have some wonderful friends who have agreed to provide some lovely gifts and surprises for the winners of each round. Stay tuned on the blog or on instagram to see pictures of the prizes. Please follow and support these wonderful sponsors!
ROUND 1 PRIZES – Ava and Neve Liberty Society bundle, pretty bundle of Molly and Mama notions and 2 Molly and Mama PDF patterns
ROUND 2 PRIZES – Sew Stitching Happy fabric bundle, Ric Rac enamel pin set, 2 Molly and Mama PDF patterns
ROUND 3 PRIZES – Quilters Angel bundle, Tales of Cloth EPP papers, 2 Molly and Mama PDF patterns
ROUND 4 PRIZES – Dolly Henry Bundle, My Felt Lady felt bundle, 2 Molly and Mama PDF patterns
GRAND PRIZE – Tilda Sunkiss Fat Quarter Bundle, a handmade project from the Pretty Handmades book and 3 Molly and Mama PDF patterns
T&C's
to be eligible to win each prize, please follow Molly and Mama on Instagram.  Please also show your support for our generous sponsors and the judges by considering following their instagram accounts too.
the judge's decision for each round is final and no discussion will be entered in to.
to be eligible to win a prize round or the grand prize, your Instagram account must be public, your photograph must use the hashtag #prettyhandmadesSAL and the project sewn must be from the book 'Pretty Handmades'.
to keep the competition fair, all entries must be sewn as per the instructions in the book.
winners will be announced on Instagram and here on the blog. Winners will be contacted via private message to their instagram account.
Molly and Mama is not responsible for the delivery of items offered by other businesses in this giveaway – each sponsor is responsible for the delivery of their own prize.
Sponsors are not responsible or liable for any loss or damage that occurs during transit.
Prizes may not be exchanged for money or vouchers.
I'm so excited to see all of the beautiful entries in the sew along and cannot wait to see the Pretty Handmades book projects come to life. See you over at Instagram for all the fun! Thanks for joining us and best of luck.
Happy sewing, Lauren xx