Blog Tour for the 'Learn How to English Paper Piece' Book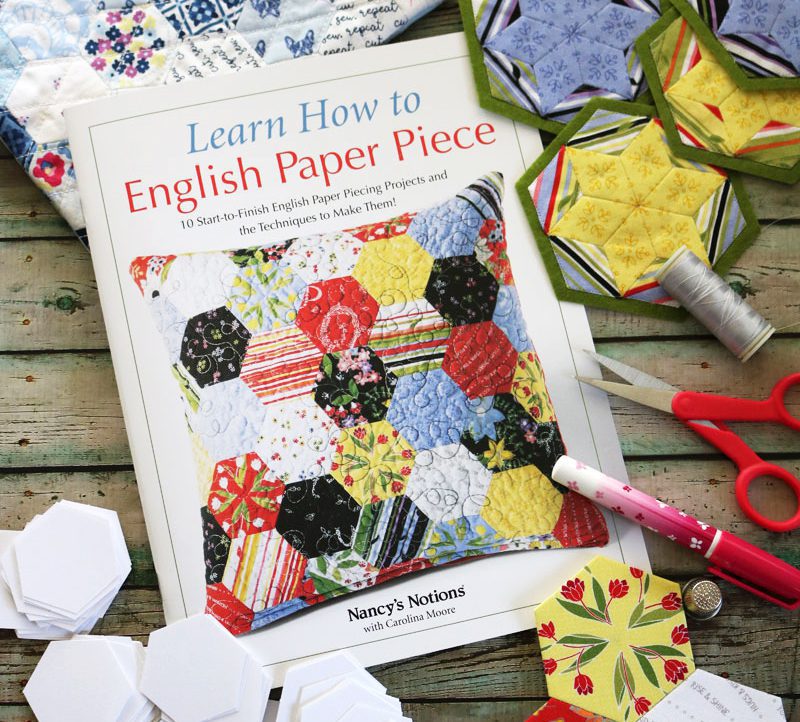 Hello and welcome! It's so lovely to have you here. If you're new to my little creative space, take some time to have a look around. You'll find sewing patterns, tutorials, other reviews and much more. I'm a lover of all things delicate and dainty, made with pretty details and gorgeous fabrics. I adore working with wool felt, EPP (English Paper Piecing) and other quilty techniques. But enough about me. Let's find out all about this lovely new book!
Carolina Moore from Always Expect Moore has just released her book 'Learn How to English Paper Piece' with Nancy's Notions. I'm a big fan of EPP, so I am very excited to be part of the blog tour!
Carolina's book contains ten EPP projects and it gives you easy, step-by-step instructions and lots of clear photographs to help you on your way. The whole book was designed with quick projects that can be stitched together in as little as an afternoon – my kind of book!
Flicking through the pages, I was tempted by the zipper pouch, diamond tote and tech pouch projects. But I decided on the hexie placemat pattern for this review. The lovely Tammie from Studio T Green sent me some small samples of her recently released fabric range, 'the Handpicked Collection' with Riley Blake Designs. Isn't it perfect for little hexagons?
This fabric range contains such bright and beautiful shades, with a range of small and large florals and patterns in varying designs. This made it the perfect range for an EPP project! I chose to leave out the red prints and focus on the pinks, blues and yellows instead.
Using the techniques laid out in Carolina's book, the hexie panel came together quickly and easily. I varied the pattern a little and hand stitched the panel down onto my backing fabric, instead of using the machine. I also made the cutest scrappy binding so that I could showcase my favourite 'Handpicked' prints. And I have to say that I really love the finished product.
This placemat will have pride of place on my work table. The white background makes it a perfect working surface for assembling other small EPP and quilty projects. And my Miss Maisie pin cushion looks so sweet here with my sewing supplies. You can find her pattern in the store as part of the Miss Molly and Friends Pin Cushion Trio.
If you haven't been following along with the tour already, you can look back on all the beautiful projects made by these amazing bloggers in the last couple of weeks. The line-up is below.
Thanks for stopping by. Happy stitching, Lauren x
——————
Friday, January 25th: Carolina from Always Expect Moore
Saturday, January 26th: Linda from Linda B Creative and Havalah from Sisters, What
Sunday, January 27th: Teresa from Sewn Up, Teresa Down Under and Stephanie from Modern Sewciety
Monday, January 28th: Jen from Faith and Fabric (that's me!) and Alicia from Sew What Alicia
Tuesday, January 29th: Sherry from Powered by Quilting and Marie from Underground Crafter
Wednesday, January 30th: Brooke from Brooklyn Berry Designs and Melody from Two Maker Chicks
Thursday, January 31st: Ali from Home Crafts by Ali and Sarah from Quilted Diary
Friday, February 1st: Bobbie from the Geeky Bobbin and Gemia from Phat Quarters
Saturday, February 2nd: Beth from Garland Girl Quilts and Bobbi from Snowy Days Quilting
Sunday, February 3rd: Kirsty from Bonjour Quilts and Simone from Charmed Life Quilting
Monday, February 4th: Aimee from Things Small and Simple and Mathew from Mister Domestic
Tuesday, February 5th: Kathy from Kathy's kwilts and more and Kim from Stitched in Purple
Wednesday, February 6th: Audrey from the Cloth Parcel and Anorina from Samelia's Mum
Thursday, February 7th: Laura from Slice of Pi Quilts and Lauren from Molly and Mama
Friday, February 8th: Sarah from Saroy and Stephanie from Swoodson Says
This post was written by Lauren Wright and appeared first at Molly and Mama  https://www.mollyandmama.com.au