Happy Hexies – a Beautiful New Book from Zakka Workshop (plus a Giveaway)
Happy Hexies is a beautiful new sewing book brought to you by Zakka Workshop. It features 12 hexie-inspired zakka projects that are quick to make and fun to sew. The team at Zakka Workshop very kindly sent me a copy of the book to play with. Even the cover is happy and fun, right?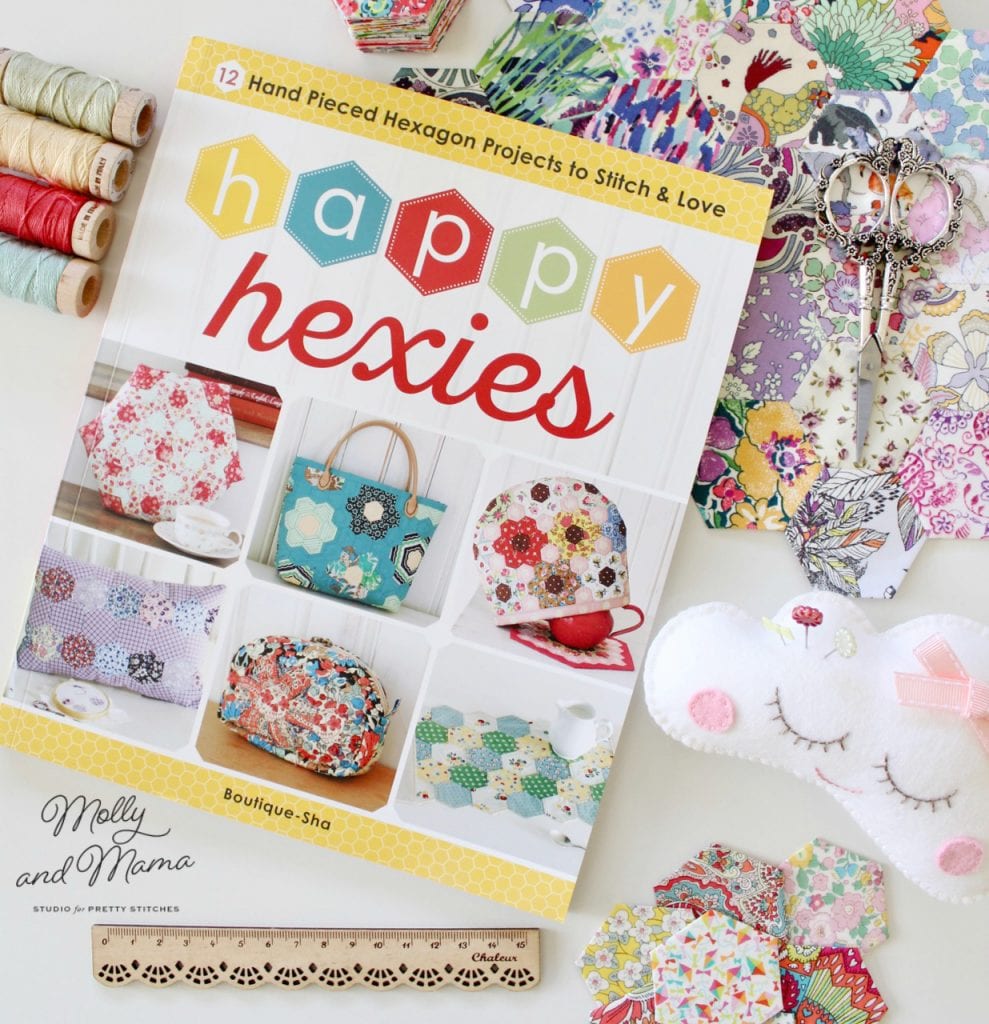 I love that the book teaches you two main methods for piecing; the English paper piecing method and hand piecing. I definitely learnt some new techniques when reading the detailed 'Before You Begin' section of the book.
Each project is neatly laid out with a materials list, cutting instructions, clear step-by-step instructions and easy-to-understand illustrations. And there are plenty of inspiring photos too.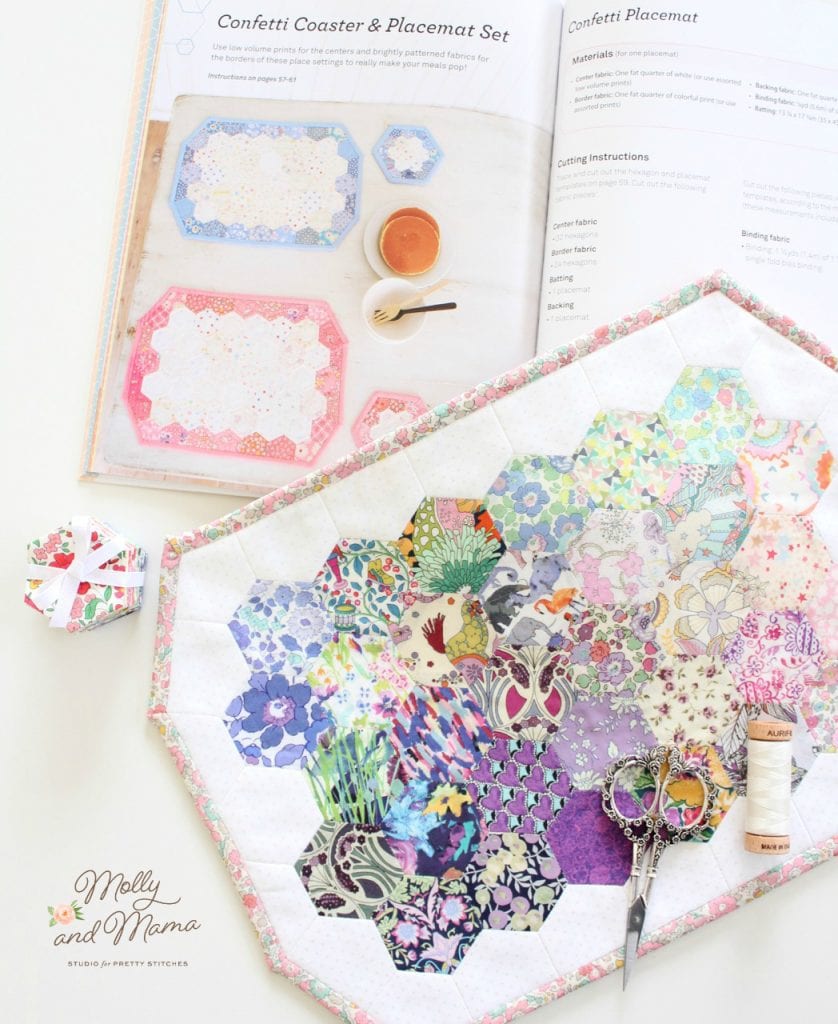 I have to confess that I couldn't stop looking at the pages until I decided on a project to sew! I loved the Confetti Coaster & Placemat set, however I didn't have enough low volume fabrics to piece the centre panel (note to self – rectify that a.s.a.p!). However, I did have a Liberty hexie panel that I had already begun stitching and it just so happened that it was perfectly sized for the placemat project. So I used a fine pin dot quilter's cotton for the border instead. And although it's different to the book project, I was still really happy with how it turned out. I'm especially loving the placemat shape. It made a nice change from the traditional rectangle, that's for sure!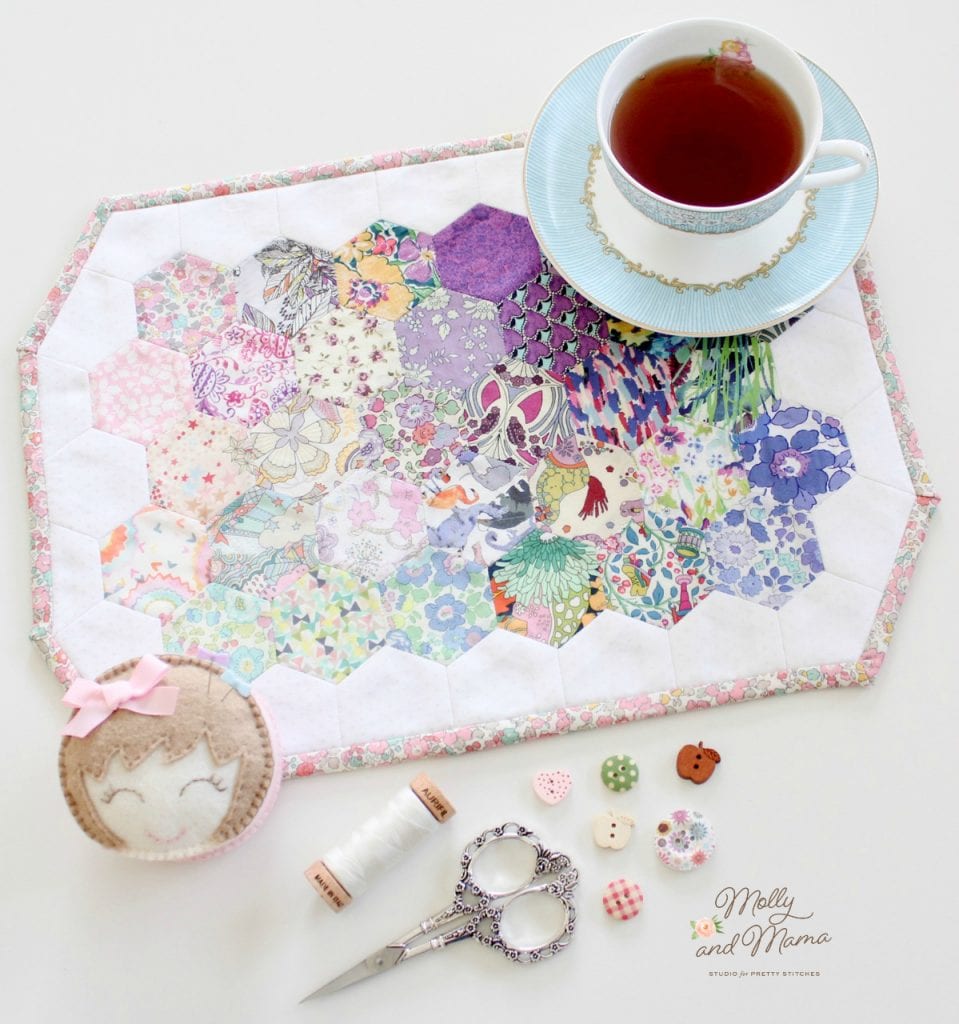 The whole project stitched up beautifully in Liberty fabric and Aurifil thread. So next I'll need to make the matching coaster.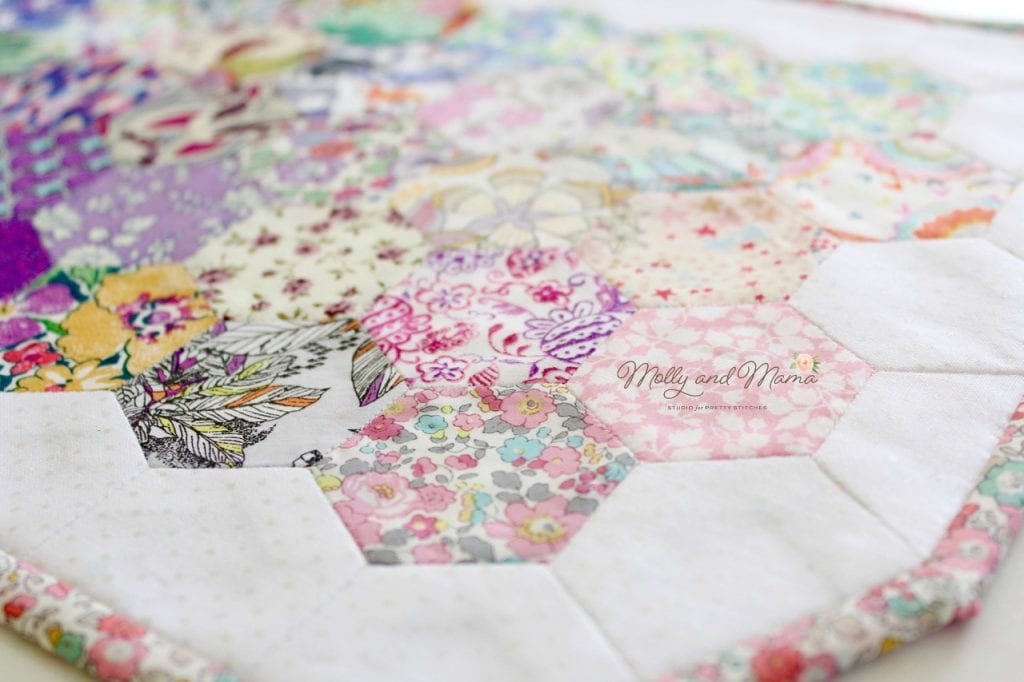 There are instructions in Happy Hexies to make pouches and pillows and a mini quilt. But I'm also excited about the tea cozy, mini tote bag and hexie purse too! I'm not sure which pattern I'll try next!
Would you like to win your own copy of this gorgeous book? Zakka Workshop have very kindly provided me with a copy to gift to one of my lovely followers. Just leave me a comment below, finishing this sentence;
Sewing hexies makes me feel…
What do you love most about English paper piecing and hexie sewing? Leave a comment below for your chance to win. And then head to the Molly and Mama instagram post to gain an additional entry.
EDIT – 20th July, 2017 at 9.15pm AEST -THIS GIVEAWAY IS NOW CLOSED. Warmest congratulations to Carina whose reply on July 18, 2017 at 8:41 am was selected as the winning comment!
Happy stitching, Lauren x
T&Cs of Giveaway
This giveaway is open to international entries.
For a valid entry, leave a comment below answering this question; 'Sewing hexies makes me feel…'
The best answer will be chosen from the comments here, and the entries on the Instagram post, and the winner will be announced on this blog post after the competition closes.
Entries close on Thursday, the 20th of July, 2017 at 9pm Australian Eastern Standard Time (GMT +10).
The winner will be notified via Email or Instagram direct message and will be required to provide a mailing address to receive the prize – a copy of Happy Hexies book from Zakka Workshop.
One comment per person is permitted on this blog post. To gain an additional entry to the competition, you may enter on the Molly and Mama Instagram account.