Pretty Cushion in Hidden Cottage Fabric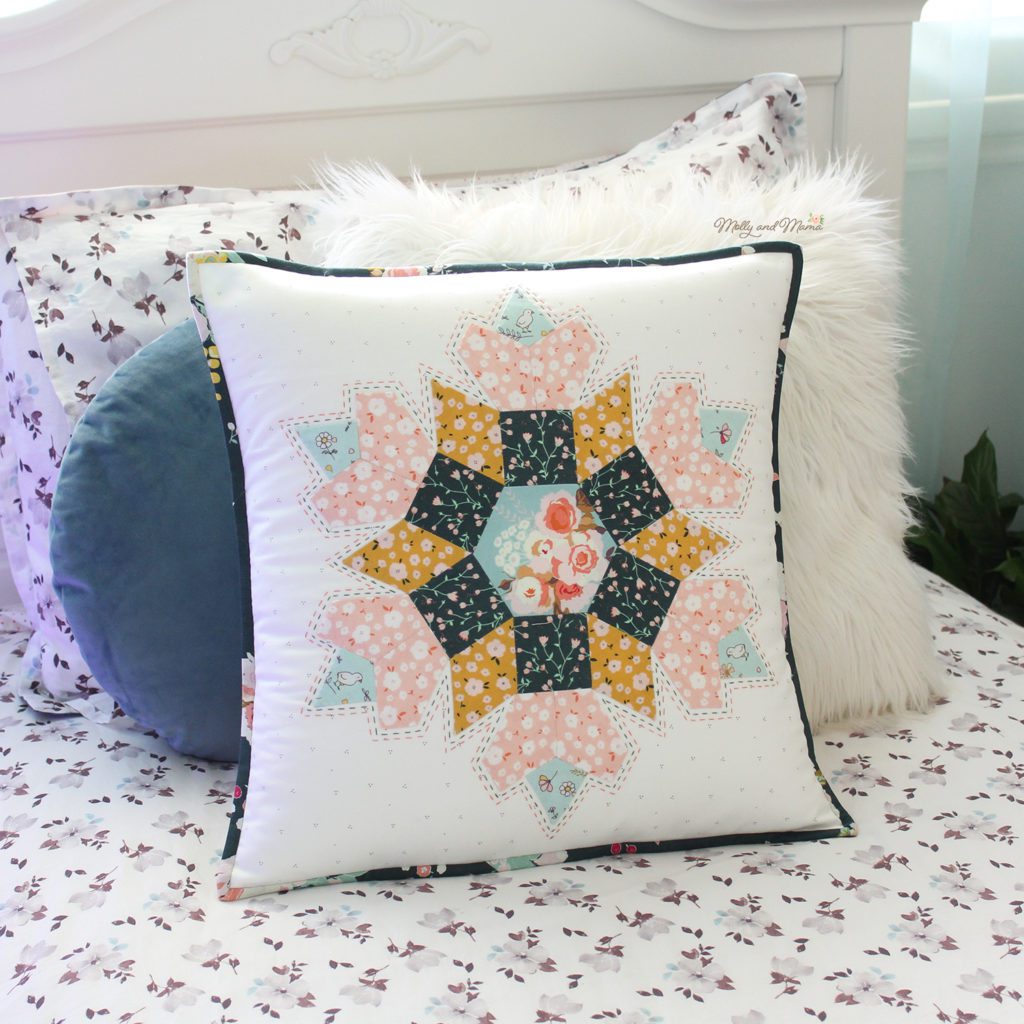 When fabric bundles are delivered to my doorstep, it's a pretty amazing day! Riley Blake Designs recently sent me the latest fabric collection by Minki Kim called Hidden Cottage. I have always loved Minki's style and her fabric collections are always an eclectic mix of florals, tiny prints and geometric mixers. She's also really adventurous when choosing her colour palettes and this collection is no exception. Isn't it lovely?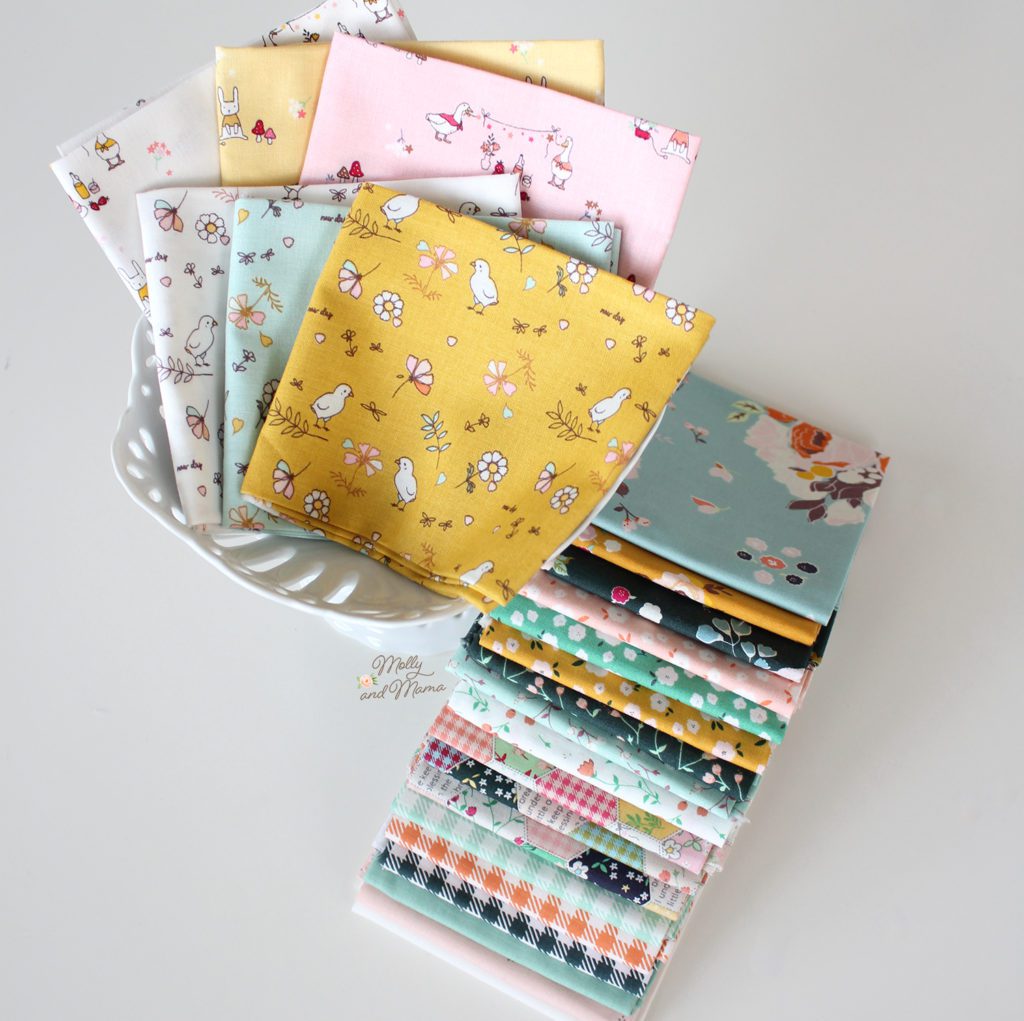 I was so excited to play with these fat quarters. And I love the end result! Read on to find out more about the Stella Cushion I made, and this lovely new fabric collection.
When I worked with Minki's last collection 'Idyllic', I created a new version of my Hexagon Bumblebee Bag. The motifs in her designs are always perfect for fussy cutting and English paper piecing, which made for a striking bag. You can read more about it here and see the pattern in my store.
This time around, I wanted to showcase those cute prints again so I chose to remake my Stella Cushion. The use of varied English paper piecing shapes meant that I could really highlight some of the sweet motifs and use the contrasting colours to create a lot of interest in the EPP panel. How cute are those chicks and flowers?
I'm really looking forward to using the hexagon cheater prints in my next project. I love it when all of the hard work is done for you. And Minki has made each and every hexagon in those designs really unique.
I find the process of hand stitching the panel to be so relaxing. English paper piecing is excellent for portable sewing. I love to work while I'm chilling out in front of the TV with my family, but it's also great to throw in my bag when I am watching the kids at sport or waiting for an appointment.
Here's a little image of some of the panel points I preassembled. It makes it easier to work on the main panel when some of the pieces are already stitched together.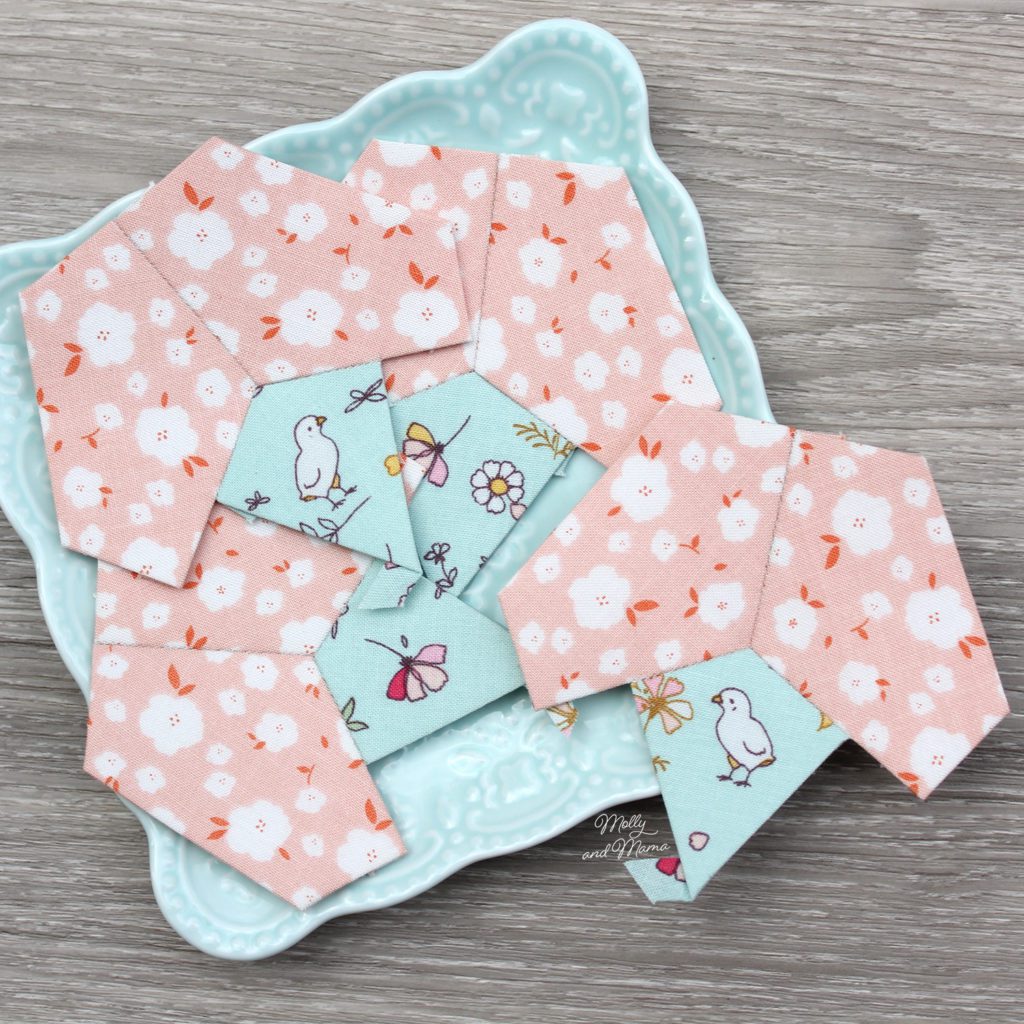 These little, finished points were attached to the main panel. I love the contrast between the peach, aqua, mustard and dark olive tones.
After hand appliqueing the panel to the backing fabric, hand quilted details were added. That's always one of my favourite parts!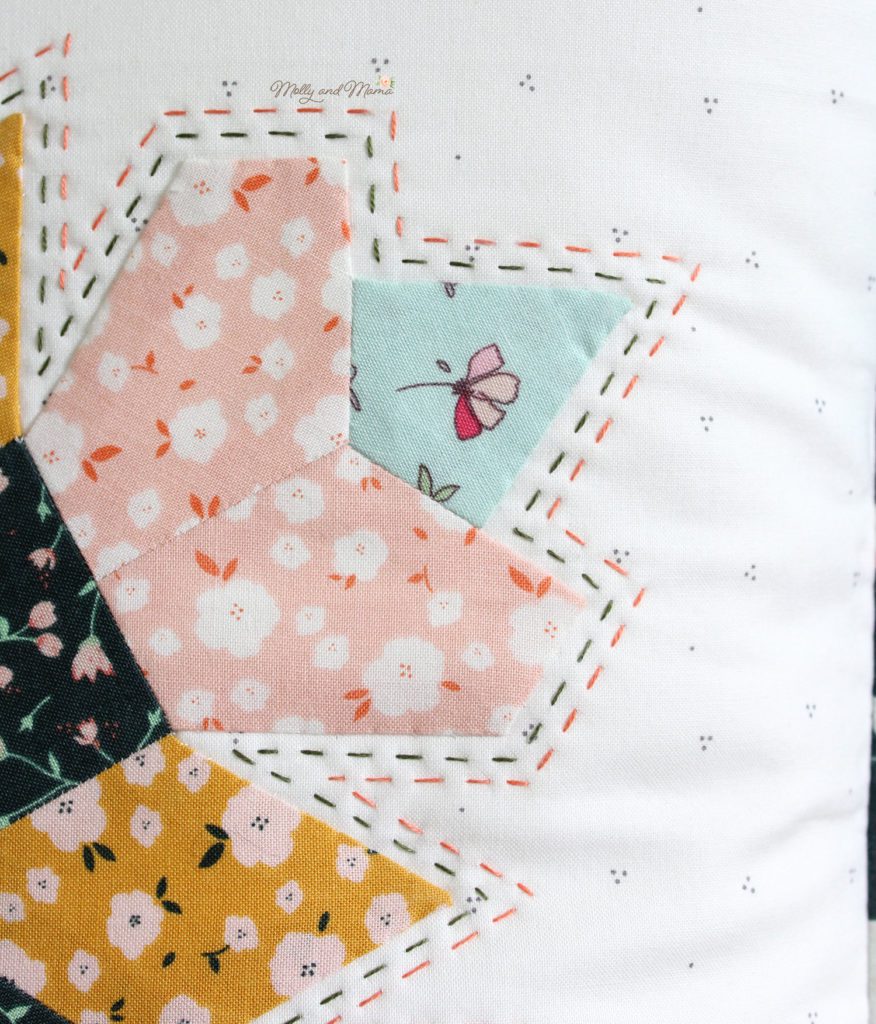 Assembling the cushion was quick and easy, even with the binding pieced from a fat quarter.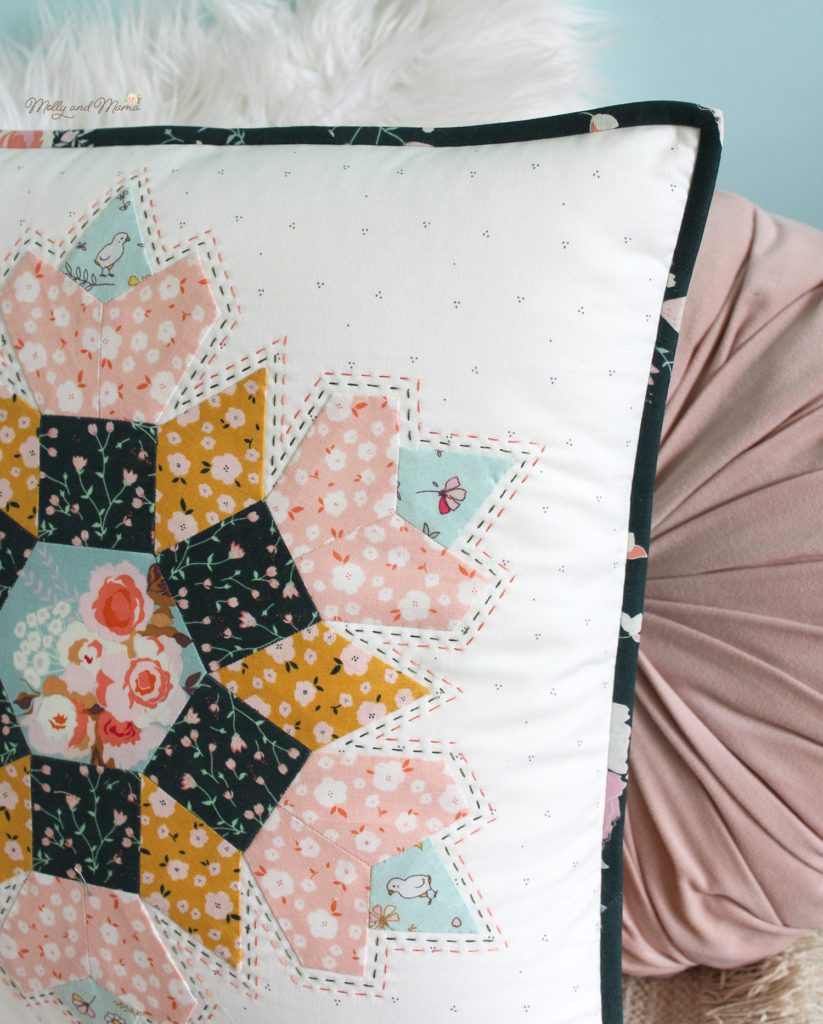 The Stella Cushion Pattern comes with three different alternative embroideries for the centre hexagon. However, the pretty florals in this fabric were just screaming out to be featured. So I'm glad I chose my favourite for the centre of this panel.
This is what the cover version of the Stella Cushion looks like in Liberty pinks. Just quietly, I think I prefer this new version now!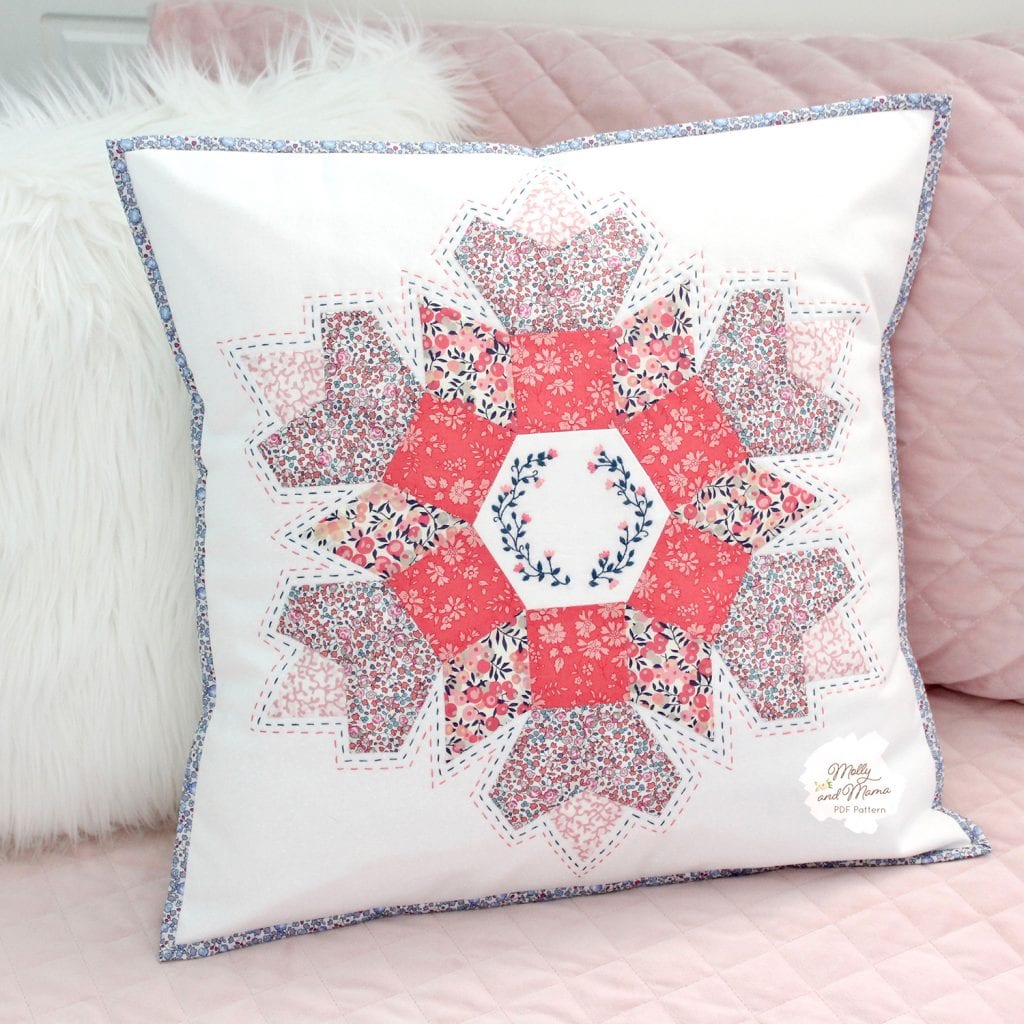 If you're new to English paper piecing, check out my beginner's tutorial which explains the process in lots of great detail.
The Stella Cushion EPP panel can be assembled from the smallest fabric scraps, making this project perfect for pre-cuts, like 5″ stackers. And the remainder of the cushion was made with fat quarters.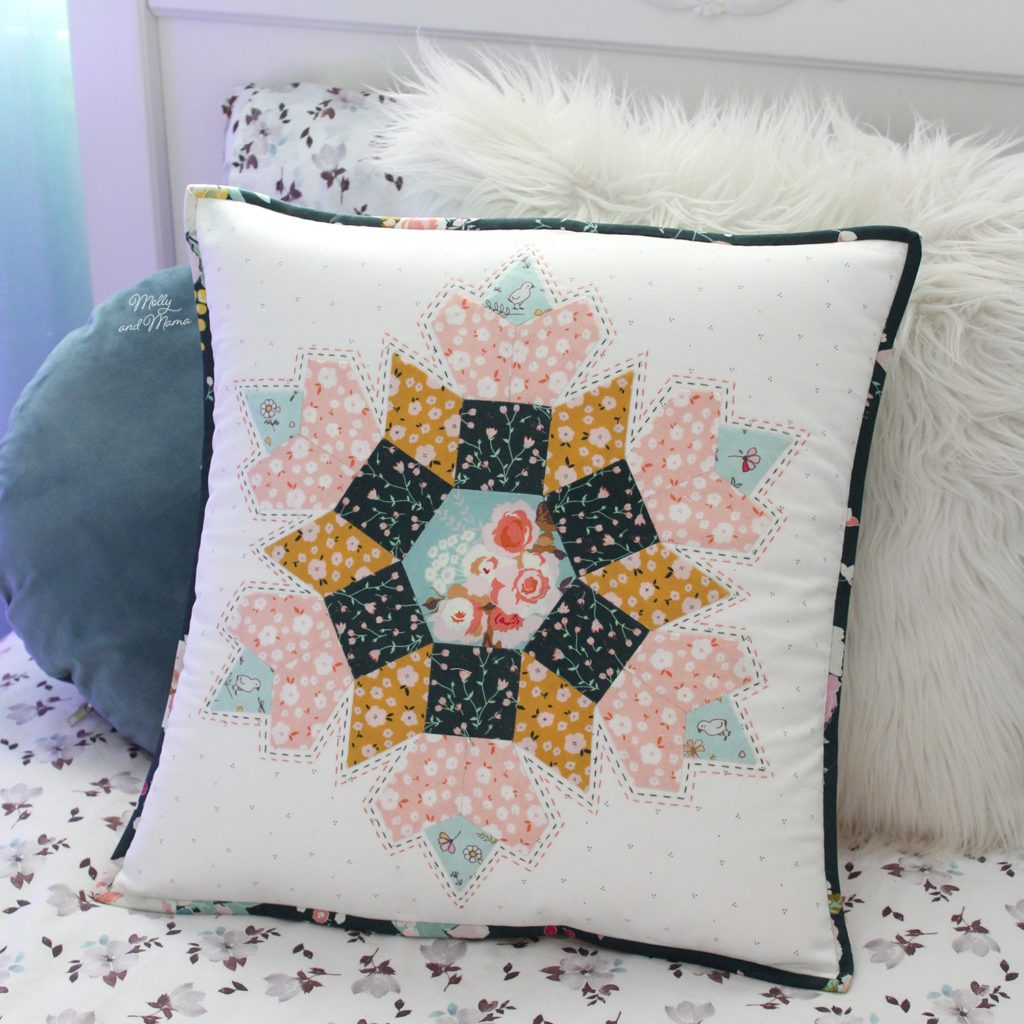 Hidden Cottage is available now, so please check with your favourite fabric retailer!
Happy stitching, Lauren x