Christmas Stocking for the Tilda Old Rose Showcase
Welcome to the Tilda Old Rose Showcase hosted by Tilda Australia on Instagram! Starting on the 27th of September, designers and makers from all over the world will be sharing the beautiful projects they have made with this lovely fabric.
Two Green Zebras very kindly sent me this bundle to play with and it has been a dream to sew with these delicate and dainty prints. I absolutely love Tilda's return to vintage florals. There's just something about roses that is really hard to resist. The deep rose and jade green shades drew me in, but I'm loving the violet and periwinkle too (which says a lot, as many of you know that I'm not usually a fan of purples). It's the romance of the range that is so appealing though!
So today it's my turn to show you what I have created. And I'm thrilled to share a brand new design. Introducing the 'Night Before Christmas' stocking.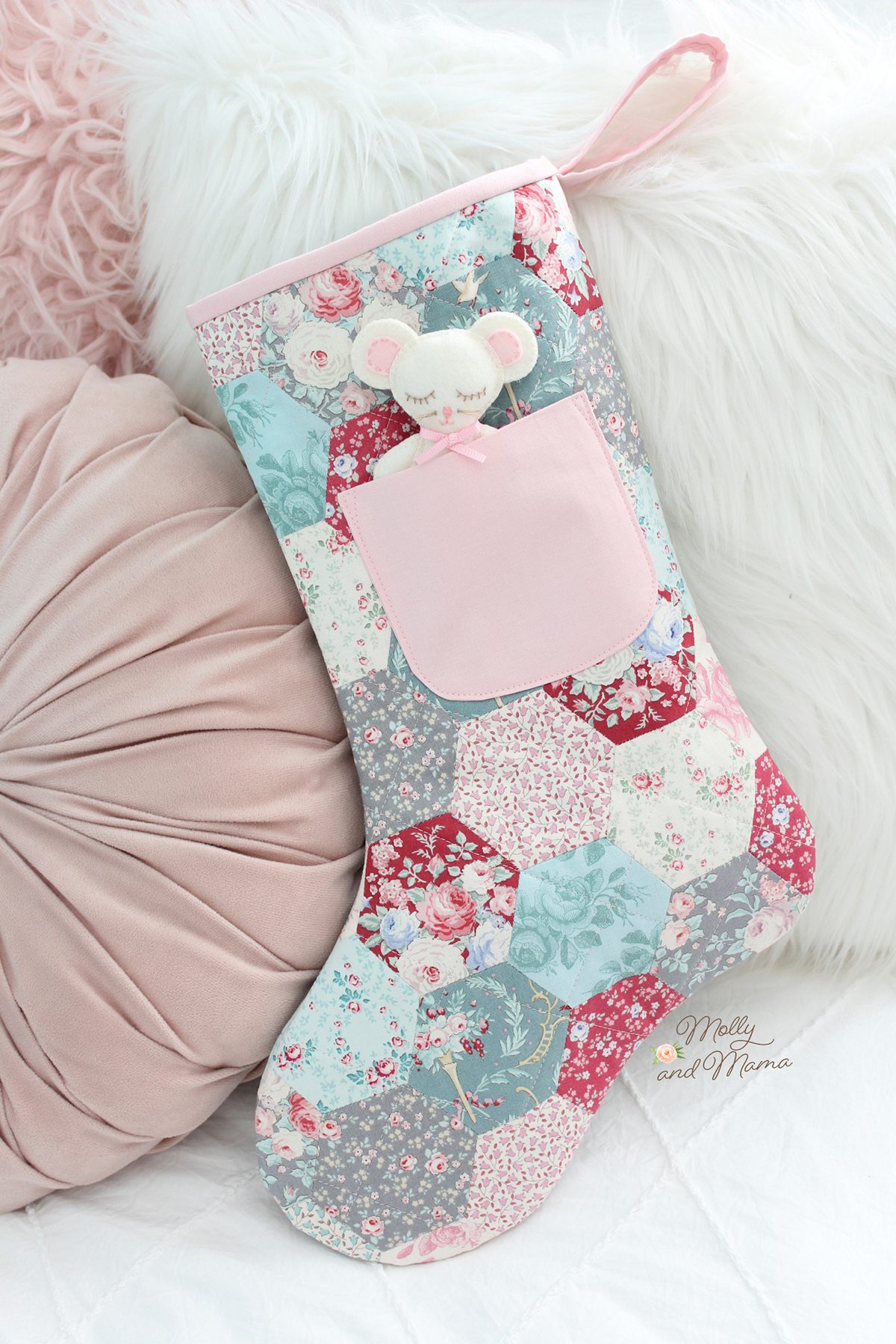 My first task was to baste a whole bundle of pretty hexagons. I decided to use a combination of the rose and green prints for this project, as it's a Christmas design after all! If you're interested in learning more about hexagons and the process of English paper piecing, you might like my Beginner's Tutorial. I also have a range of easy tutorials for hexies too.
Creating the design was a lot of fun too. I knew I wanted to incorporate a little pocket for important messages to Santa. But then I realised it would be a wonderful home for a little felt friend too. So I made this sweet Christmas mouse.
I can see a whole collection of different stockings with little pocket pals and perhaps embroidered pockets with names! What do you think?
I'm so excited to announce that this PDF pattern is now available for Instant Download in my Etsy shop. You can buy it HERE or ask for it at your local quilting shop. My distributor Creative Abundance can help them out with copies of my paper patterns. And this one also includes the EPP papers inside!
If you're loving the look of this fabric, it releases internationally on October the first. Ask for it at your local quilting store. Or head to Utopian Threads, the Fabric Pixie, or the Oz Material Girls.
The showcase continues until the middle of October, with lots of makers you can visit on their blog or on Instagram. Be sure to check out the hashtags #tildaoldrose, #tildaoldroseshowcase and #tildafabrics too.
Thanks for joining me today. If you're new here and you want to spend a little bit more time looking around Molly and Mama, I'd be honoured to have you. Please start here for more information.
Happy stitching, Lauren x
This post was written by Lauren Wright and appeared first on Molly and Mama www.MollyandMama.com.au