Make a Simple Scrappy Christmas Cushion Cover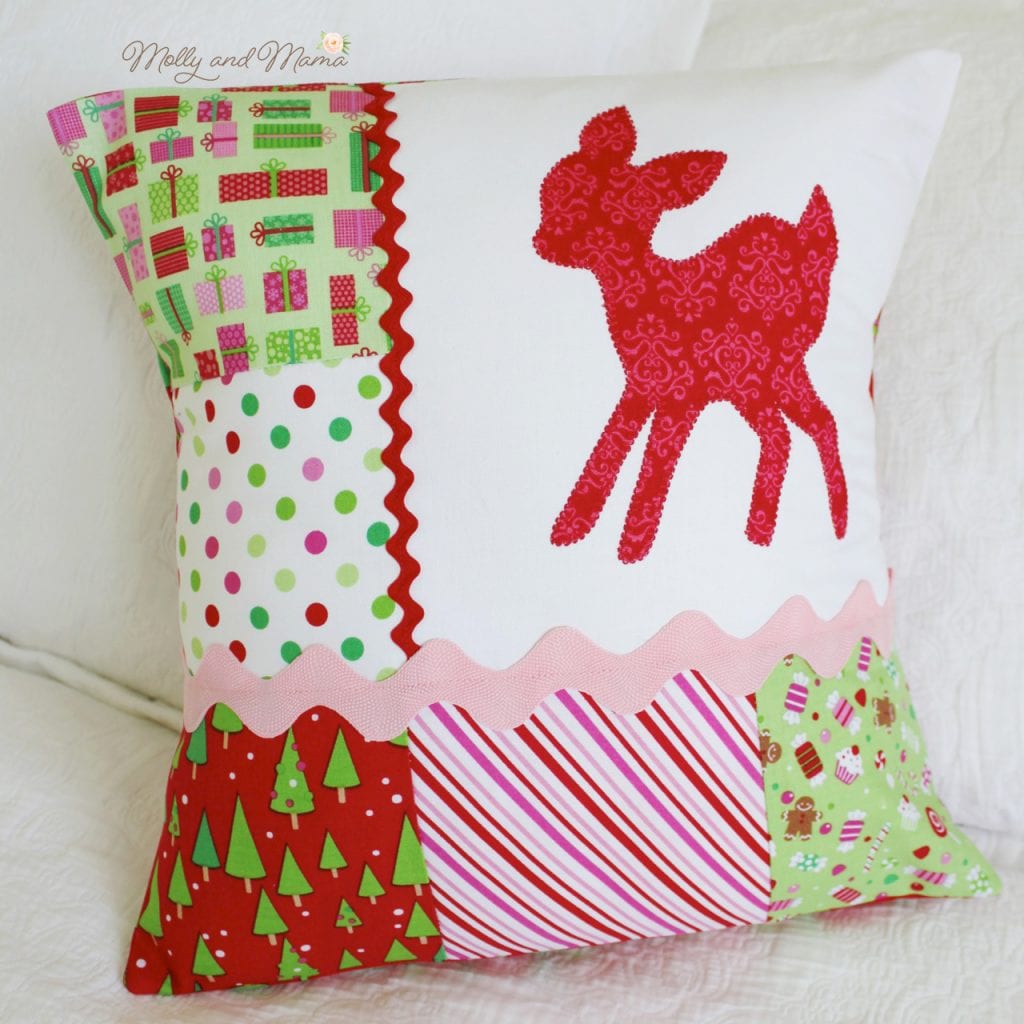 It's easy to get Christmassy with some cute Christmas scraps and a sweet appliqué template. Here's a cute cushion tutorial that's perfect for the beginner. It would make a beautiful addition to any Christmas decor collection or bedroom interior. It uses a mix of appliqué and very basic patchwork. So it's really quick to make.
It also has a very simple envelope opening at the back. This means no button holes, no zips, no stress. And as an added bonus, this type of cover is great for kids as it's soft for them to sleep on (if they wish). You simply slip the cushion into the cover. The completed size is a 12 inch square, so it naturally takes a 12 inch cushion insert (however, you can make it any size you like).
Follow along below to discover how easy this Christmas Cushion is to make.
What did I use?
My printer to print a template like my Little Deer template
22cm or 8.75″ square of white quilting cotton for my appliqué
5 x 12.5cm (5″) Christmas charm squares
Two 33cm (13″) wide x 25cm (10″) deep) pieces of quilting cotton for the envelope backing
17 cm (7″) square of fusible heat bonding web for appliqué, like

vliesofix or Heat'n'bond

a pen
iron and ironing board
Ric Rac trim in two coordinating colours (25 cm or 10″ long and 35 cm or 14″ long)
12″ cushion insert
What did I do?
To start the cushion, I created an applique deer on my white fabric panel. If you're confident with appliqué, you'll know what you're doing here! If this is something new to you, it's a very easy technique to mater. I have created a separate tutorial on Appliqué for Beginners that outlines exactly what to do. And here's the free 'Little Deer' template to save and print.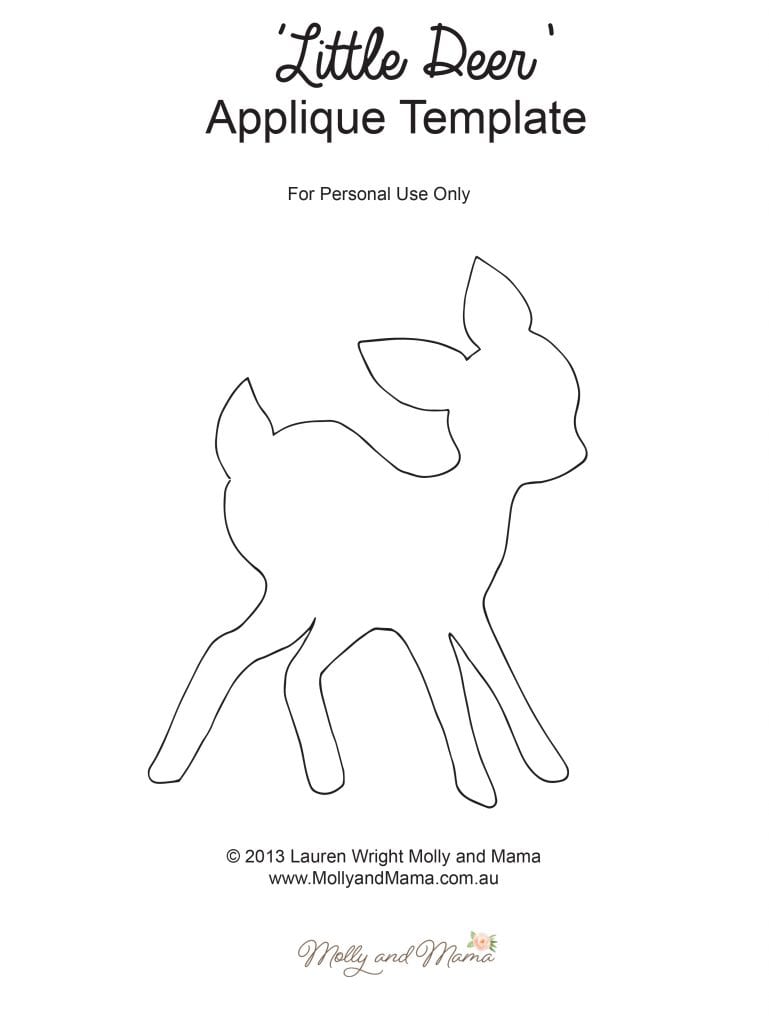 As a quick refresher, you can follow the diagram for applique below;
1. Trace your appliqué template onto the paper side of your vliesofix or heat'n'bond, and cut around it.
2. Iron your template onto the wrong side of your fabric.
3. Cut around your template on the lines.
4. Here's your cut out little deer.
5. Peel off the backing paper.
6. Centre your deer on the right side (the front) of your fabric and iron it into place.
7. Blanket stitch around the perimeter of the deer to secure the appliqué.
8. Here's how your blanket stitched applique will look from the back.
9. Here's your cute little completed reindeer from the front.
How did I create the cushion top?
Once my sweet little Christmas reindeer was appliquéd, I set about choosing some fabric scraps to make a border of sorts. I wanted my completed project to be a 12 inch (30cm) square, so I used scraps to fit. So here's where you can get really creative or keep things super simple. I chose some coordinating Christmas prints.
I laid out two charm squares (5″ or 12.5cm) to add to the side of my deer appliqué. After sewing them together and ironing them flat, I then pieced them together with the deer appliqué.
After trimming the overhang away, I covered my main seam with some cheery red ric rac.
Next came the base. I stitched three five-inch charm squares together to make a base strip. I then pressed them neatly.
Being careful to match up the seams, I then sewed the deer appliqué and base strip together. Then I covered the seam with some more cute ric rac. And came up with a top piece like this!
How did I put it all together?
Once the cushion top was completed I created a very simple envelope opening on the back. I cut two pieces of fabric 33cm wide and 25cm deep. I hemmed the top of one and the bottom of the other, as pictured below. I then overlapped them on my cushion top with the right sides of the backing pieces facing the right side of the cushion top. After pinning the layers, I carefully stitched them together.
All that was left to do was trim the corners, turn the cover right side out and iron it.
The completed back of the cushion with the envelope opening looked like this;
And the front turned out super sweet too!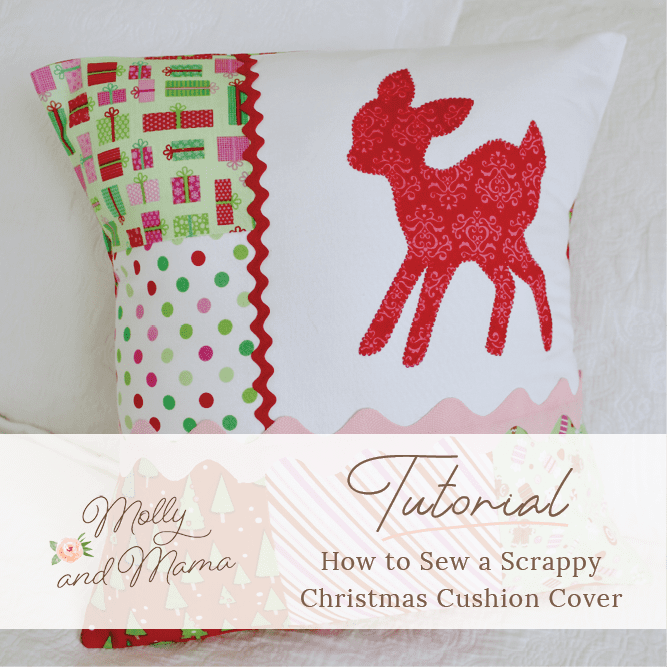 Now my Christmas Cushion just needs a good home. It's a simple and quick project made in a few hours, that makes a perfect gift. Hope you like it!
If you're looking for more quick and easy Christmas ideas, this POST has some great ideas!
And you can see more projects HERE also! Pop over to Pinterest to check out my Christmas Inspiration board if you'd like too.
I'd love to see your Christmas projects so be sure to share your links or post them to the Molly and Mama facebook page wall!
Happy stitching, Lauren x
This post was written by Lauren Wright and appeared first on Molly and Mama http://www.MollyandMama.com.au