An Update For My 'Night Before Christmas Stocking' Pattern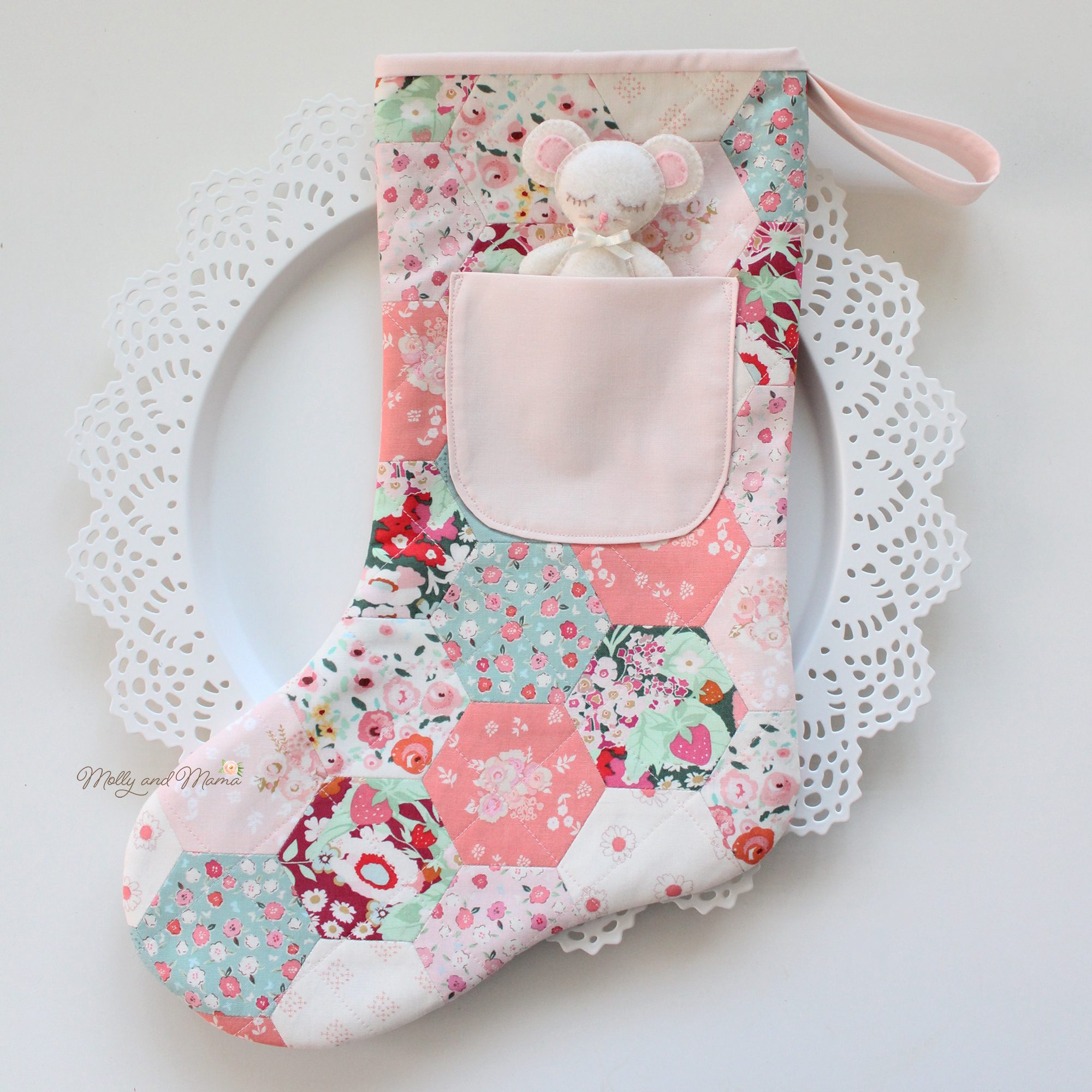 I've just finished sewing this gorgeous, new, Christmas stocking using one of my favourite patterns and the brand new fabric collection by Minki Kim called 'In the Afterglow'. The Night Before Christmas Stocking was first released in 2019 and since then, I have made lots of different versions of this sweet festive project. And each time I make a new one, it becomes my current favourite.
'In the Afterglow' Version
This version was lovely to sew, because there's something really fun about working with everyday fabrics to make festive projects. I chose to work with the florals in apricot, dusty rose, pale pink, blue and cream from the 'In The Afterglow' collection. But I also surprised myself by selecting the main print in the deeper shades of forest and orchid. I love the riot of flowers, leaves and strawberries in those prints! Don't they look lovely pictured here with my Miss Molly Pin Cushion?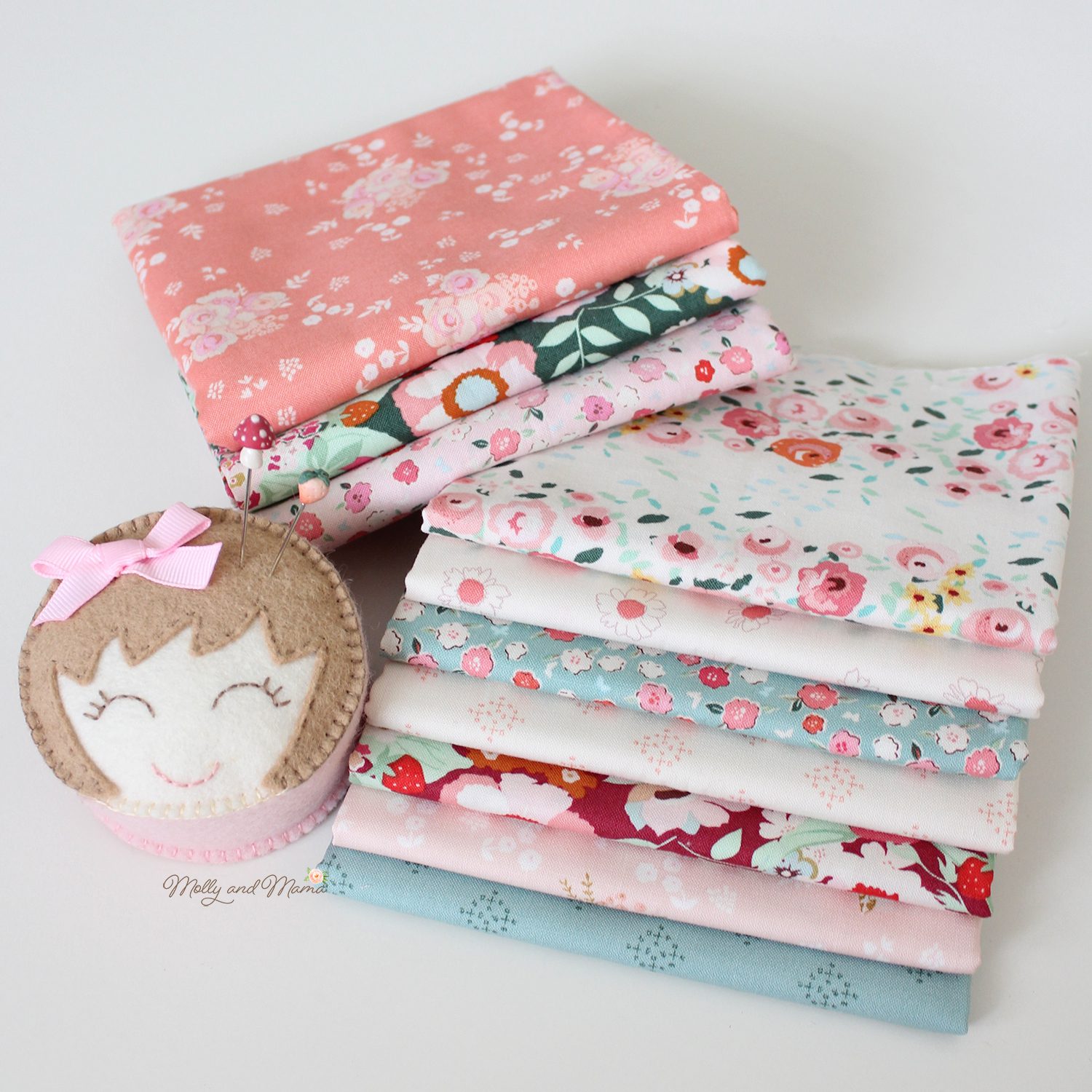 I knew this fabric would work so well for the pattern because the Night Before Christmas Stocking features an English paper pieced hexagon front and a patchwork back. I even show you how to make the little sugar mouse that sits in the front pocket too.
The first stage in the stocking construction is to piece the front hexagon panel. (If you're new to English paper piecing, feel free to visit my Beginner's Tutorial for more information.) Glue basting the hexagons is one of my favourite things to do. How lovely is this little pile of hexies? It's a great way to really show off some of the gorgeous motifs in the fabric.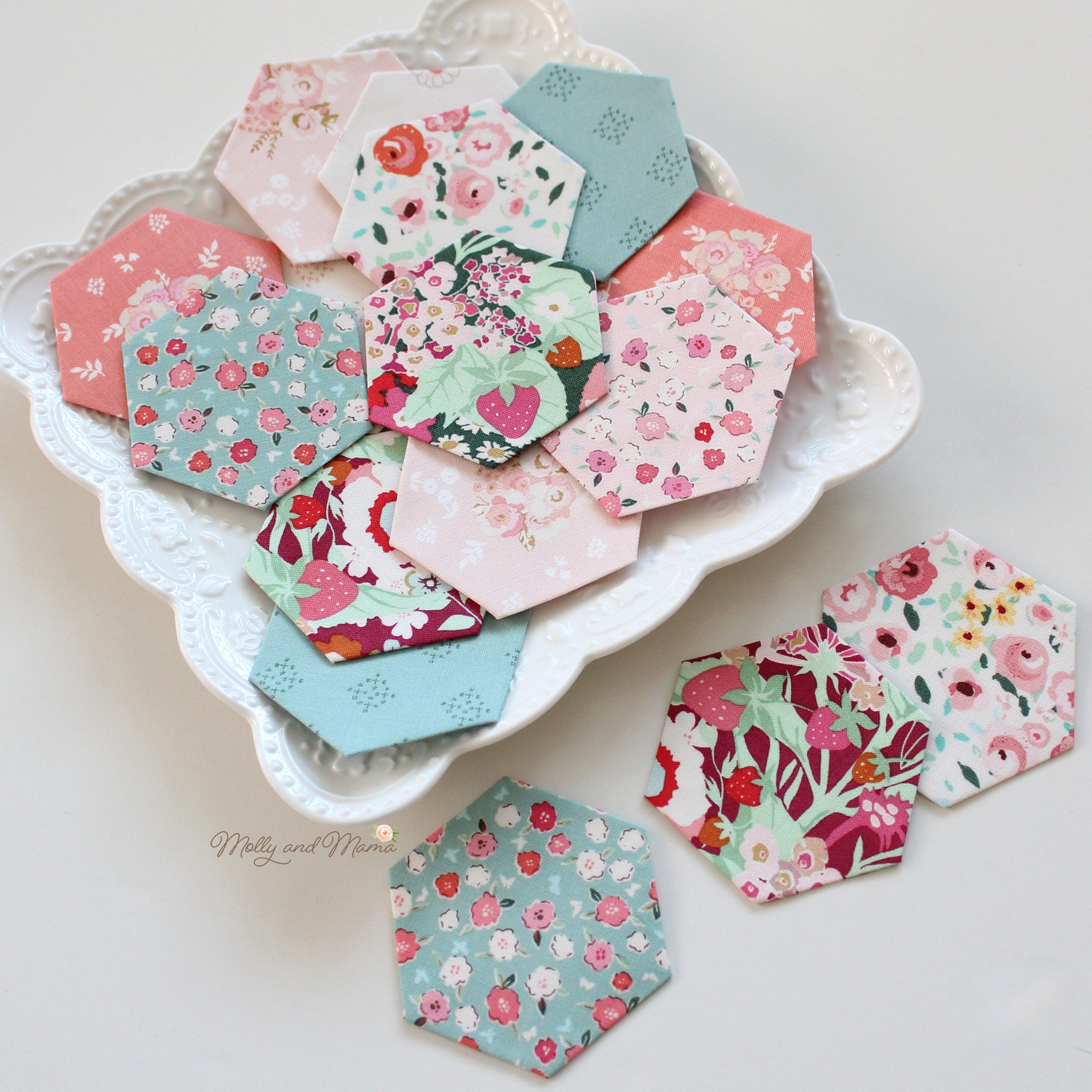 After completing the hexagon panel, the rest of the stocking came together quickly and easily. I used a solid in pastel pink for the pocket, binding and hanging loop, so that it didn't distract from all of those gorgeous prints!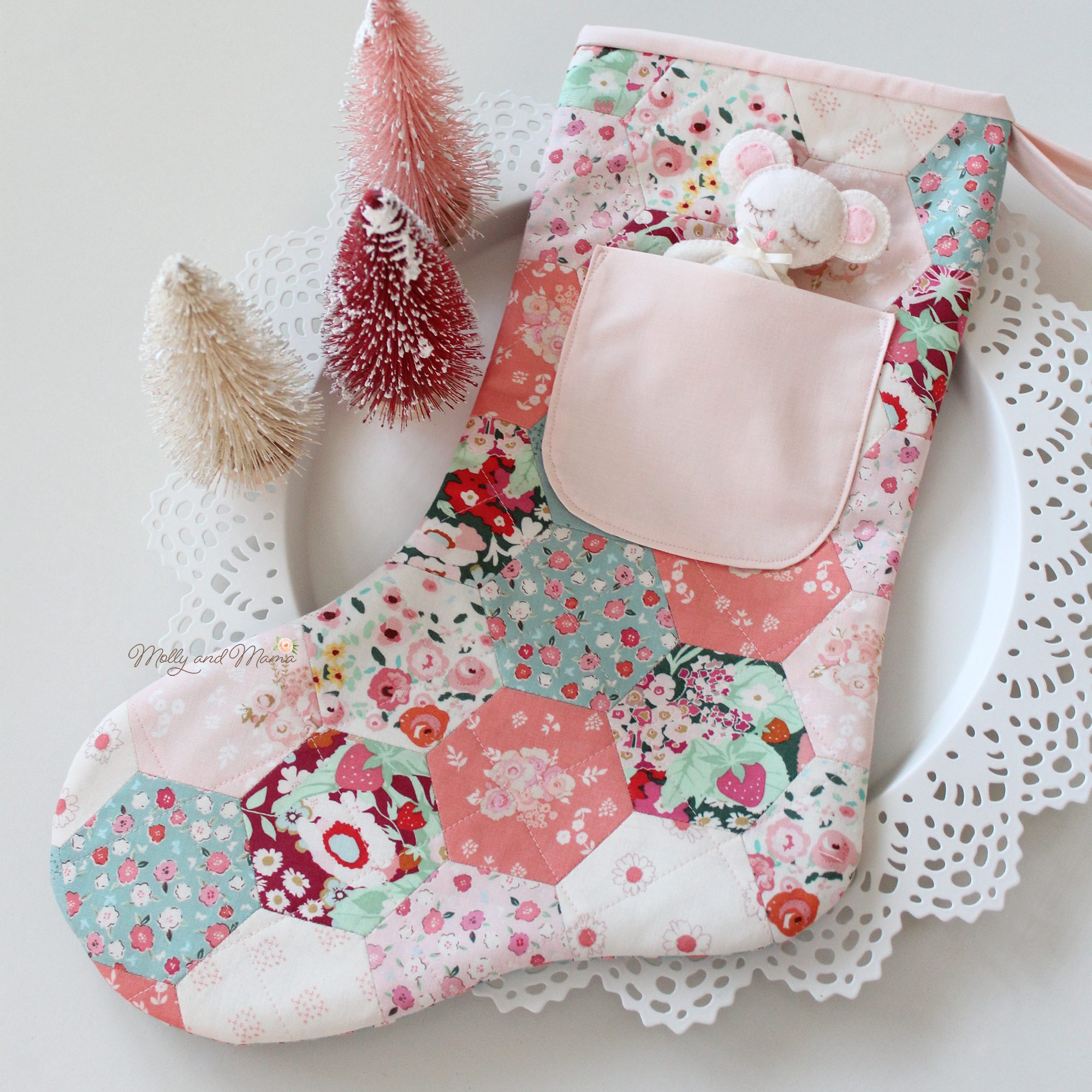 The back of the stocking features simple pieced patchwork, but it still looks really effective and makes this project perfect for scrappy sewing and using pre-cuts and fat quarters.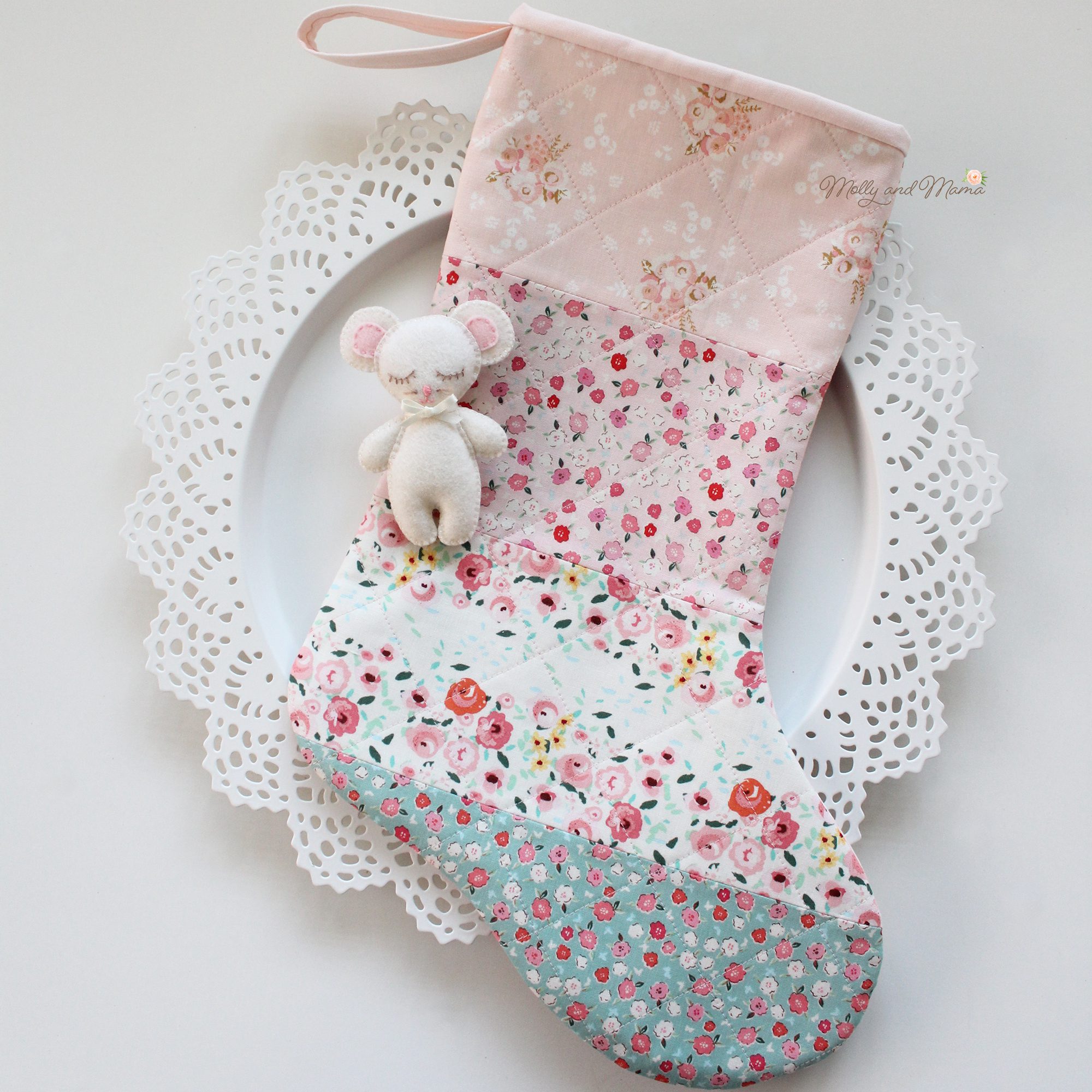 When I selected the fabrics, I wasn't sure how the bolder prints would go amongst the pastels, but the forest green print was perfect for the lining. It adds a nice contrast and is a bit of a surprise when you open the stocking to tuck Christmas treats inside. I especially love the little strawberries.
Making the little felt mouse is one of my favourite parts of sewing the stocking and I provide full instructions in the pattern. If you haven't worked with wool felt much before, you can read all about why I love it so much and then see my tips for cutting out shapes, and embroidering on felt.
If you'd like to make your own stocking I'll be hosting a sew along for it very soon. Jump on the email list so you don't miss anything.
Thanks for joining me today. I hope you find these images inspiring and you're ready to get your festive sewing underway. Happy stitching!