Introducing the Flora Fiesta Embroidery Pattern
Introducing the latest pattern to the Molly and Mama range – The Flora Fiesta Embroidery Hoop! I'm so pleased to be able to share this pattern with you. Have you always wanted to try embroidery, but you weren't sure where to start? The Flora Fiesta will be the perfect project to begin your journey into stitching and embroidery.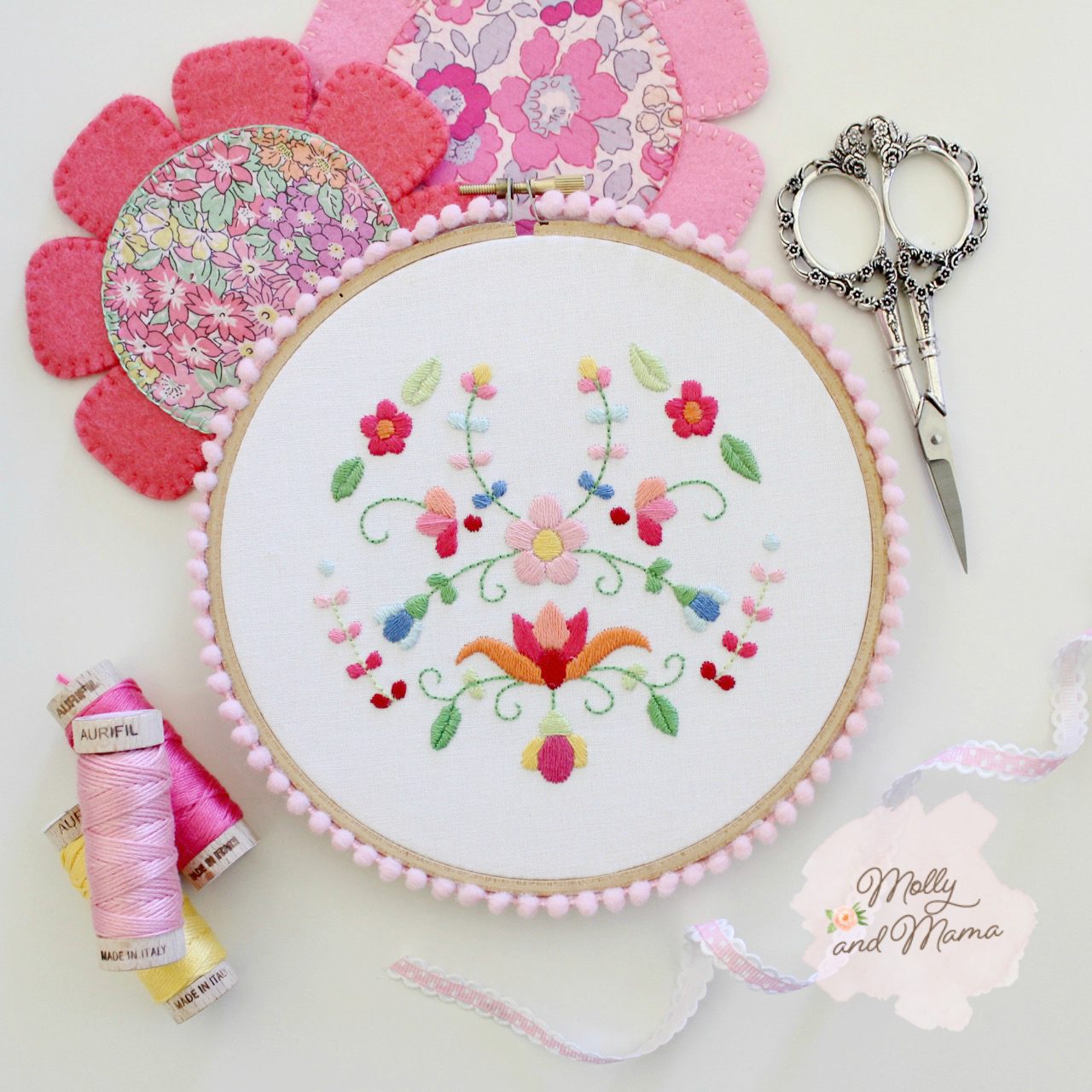 When Jen, the editor of One Thimble*, was putting together her 17th Issue, she had a bright and cheery colour palette in mind. Think Mexican Fiesta. So with that brief in mind, I designed a floral motif that despite being quite simple, is colourful and fun! The pattern is included in Issue 17, which you can purchase here* (*this link is an affiliate link).
The Flora Fiesta Embroidery Design is also available as a separate pattern in my Etsy Store.
The best thing about this pattern is that it is perfect for beginners. It is created with only two stitch types; back stitch and satin stitch. Both are very easy to master and quick to sew.
When complete, the hoop art design fits neatly inside a 6″ (15.25cm) timber embroidery hoop. The floral motif measures approximately 4.25″ (11cm) across. However, you can change the size by simply reducing or enlarging the template on your printer or copier. That way, you can use the design for any purpose you like.
When you purchase the pattern, you will find;
easy to follow, detailed instructions
lots of clear, step-by-step photos
a template outline of the embroidery design
instructions to transfer the design onto fabric and position the fabric in the hoop
instructions to stitch the embroidery details by hand, including finishing
instructions to finish the embroidery hoop with a wool felt backing, in preparation for display
It's all very straightforward and simple.
Here are some beautiful examples of the Flora Fiesta Embroidery Design stitched by some of my pattern testers. Didn't they do a lovely job?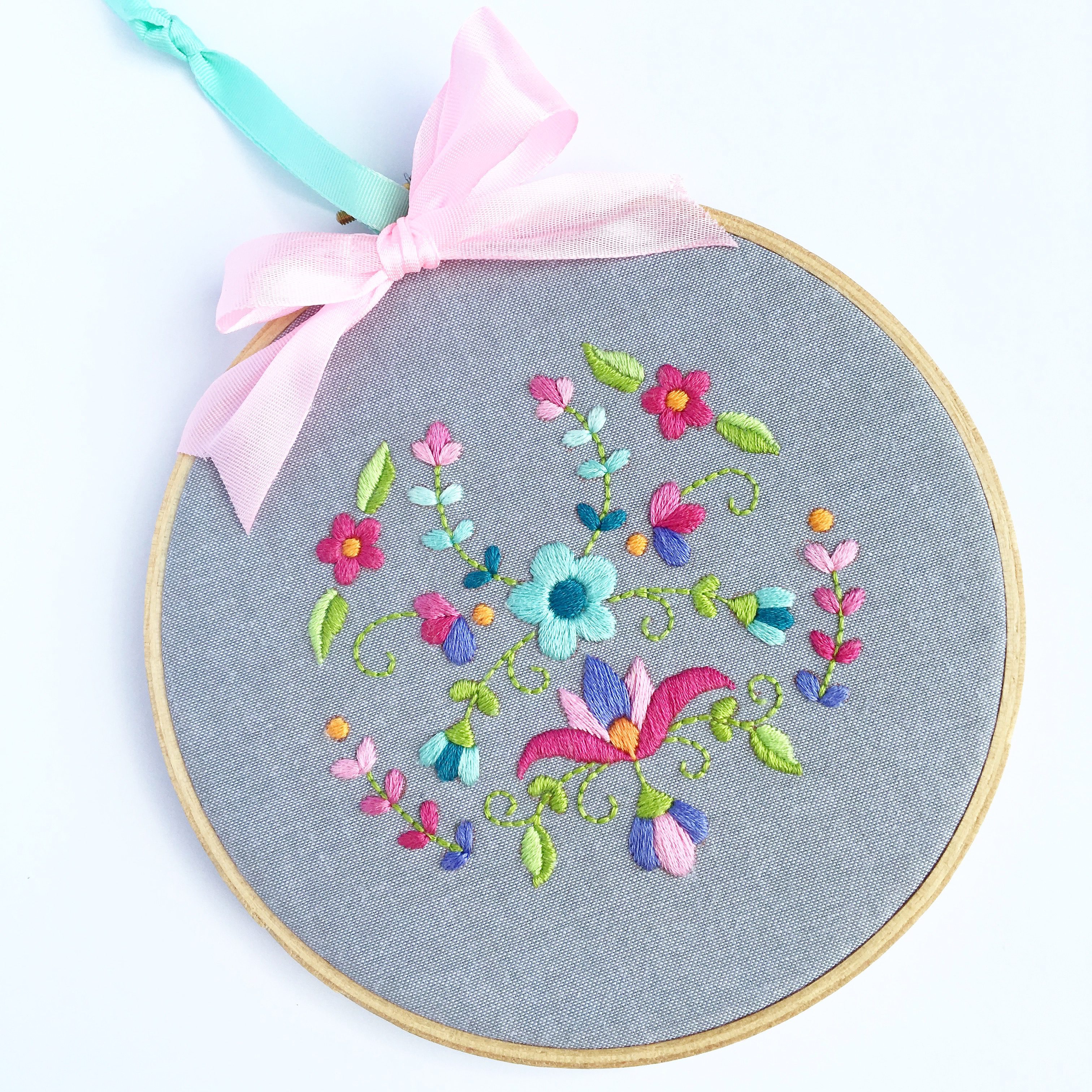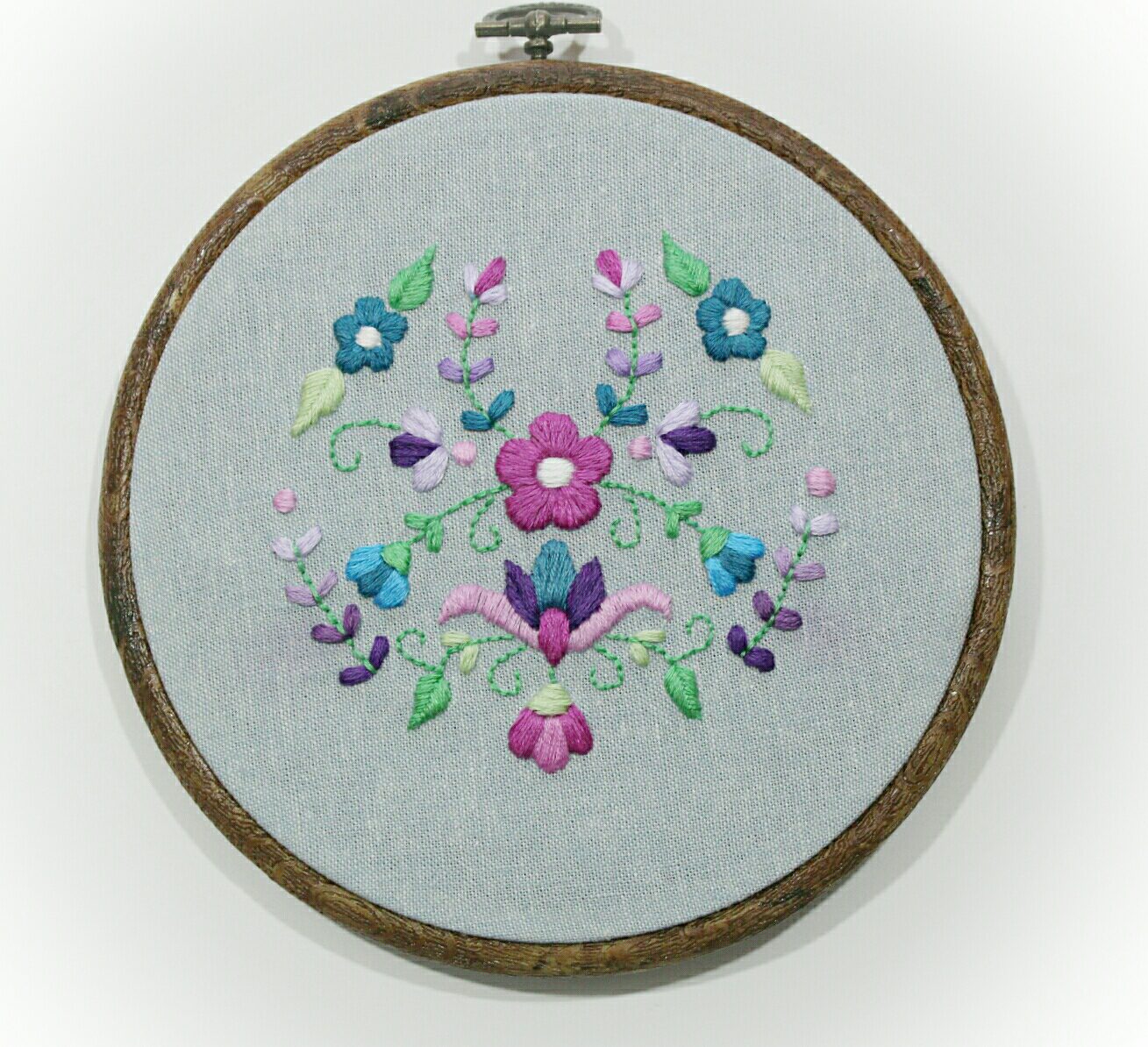 The design works perfectly in a hoop for display. But it can also be used to adorn other projects, like this gorgeous placemat made by Sarai_Hobbies.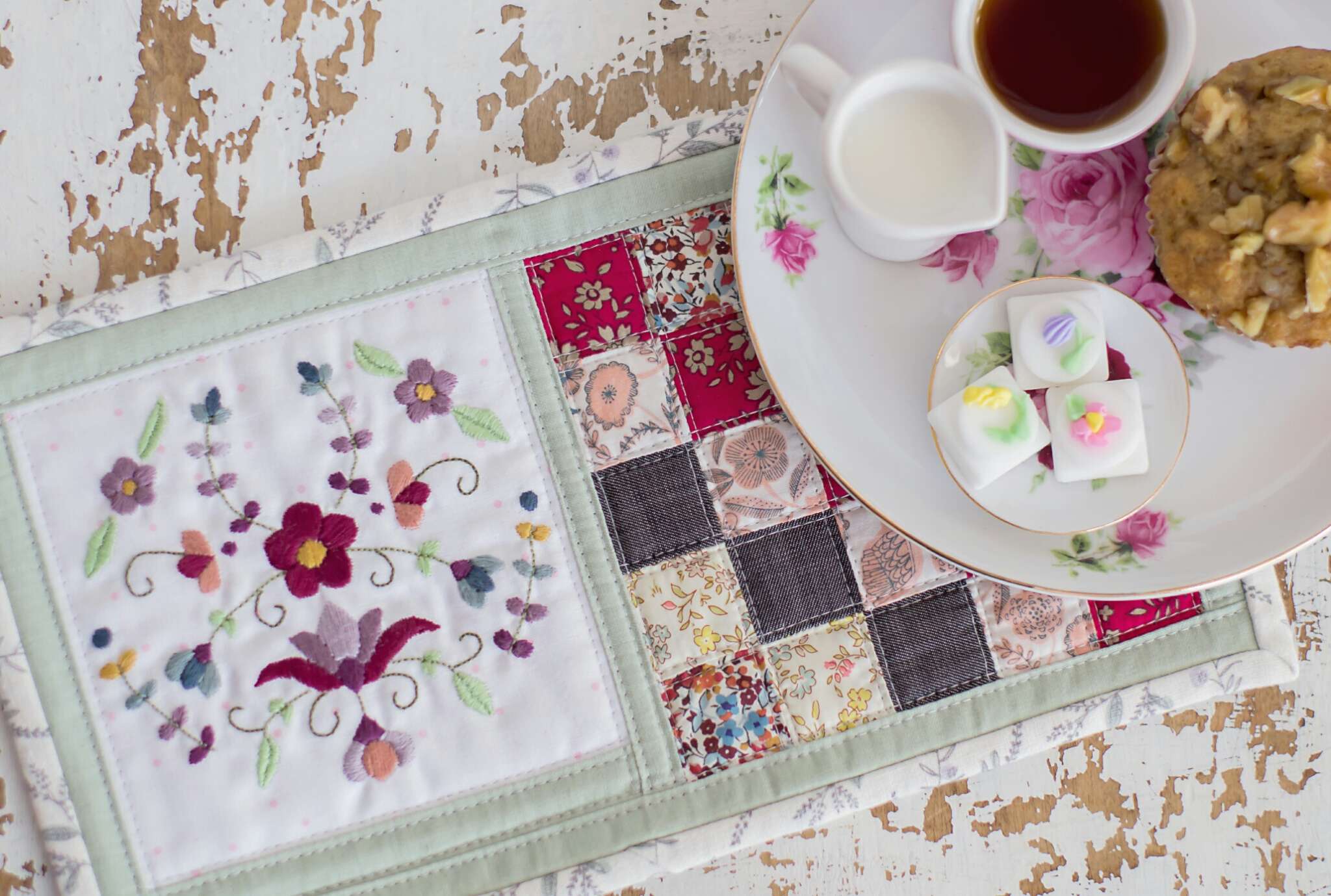 Elise from Elise & Emelie stitched the design in a single colour which also looks very effective. And the Christmas bag she created is gorgeous!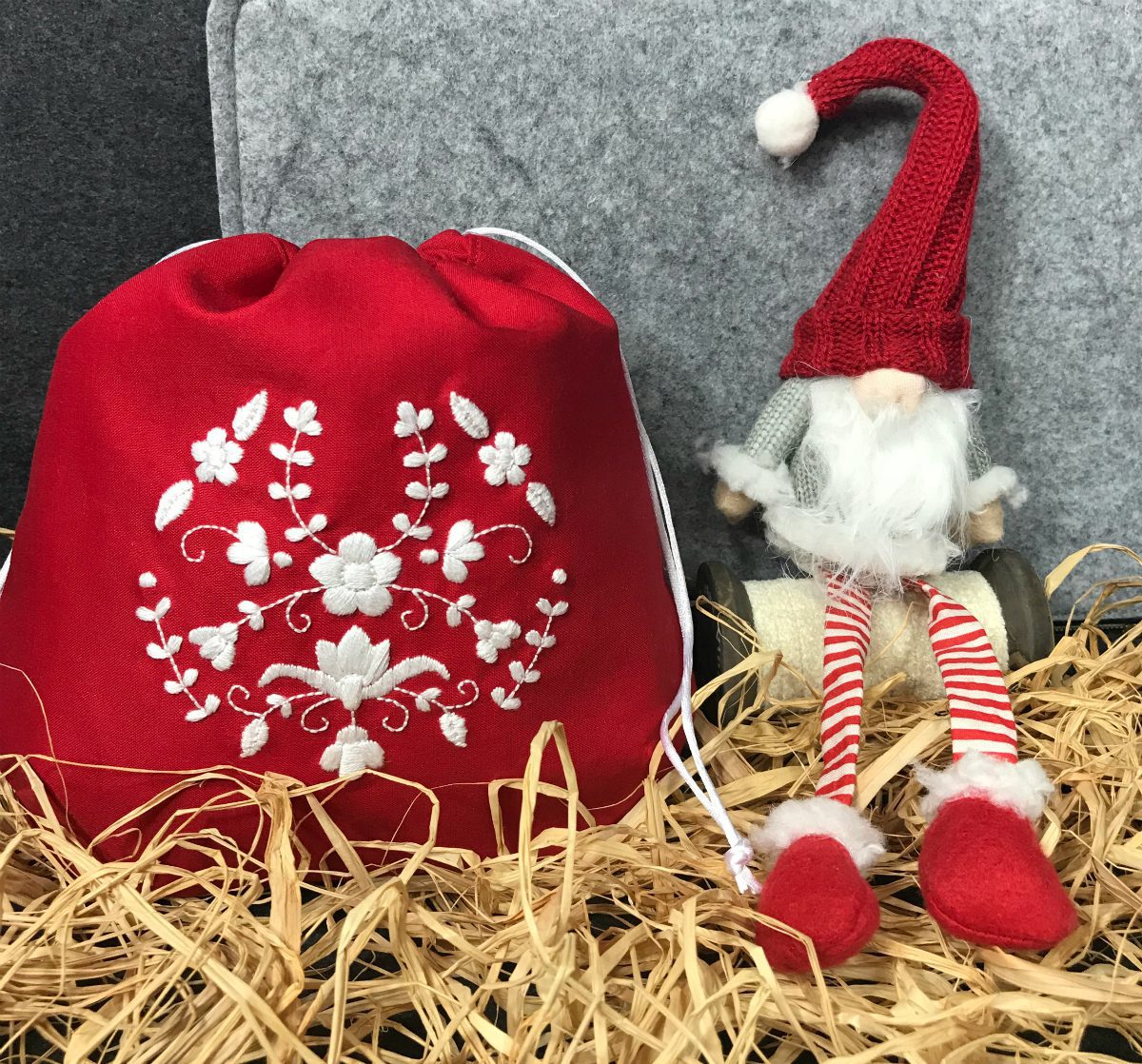 Candice from My Felt Lady transferred the embroidery template onto wool felt for a beautifully textured background. Even sewn wholly in back stitch, it still looks so effective!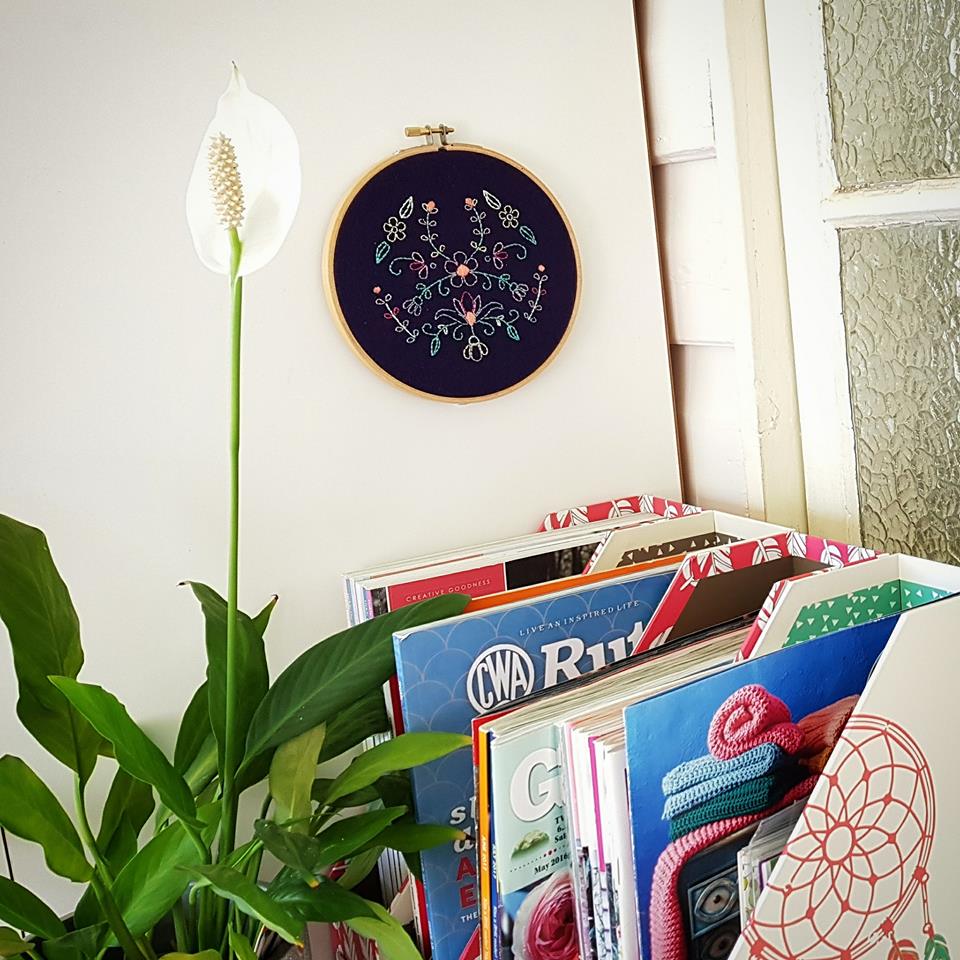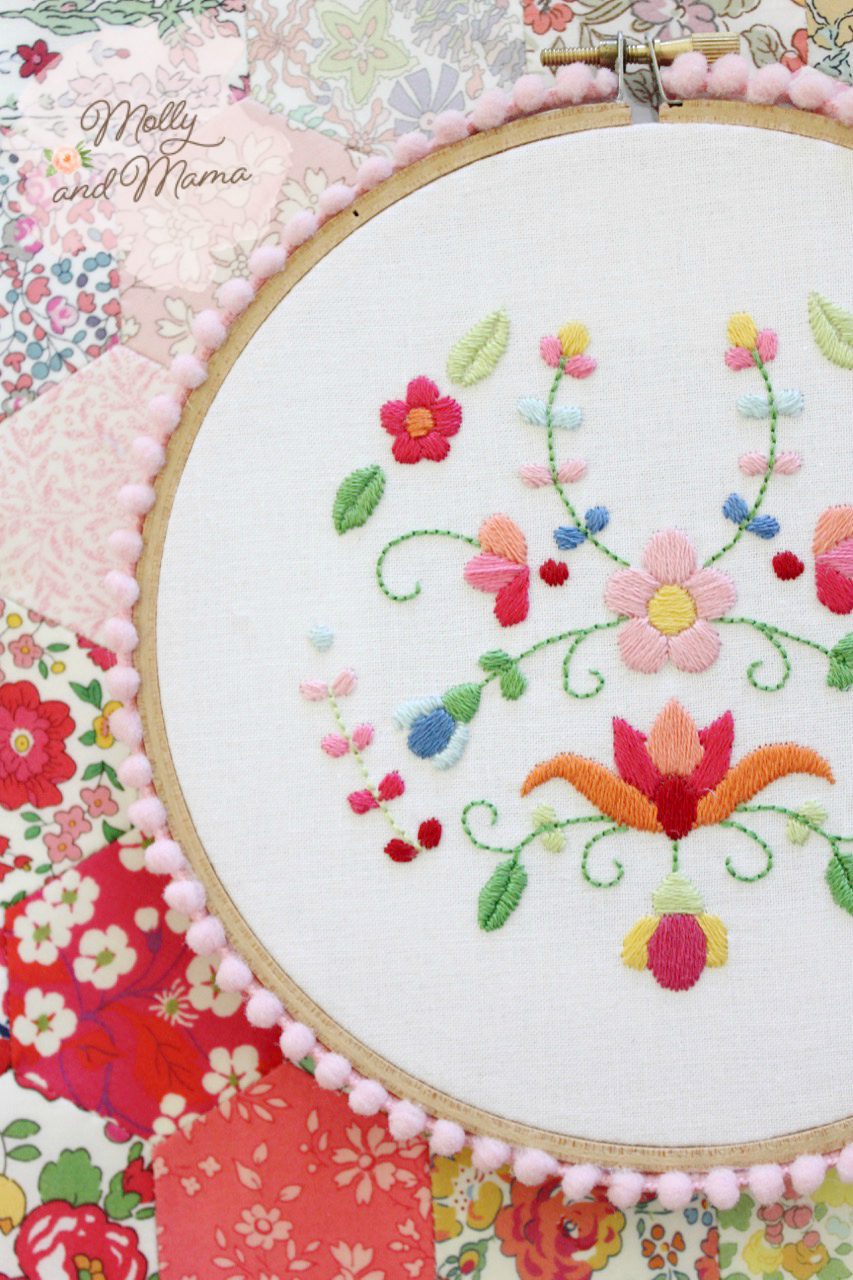 If you sew up this design, be sure to showcase your work on the Molly and Mama facebook page or tag me on Instagram and use the hashtag #florafiestaembroidery so that I can share in your successes and share my favourites too.
Happy stitching, Lauren x
This post was written by Lauren Wright and appeared first on Molly and Mama www.MollyandMama.com.au