A New Spring Fling Pouch in Primrose Hill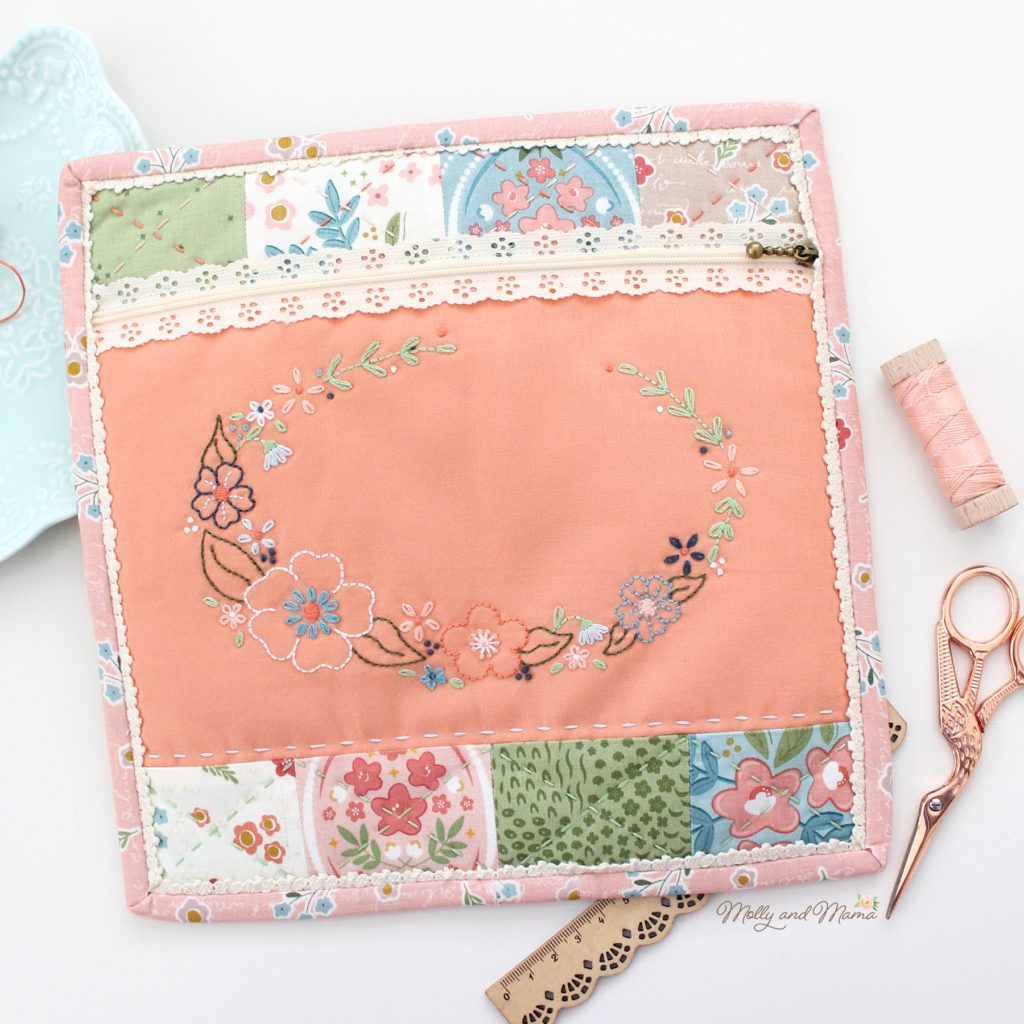 Melanie from Hello Melly Designs has created the loveliest new fabric collection with Riley Blake Designs. Called 'Primrose Hill', it's named for the birthplace of Agnes Arber, the first female botanist in the Royal Society in England. Melanie explains that the collection "plays homage to all the lovely ladies helping us to understand and fully appreciate the beauty all around us".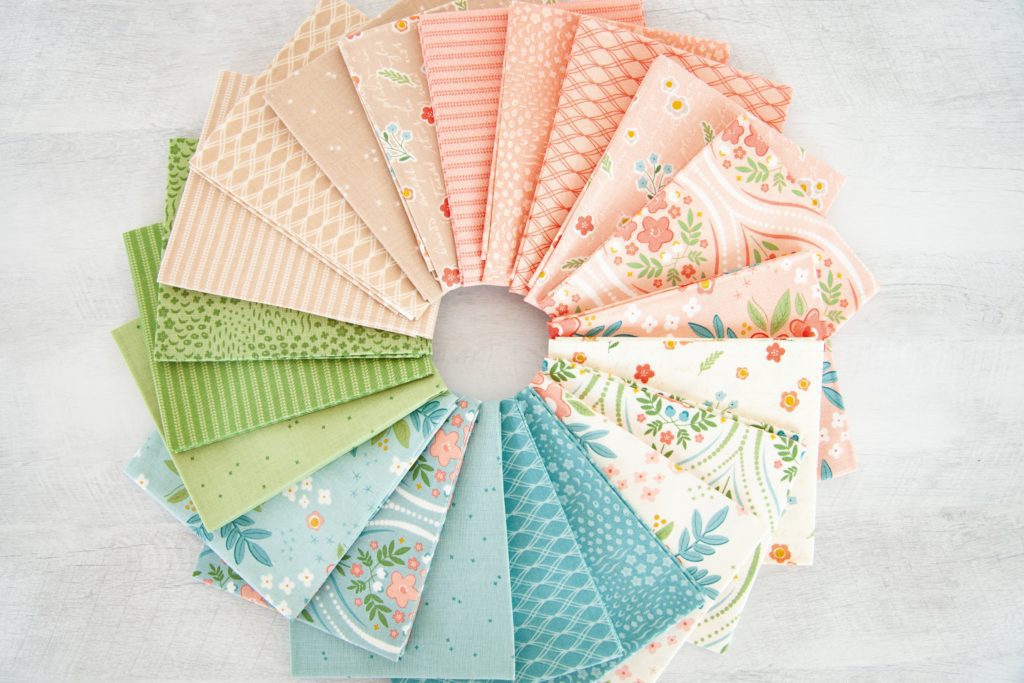 By now you'll know I'm a floral girl, so I was really drawn to the three floral motifs included in this collection. I also really love the colour palette. There's a terrific mix of blenders with geometric patterns, tiny stars and organic splotches and dashes too. It certainly lends itself to floral inspired designs. So I was thrilled when Riley Blake sent me a 10″ stacker to play with!
I decided to sew a new and updated version of my Spring Fling Pouch with this gorgeous collection. Spring has definitely sprung here. The daffodils and jonquils are out, the sweet peas are just starting to flower and the jasmine is following suit. It's such a beautiful time of year and I'm so inspired in the garden. And this inspiration seems to flow into the sewing studio too.
Here's the original version of this project.
And this is the updated version. It amazes me how different a project looks with the use of alternative colours, fabrics and trims!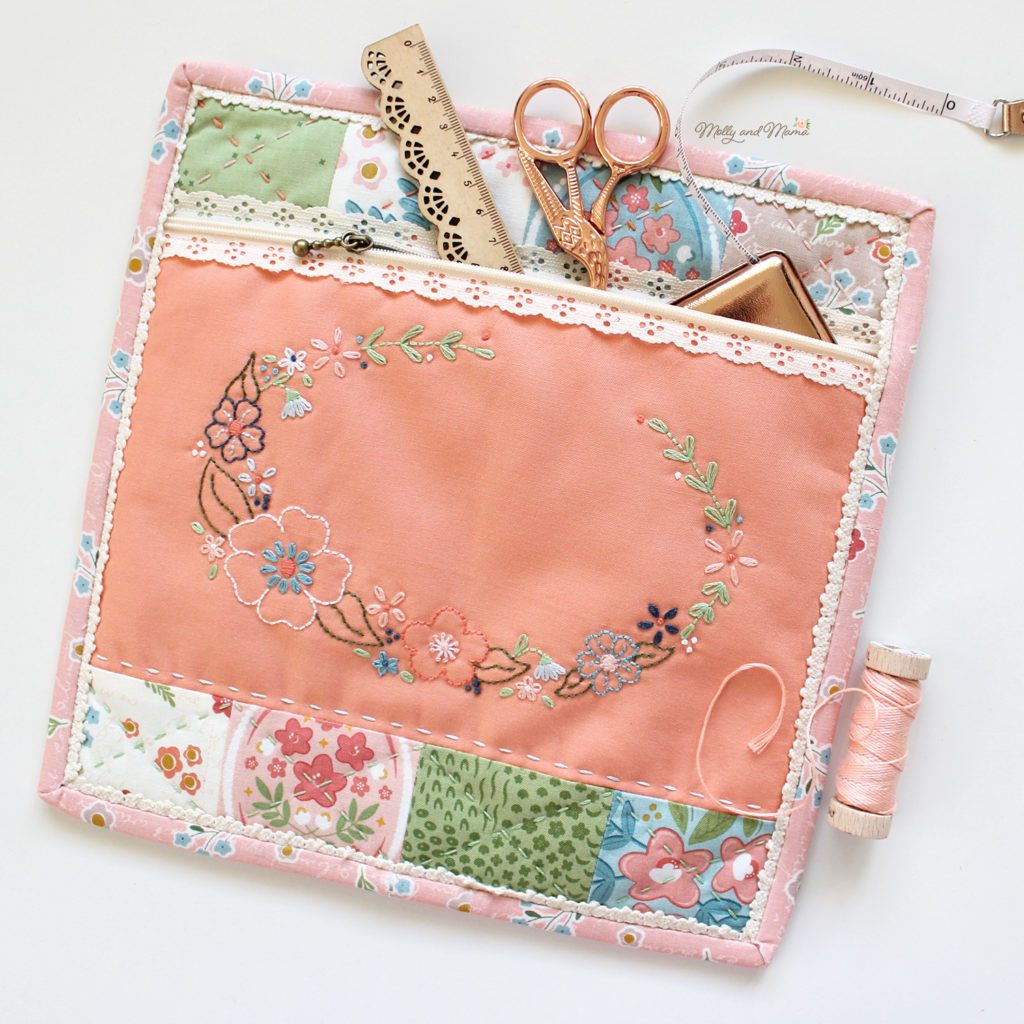 It was such fun to showcase those sweet florals in this little pouch. The Spring Fling Pouch Set Pattern actually features a lace zipper pouch and a bonus pattern for a glasses case too. The embroidery design is perfect for beginners, with all the stitch types included in my beginner's tutorial. Stitching on that 'Apricot Blush Confetti Cottons' solid from Riley Blake made me really think about my floss colour selection differently. And I like the finished effect.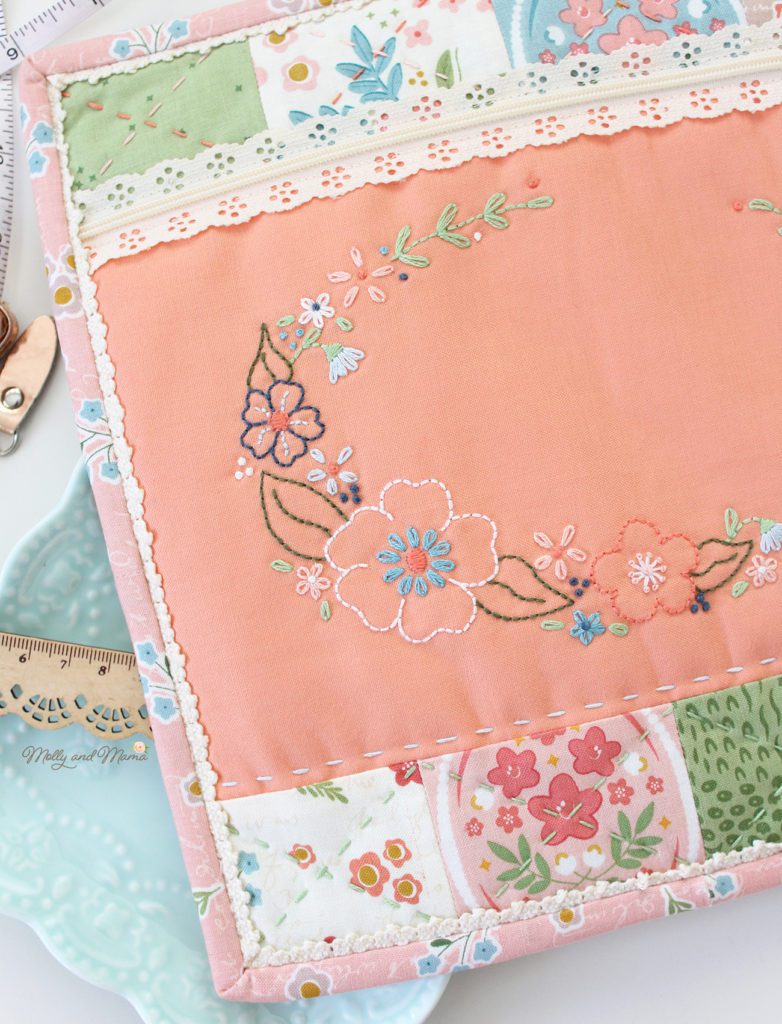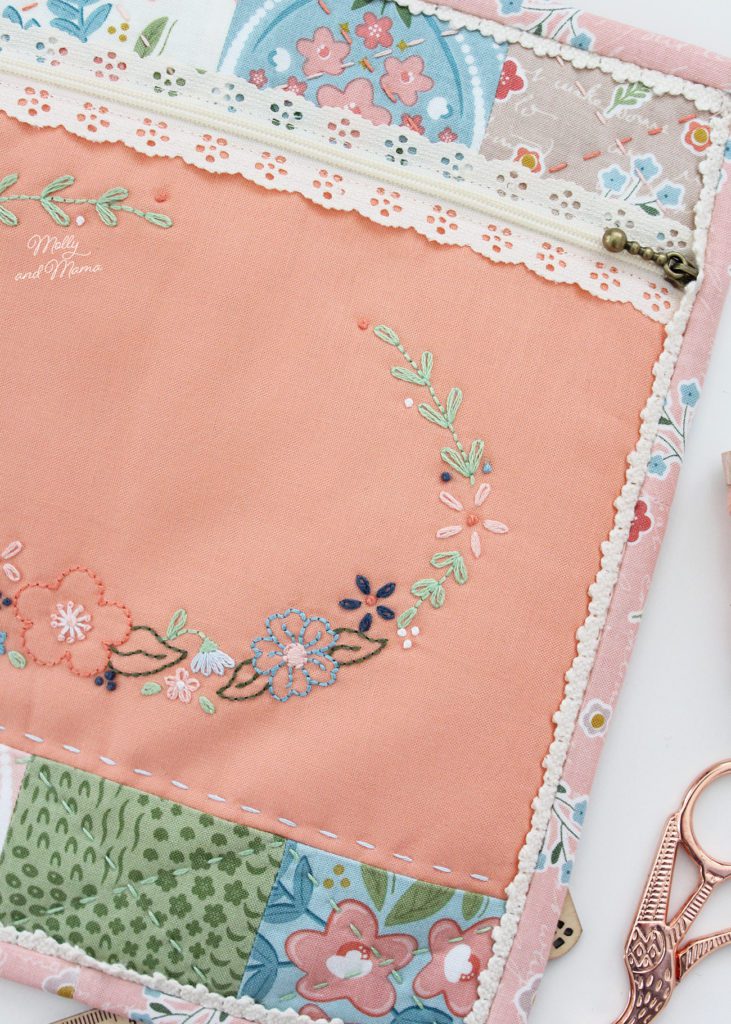 This 10″ (25cm) square pouch is a great size for taking your small hand sewing projects with you when you head away overnight. It would also make a great pencil case and be perfect for art supplies. I love the way the lace zipper really dresses it up!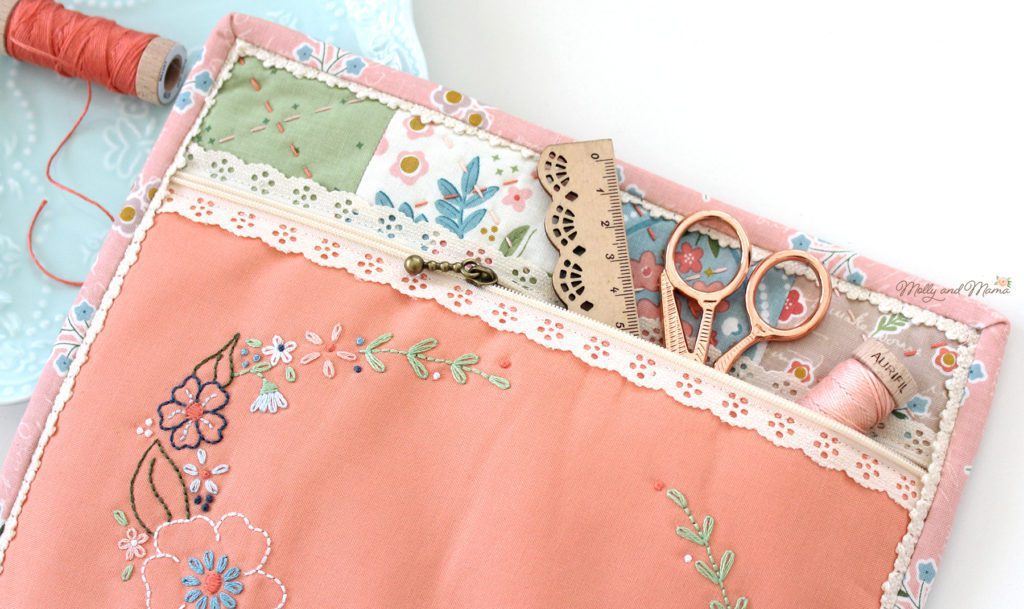 This beginner-friendly pattern is perfect for pre-cut fabric, especially a 10″ stacker. If even made the binding with pieced 10″ strips! You can really showcase your favourite prints in the simple patchwork. And it's fun to add those extra details like the hand quilting and lace trim.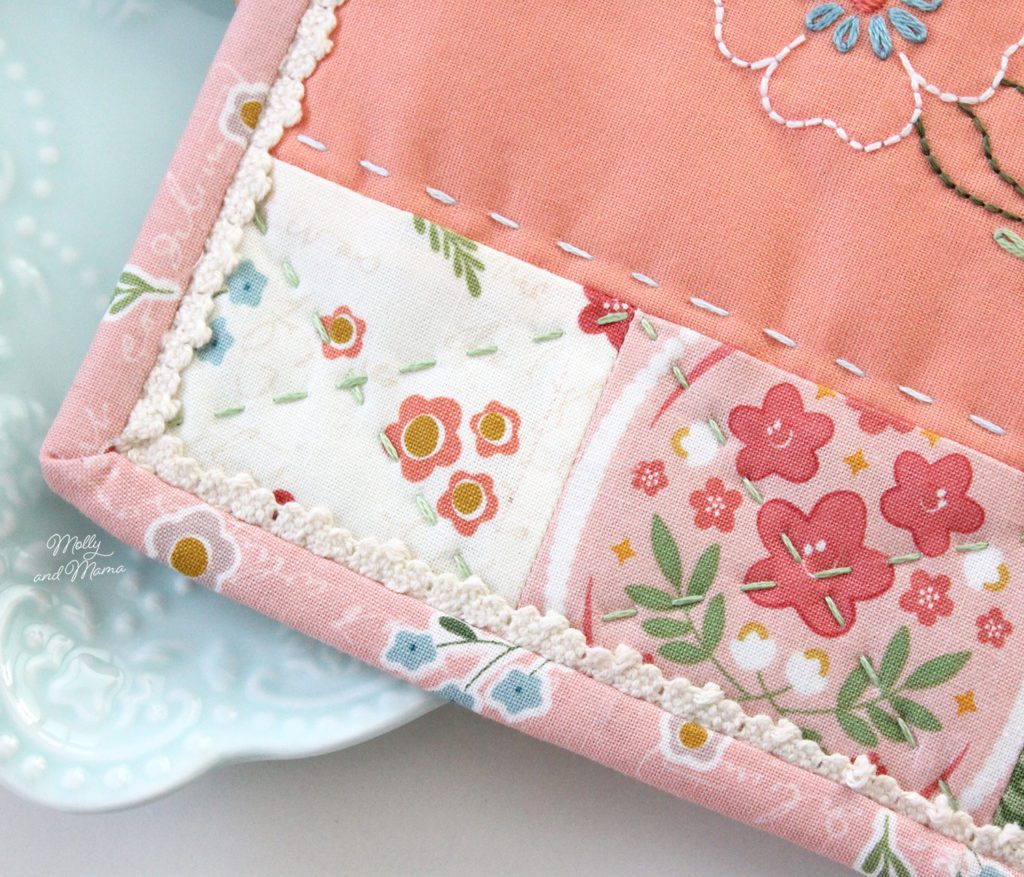 If you'd like to make your own pouch, visit my store to grab the instant download pattern. Then check with your favourite retailer for the 'Primrose Hill' fabric collection. It's due in stores in August 2021.
Happy stitching, Lauren x