How To Make Liberty Christmas Baubles With Fabric Scraps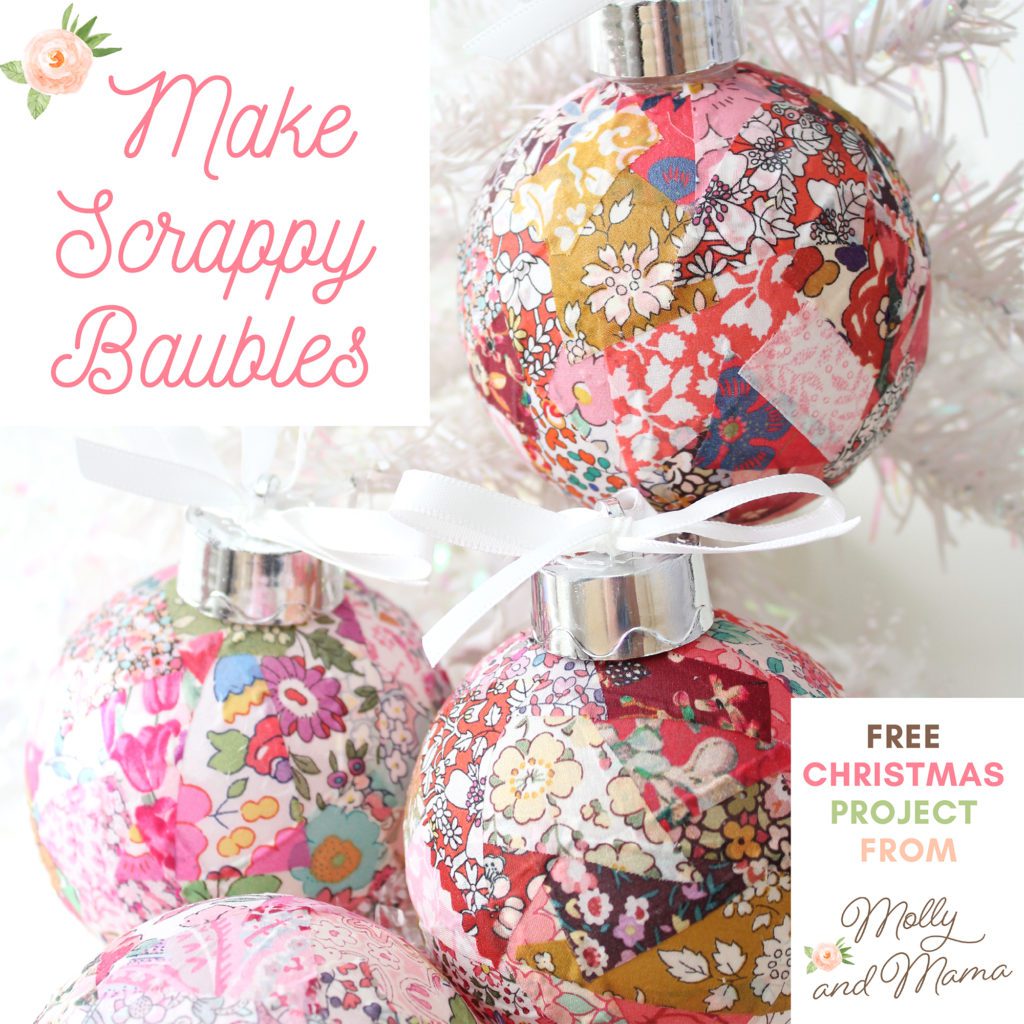 I've enjoyed making these simple scrappy Christmas Baubles for years. But I've recently had a lot of people asking how I made them. They are such a quick and easy project to put together. There's no sewing required, you only need the tiniest fabric scraps and they're a perfect holiday craft to try with the kids.
If you'd like to see how I make them, I've shared photos and full instructions over on the Quilter's Candy blog.
But you can also get the downloadable instructions straight to your inbox, when you subscribe to the Molly and Mama news. Feel free to fill out your details at this link to receive them instantly. You can unsubscribe at any time.
NOTE: This project is for PERSONAL USE ONLY for sewing at home and/or teaching another person or child to sew FOR FREE. Reusing or repurposing free Molly and Mama tutorial instructions, templates and images for paid classes, or distributing the materials in classes, to groups, or for commercial purposes, without permission, is strictly prohibited. For clarification, or to seek a commercial arrangement, please contact Molly and Mama.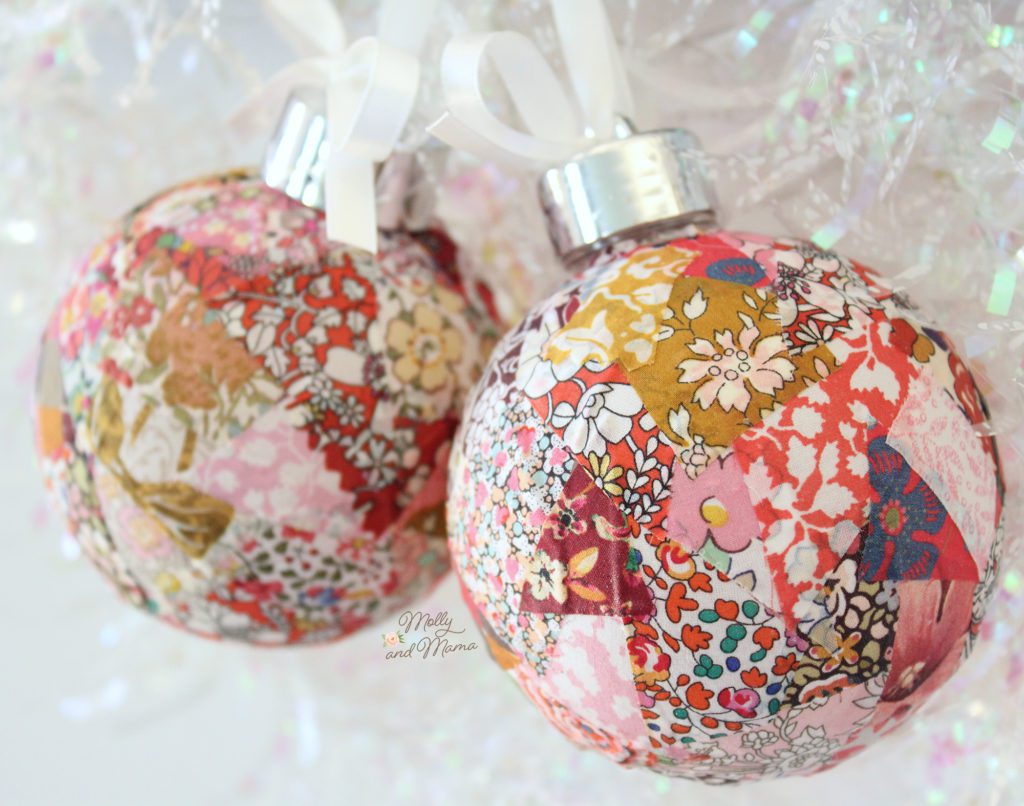 To create these beauties, you can use any fabric you like. But if you've been following me for a while you'll know that I have a deep love for Liberty fabric, especially the fine tana lawn. And because these fabric scraps are so precious, I feel like this project is the perfect way to show them off!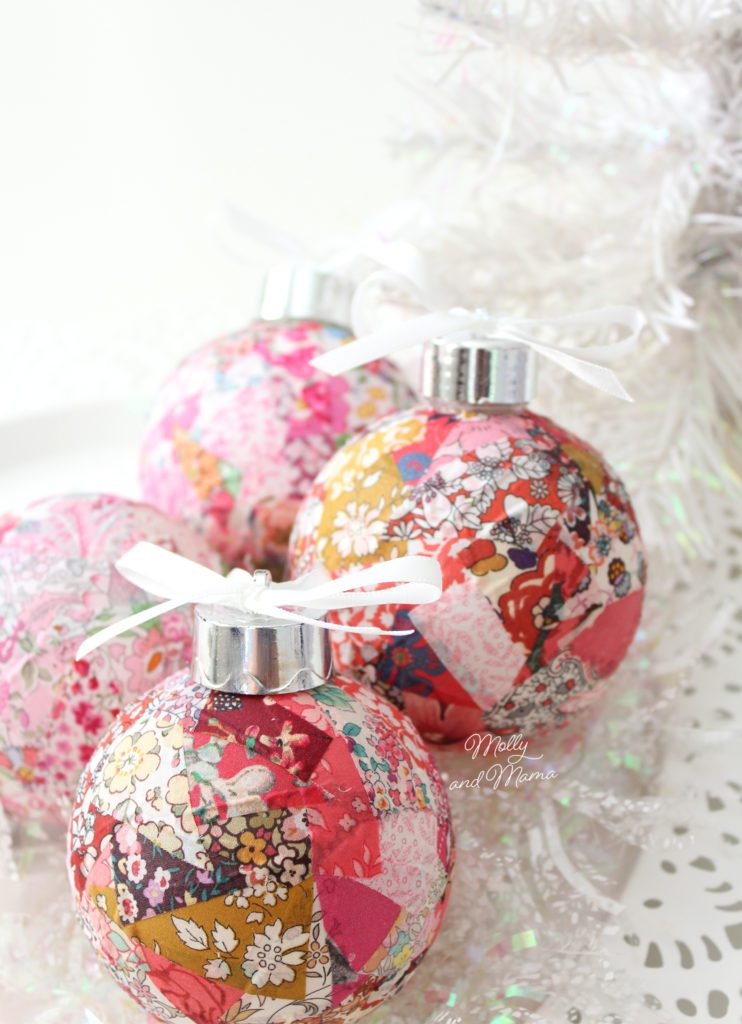 Choose fabric colours that complement your festive decor, or create bright and cheerful baubles using a mixture of prints, patterns and shades.
I like using the plastic baubles with a removable or screw on top (as shown below on the left). They're easy to handle and you can use the opening at the top to hold them. But I have also used papier mache baubles that are coated in fine craft paper (as shown below on the right).
You can also used different shaped baubles too. The options are endless!
They really look effective on the Christmas tree too.
If you make some of these beauties, be sure to let me know. Tag me on Instagram with #mollyandmama or get in touch.
If you'd like to see more Christmas ideas, I've recently written a round up of all of my favourite Molly and Mama patterns and projects. Check it out HERE.
Happy festive crafting, Lauren x