Make Felt Holly Christmas Ornaments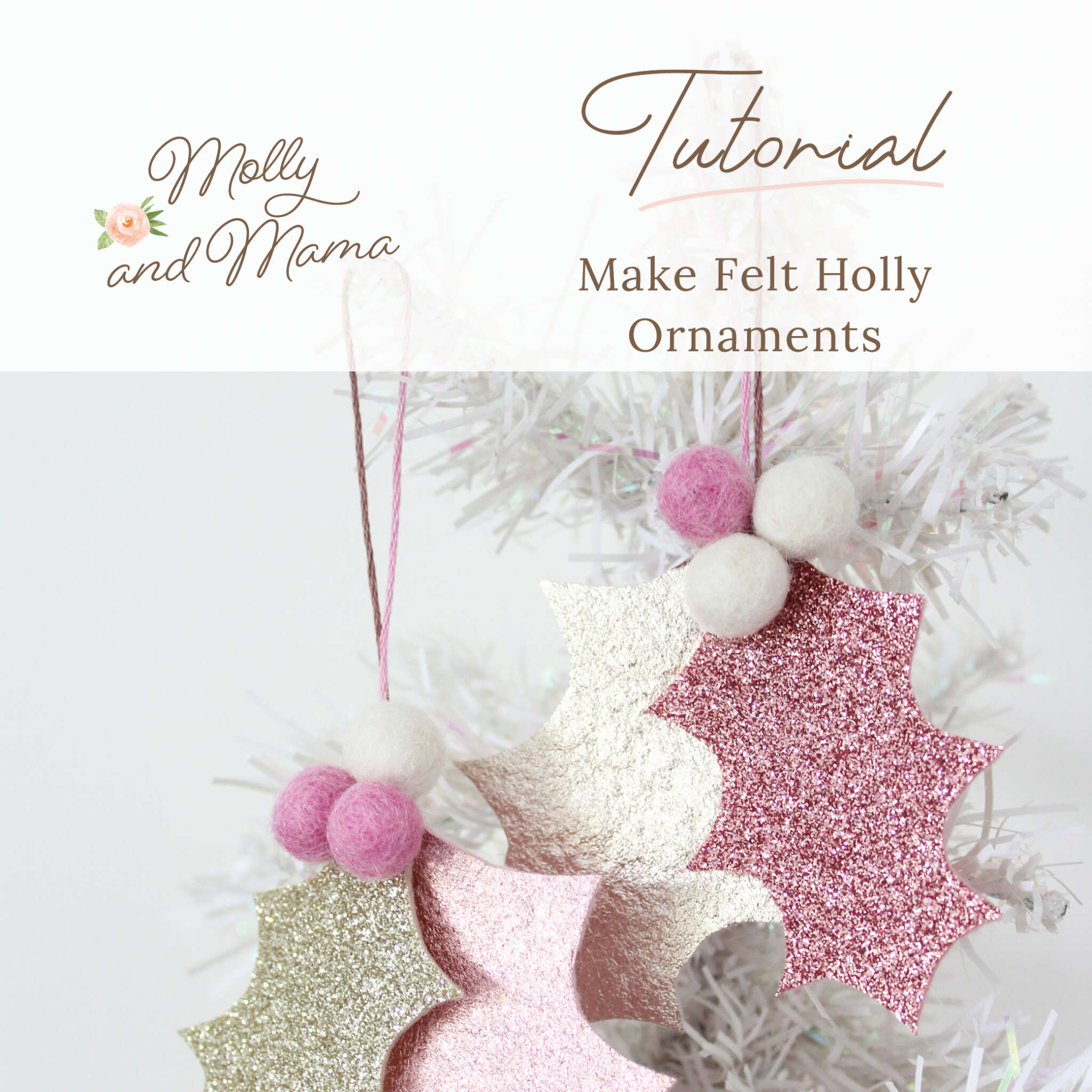 Getting crafty is always fun, especially when it's an easy project that even the kids can make! This tutorial will show you my simple method for creating holly ornaments using beautiful wool felt and felt balls from My Felt Lady. Read on to find out how!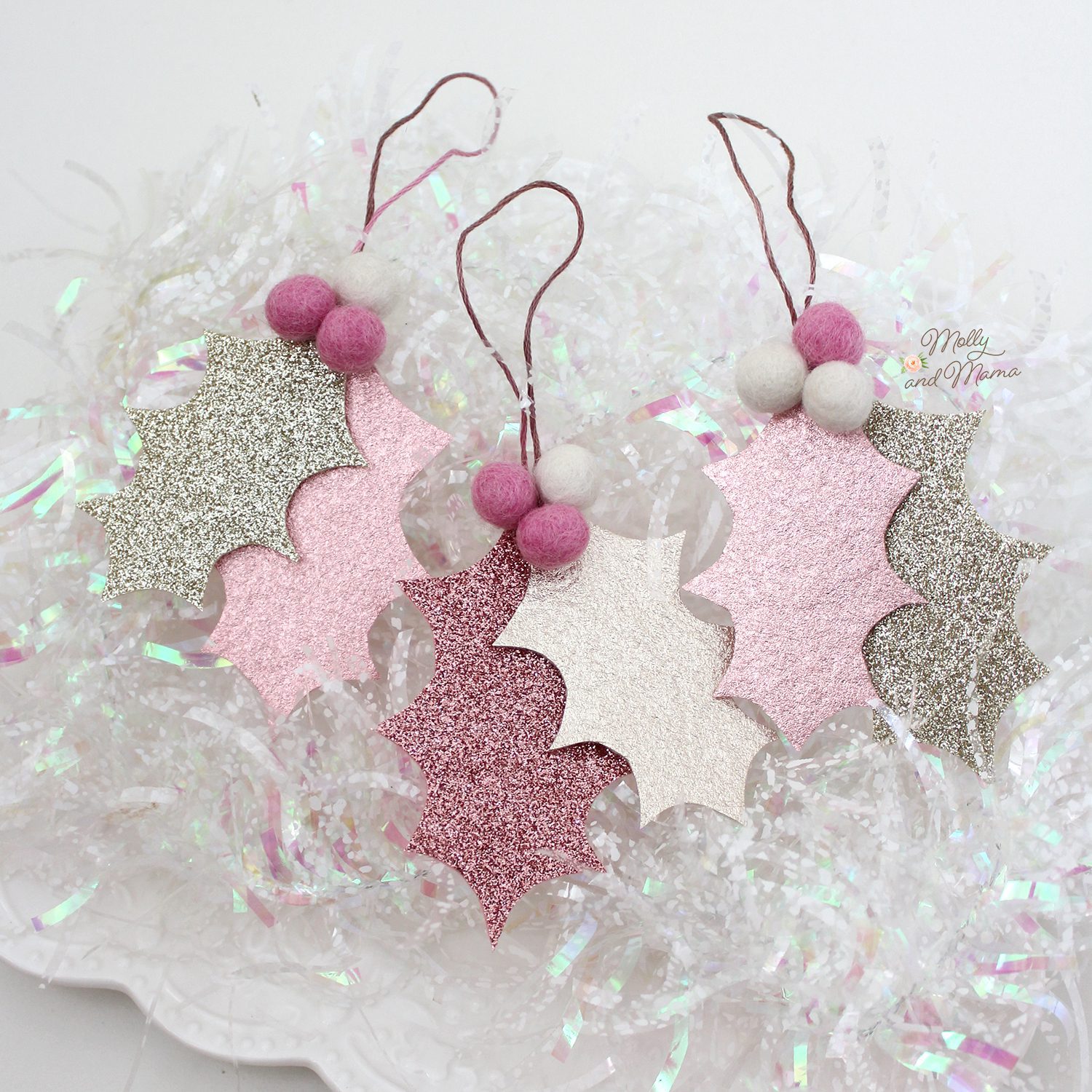 You Will Need
100% merino wool felt in your favourite colours. I used rose gold and pink glitter and metallic felts from My Felt Lady. (Find out why I prefer wool felt HERE).
Wool felt balls with 3/8″ (1cm) diameter (and in colours to match your felt). Mine came from My Felt Lady.
Embroidery floss, or string long enough to create a garland in the length you require. I used variegated Cottage Garden Thread in Damask Rose for the ornaments.
A needle with a large eye (like a doll needle)
Freezer paper (optional)
A print out of the HOLLY LEAF TEMPLATE
General crafting supplies
NOTE: This project is for PERSONAL USE ONLY for sewing at home and/or teaching another person or child to sew FOR FREE. Reusing or repurposing free Molly and Mama tutorial instructions, templates and images for paid classes, or distributing the materials in classes, to groups, or for commercial purposes, without permission, is strictly prohibited. For clarification, or to seek a commercial arrangement, please contact Molly and Mama.
Let's Get Crafting
Download the HOLLY LEAF TEMPLATE and save it to your computer. Print it out at full size (100%) with no scaling or cropping. The test square will help you determine if the sizing is correct, but if it's out by just a little, it really won't affect the finished product. You can also reduce or enlarge the template if you'd like to use different sized holly leaves.
Read on for the ornaments tutorial. There's a garland tutorial coming for the larger sized holly leaves.
Make Holly Ornaments
Cut out 1 medium and 1 small holly leaf for each ornament you wish to make. I used two different colours and alternated between glitter and metallic felt for extra shine and sparkle! For instructions on cutting out shapes from wool felt (including using the freezer paper method), please visit this blog post.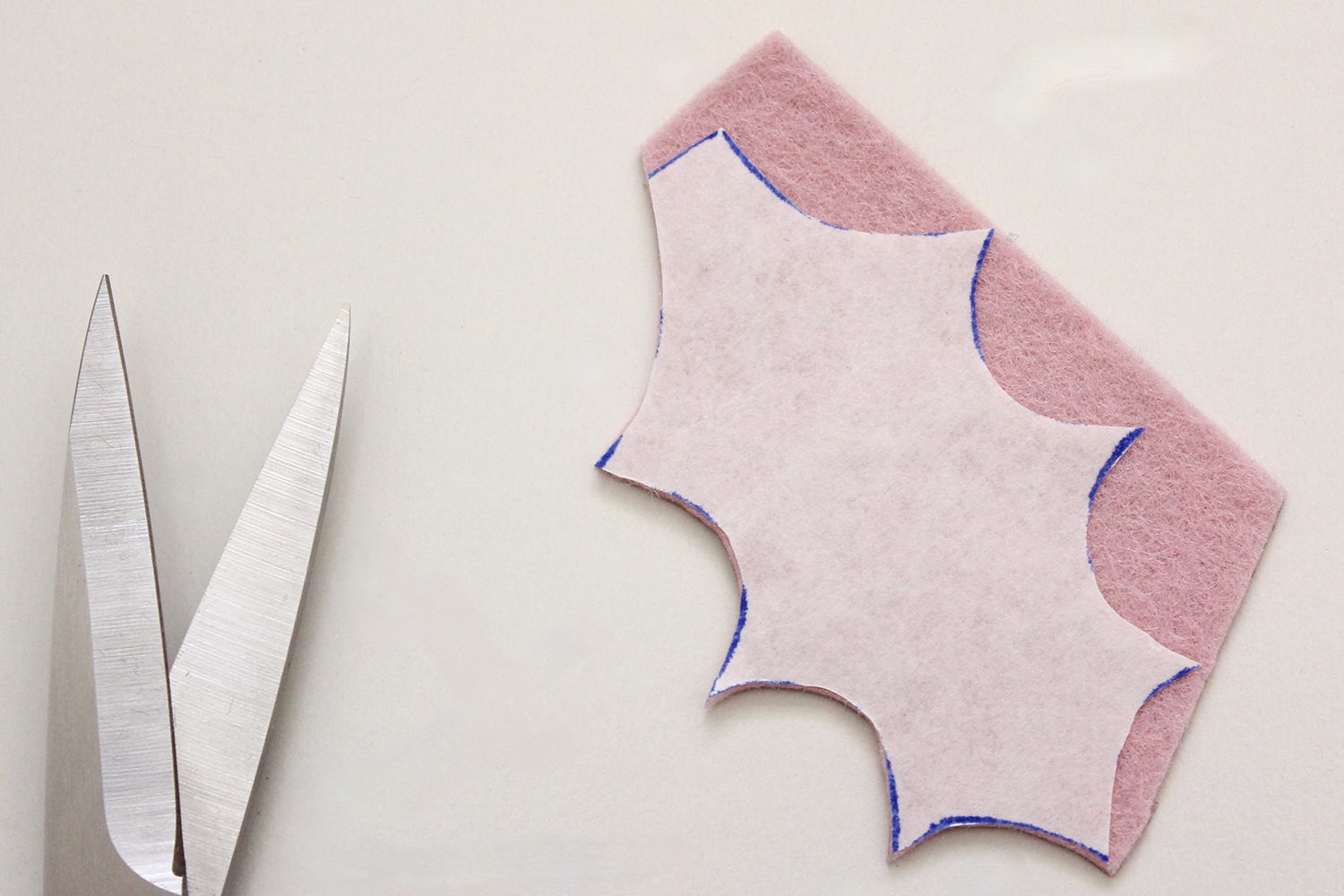 Thread your needle with at least a 12″ (30cm) length of 6 stranded embroidery floss (or string). Bring the needle through the small leaf from the wrong side.
Layer the small holly leaf over the medium holly leaf. From the front, sew through both holly leaves.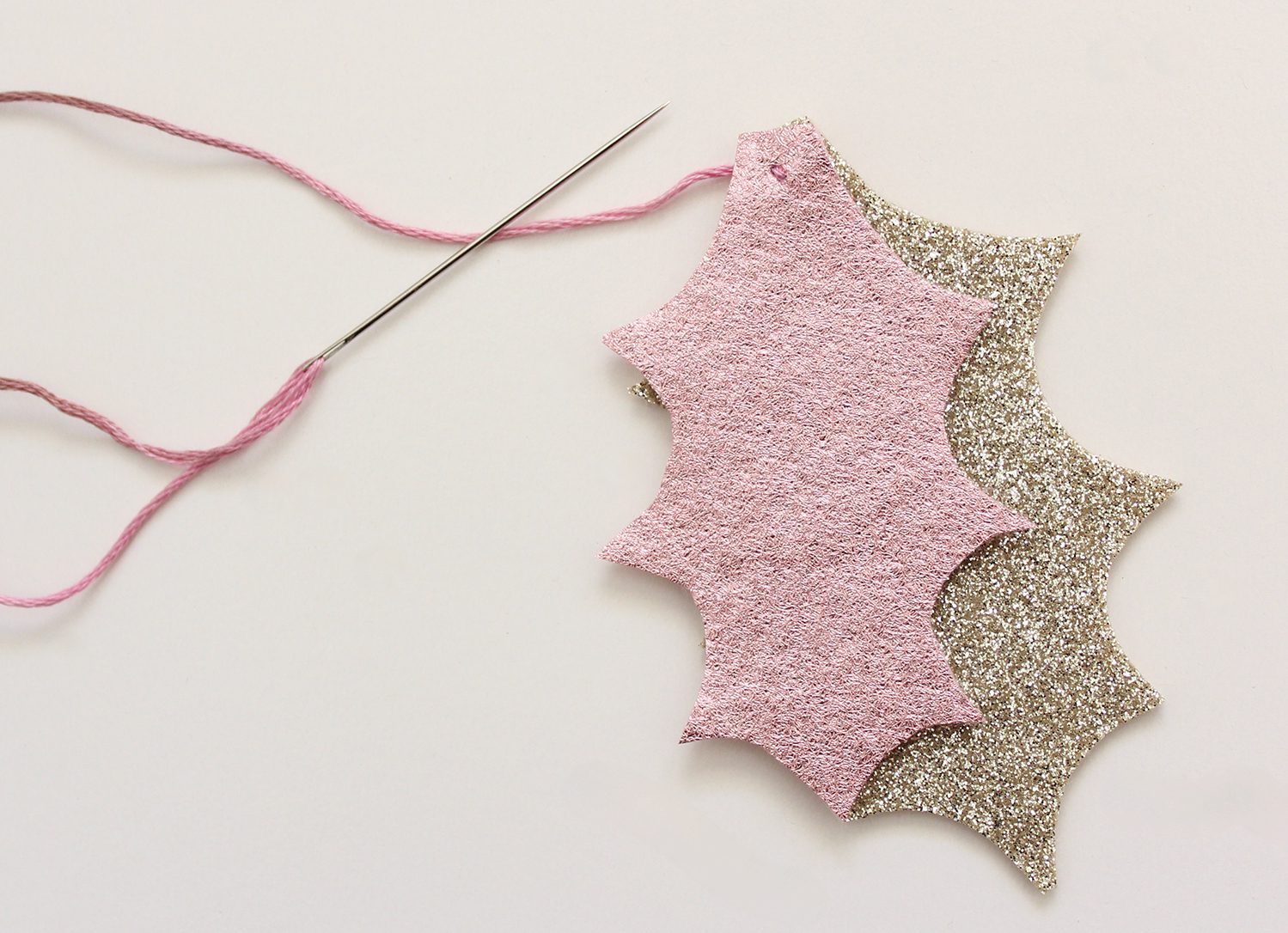 Bring the needle and thread back out the front again. With the thread still intact, sew three felt balls (3/8″ or 1cm in diameter) onto the top of the leaves, by sewing a narrow stitch through each ball.
Then bring the thread through the back leaf and up out the top of it.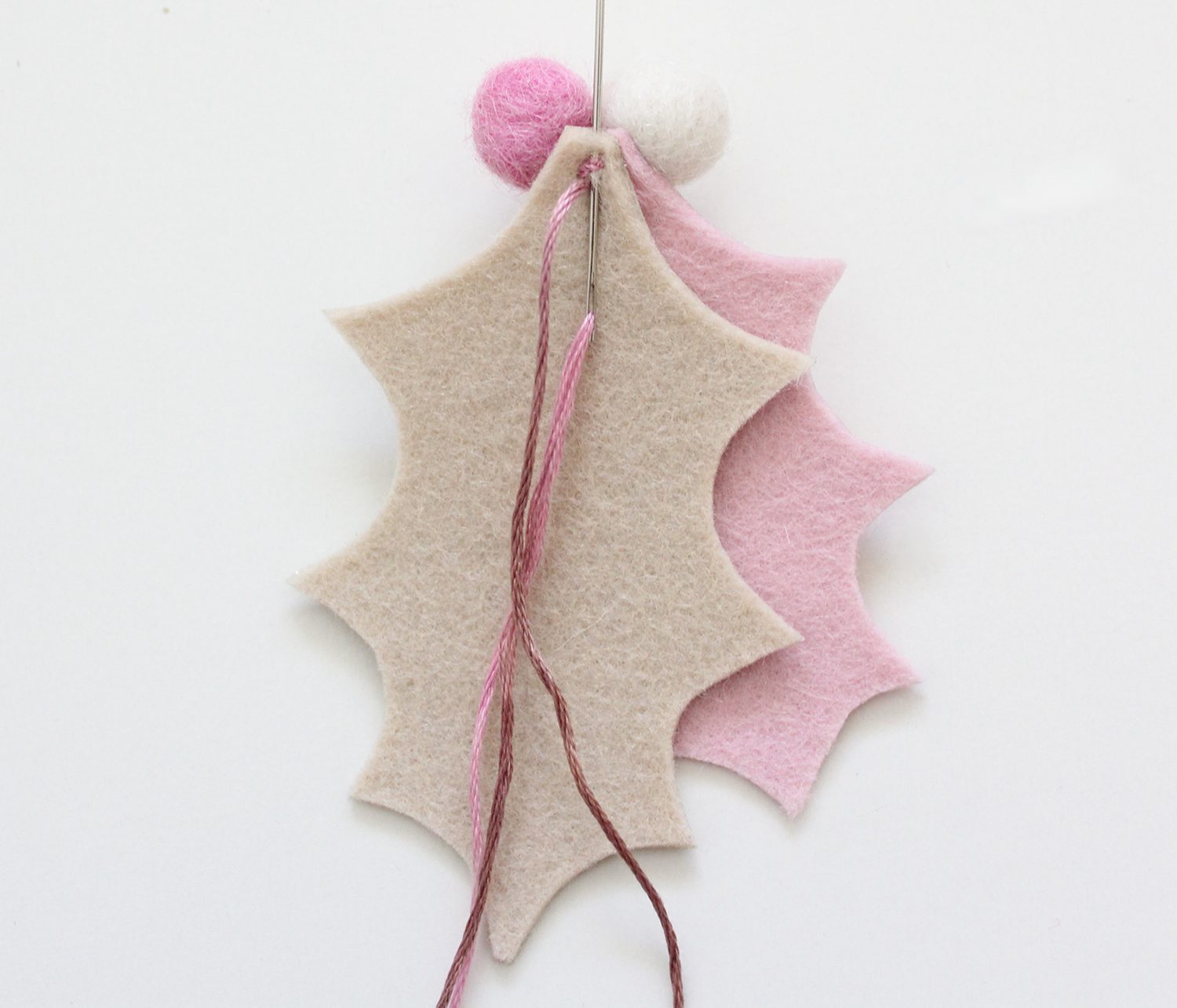 Use the remaining floss to fold a hanging loop at least 2″ (5cm) long. Tie it in a knot.
Secure the end carefully by sewing it through the medium holly leaf so that it exits the felt between both leaves. Trim off the excess floss.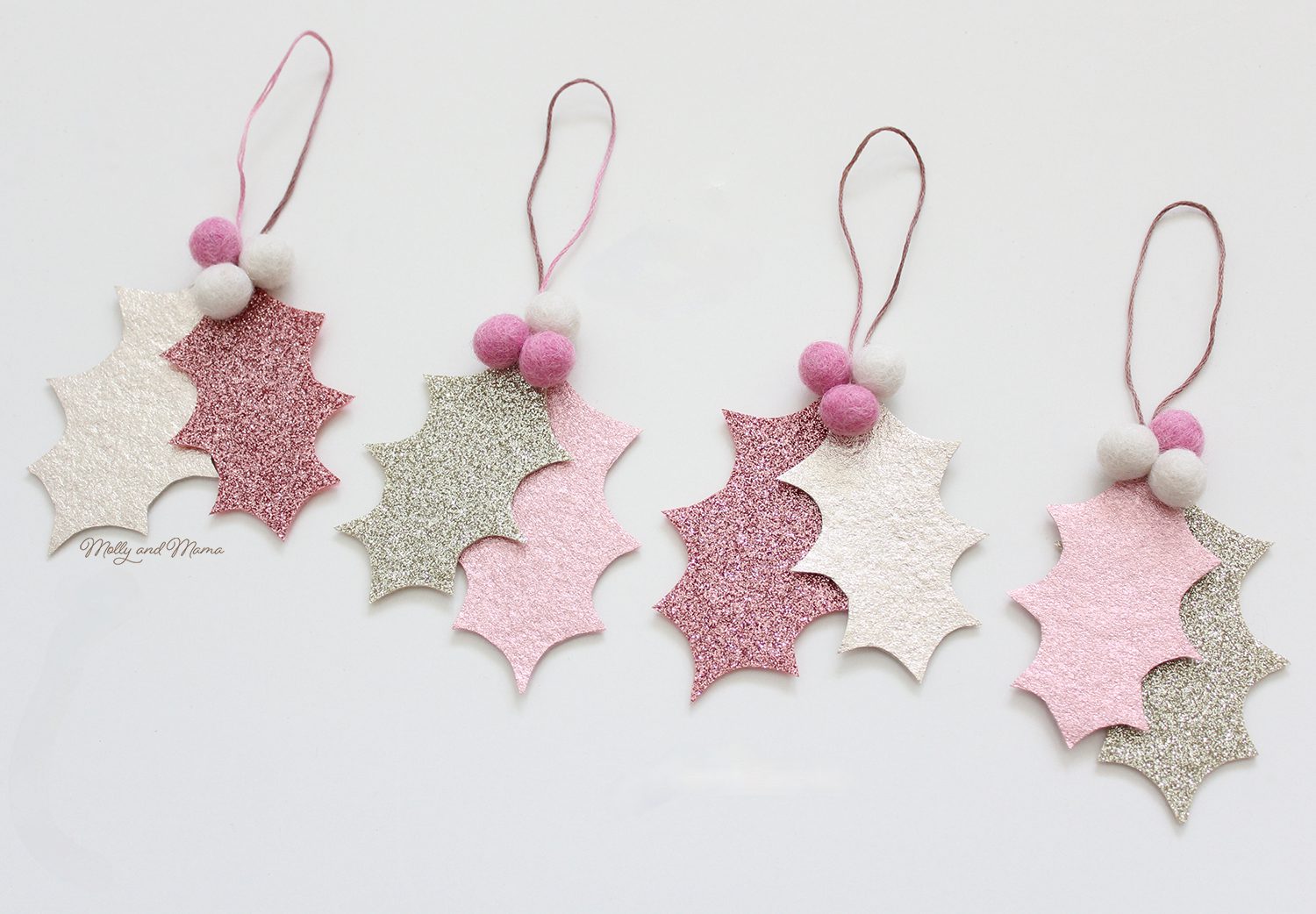 Your ornaments are all ready to hang on the tree, or to adorn a special gift!