Tilda Plum Garden Fabric Showcase
Welcome to Molly and Mama, the first stop on the tour showcasing a beautiful new collection of fabrics from Tilda. Today is the start of the Plum Garden Fabric Showcase! And Plum Garden is what inspired me to create this sweet cushion called Milly Mouse.
Plum Garden is set to hit stores on the first of July. So 2 Green Zebras, their Aussie distributor, has gathered together some wonderful designers and makers to help showcase this gorgeous new collection.
There's a range of pretty florals, paisley patterns, sweet little ducks and large blooms in this collection. True to form, I requested the pink shades, but there's lilac, mushroom and blue tones too. All equally lovely, and all able to be mixed and matched, not only with other prints in the range, but with a set of specially designed dots, the Berry Jam prints, and many of the colours in the solids range too.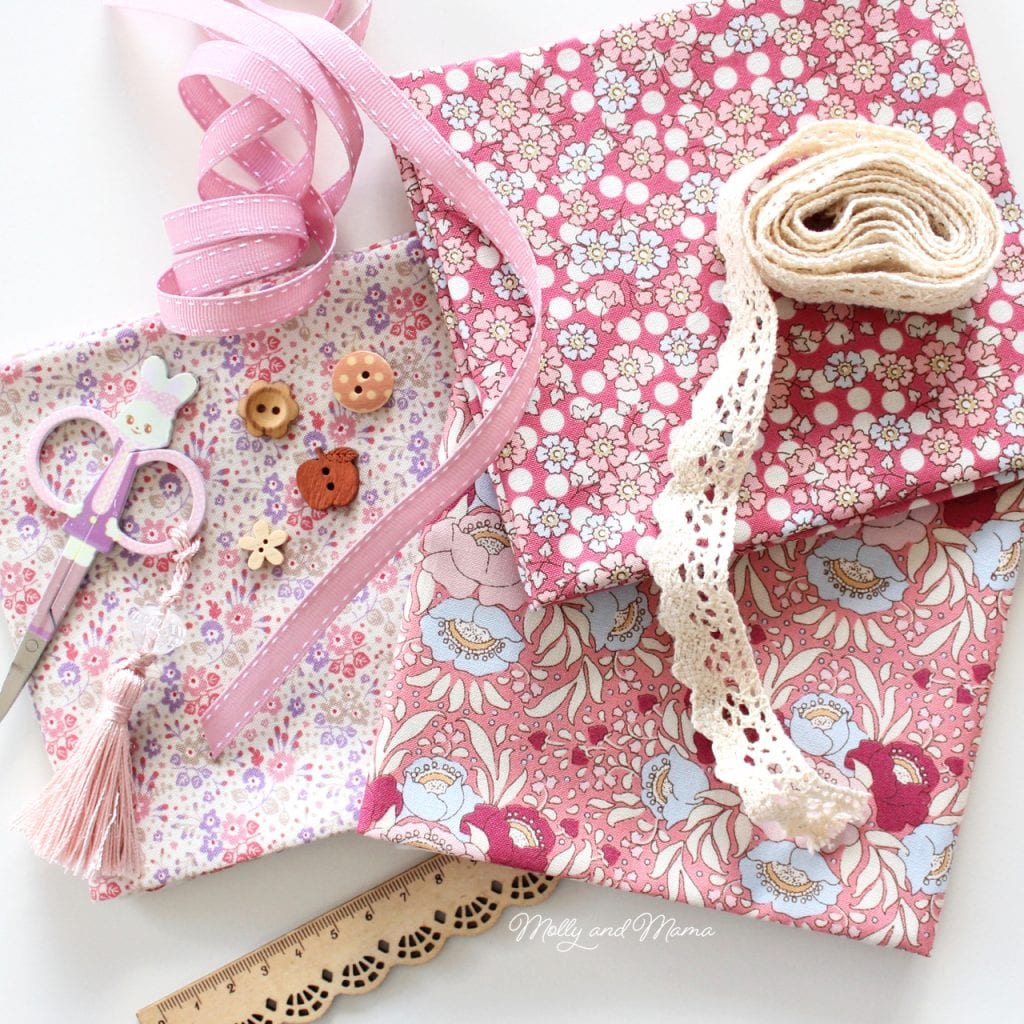 As this fabric was just so pretty, I felt like it deserved a special new project designed especially for it. I'm so pleased to share the adorable Milly Mouse appliqué cushion. You can purchase a PDF copy of the pattern in my STORE or contact my wholesaler Creative Abundance to purchase a paper copy from your favourite quilt shop!
The generously sized (20″ or 50cm) cushion is adorned with a cute little mouse appliqué made with one of my favourite mediums; wool felt. It's such an easy material to work with and very forgiving when you are machine blanket-stitching. You can learn more about wool felt HERE.
I love using blanket stitch on the sewing machine for raw-edge appliqué. I wrote a tutorial all about it quite a while back, but you might like to have a look if you're new to this technique. Visit it HERE.
Mostly machine stitched, Milly Mouse does feature hand sewn eyes and whiskers. I feel like they add a sweet little touch. I will share some tips in the pattern for achieving great results when embroidering on felt. But I have also shared some of my favourite techniques in this blog post – How to Embroider Details Onto Felt.
The cushion also features simple but really effective hand quilted details. I'm a sucker for running stitch!
The back of the cushion has an easy envelope closure, which makes it perfect for beginner sewists or for makers who prefer a faster finish. I don't know about you, but I love to make a project I can finish in a day. I get such a sense of achievement, and like most of us I usually have limited time for selfish sewing!
I think that Plum Garden really lends itself to this kind of project, but I am so excited to see what the other designers and makers come up with for this tour. Today is just the start, as this showcase continues on into the month of July. Be sure to check instagram to visit each of the designers on their nominated day. They will also have links to their websites in their profiles. So there'll be lots of inspiration to see!
Thanks for joining me today. You might like to check out my sweet range of beginner-friendly sewing patterns in my Etsy store. They're packed full of easy to follow instructions, step-by-step photos and jargon free descriptions.
I also have a growing collection of free tutorials that might interest you too. Bookmark or pin them for later!
Thanks for stopping by. Happy stitching, Lauren x
This post was written by Lauren Wright and appeared first on Molly and Mama https://www.MollyandMama.com.au