Is It Half Way Through The Year Already?
I can't believe it is nearing the end of June already! I haven't been sewing too many pretties lately, or at least projects that I can share. So it's been far too long since I've been on the blog too. I have some fabric showcases and blog tours coming up though, as well as some new pattern releases and tutorials also. I can't wait to share all of that with you.
This Saturday marks the start of the 'Plum Garden' Showcase. It's the latest fabric collection release from Tilda, which is due to hit Australian stores on the 1st of July. Organised by Tilda's Australian distributor, 2 Green Zebras, there's a range of Aussie designers and makers involved. I'll be showcasing a new project that I am just putting the finishing touches on. You can see more on my Instagram.
The Plum Garden Collection comes in four different colourways. I chose these three pretty pink prints. And I can't wait to show you what I have designed.
One thing that I am really enjoying right now is the weekly 'English paper piecing party' that I co-host with the lovely Larisa from Stitching Notes over on Instagram each Sunday. We call it 'Sip Tea and EPP!' Anyone can join in! We post an image each Sunday to start the sewing party. Some weeks we have a theme and sometimes we have little prizes too. You're encouraged to grab your favourite cup of tea (or beverage), post a photo of your current EPP project, tag @mollyandmama and @stitchingnotes, and use the hashtag #sipteaandepp so others can find you. You can join us whenever suits you best. We love building an encouraging community that is there to support sewists of all levels, from all over the world. We're all learning something new each week. And we're supporting so many on their sewing journey. It really is lovely! Please join us if you can.
If you're not sure what I'm talking about, please visit my tutorial on sewing hexies and English paper piecing. Once you start this beautiful form of hand sewing, you'll find it is addictive!
I'm also really excited to announce that I will be writing tutorials for projects that I design for Thermoweb. I'm sure you've heard of the Heat'n'Bond adhesive products, but Thermoweb also create interfacings, stabilisers and more. I've signed on as one of their Education Designers because I use so many of their products, so frequently. You can read more about me in my designer profile on their site.
For my first tutorial I'll be using this bold and bright 'Butterfly Dance' fabric produced by Windham. It's a departure from my normal style, but sometimes that's just what you need to be inspired to try something different! So stay tuned on that one.
As a brand ambassador for The Strawberry Thief, I am lucky enough to receive beautiful bundles of Liberty fabric to play with too. They recently sent me their stunning Bespoke Collection. Robyn has created this collection of favourite Liberty prints that have been specially re-coloured in bright and fresh tones, to reflect the hues of our Aussie summer. I have to say that I am just a little bit smitten. I have something special planned for these!
And the monthly Love Liberty Club subscription keeps arriving too. This is my favourite way to receive fabric. You never know what you are going to get. And you're always pleasantly surprised. I love that I am building a beautiful collection of prints that I can use for any Liberty project I can dream up.
My Etsy store also has a fresh new look. And the Stella Cushion might be a new addition from the last time you looked. It's a lovely English paper pieced cushion pattern, designed just for beginners. It contains three different embroidery designs for the centre hexagon, as well as lots of tips and tricks, clear instructions and step-by-step photos. It's one of my favourites. I hope you like it!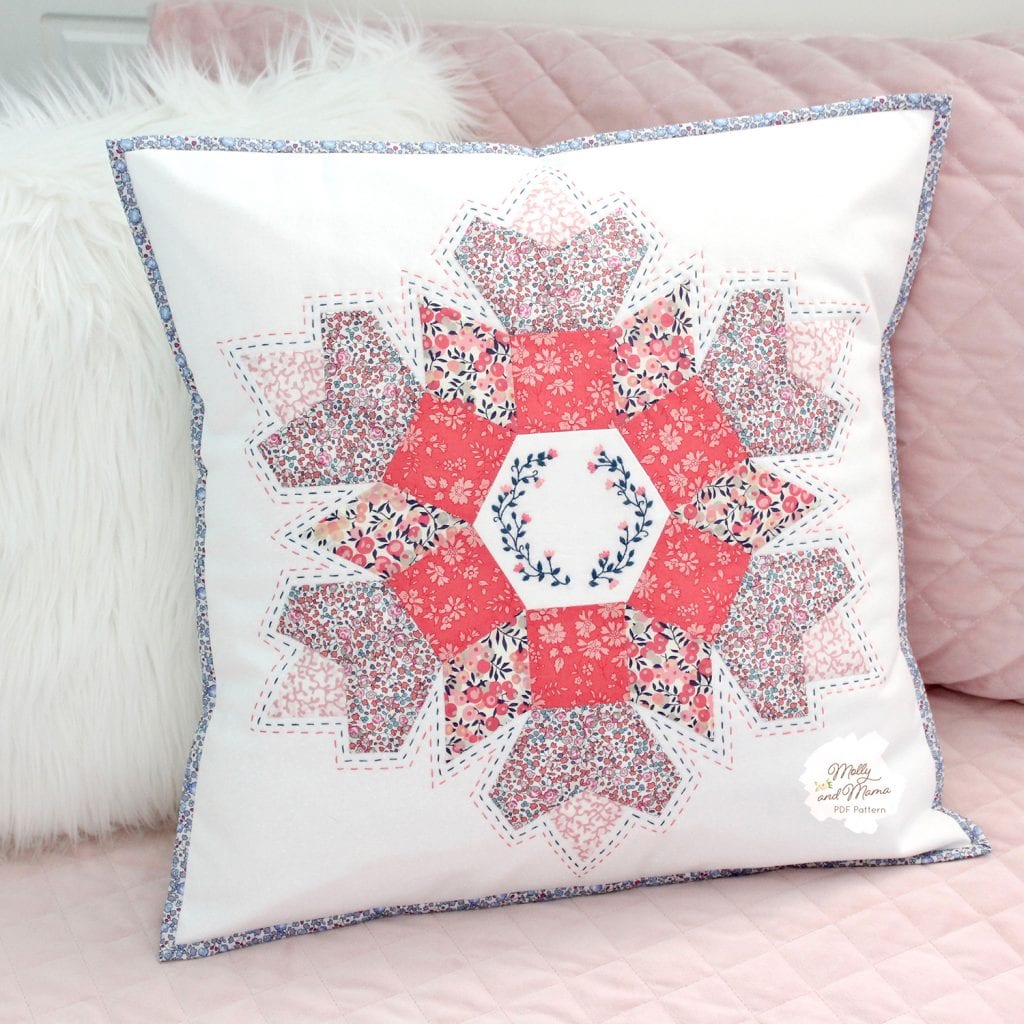 Well I best get back to the sewing machine, so that I have something to show you on Saturday. Stay tuned.
Happy stitching, Lauren x
This post was written by Lauren Wright and appeared first on Molly and Mama https://www.mollyandmama.com.au