Sew Organised with Aurifil
As an Aurifil Artisan, we're asked to participate in various challenges throughout the year. January's focus is on being 'Sew Organised', and it's prompted me to start the process of sorting out my sewing space this month. In fact, this challenge has also inspired me to run an Instagram collaboration with my friend Ali from Arabesque. And we'd love for you all to be involved too.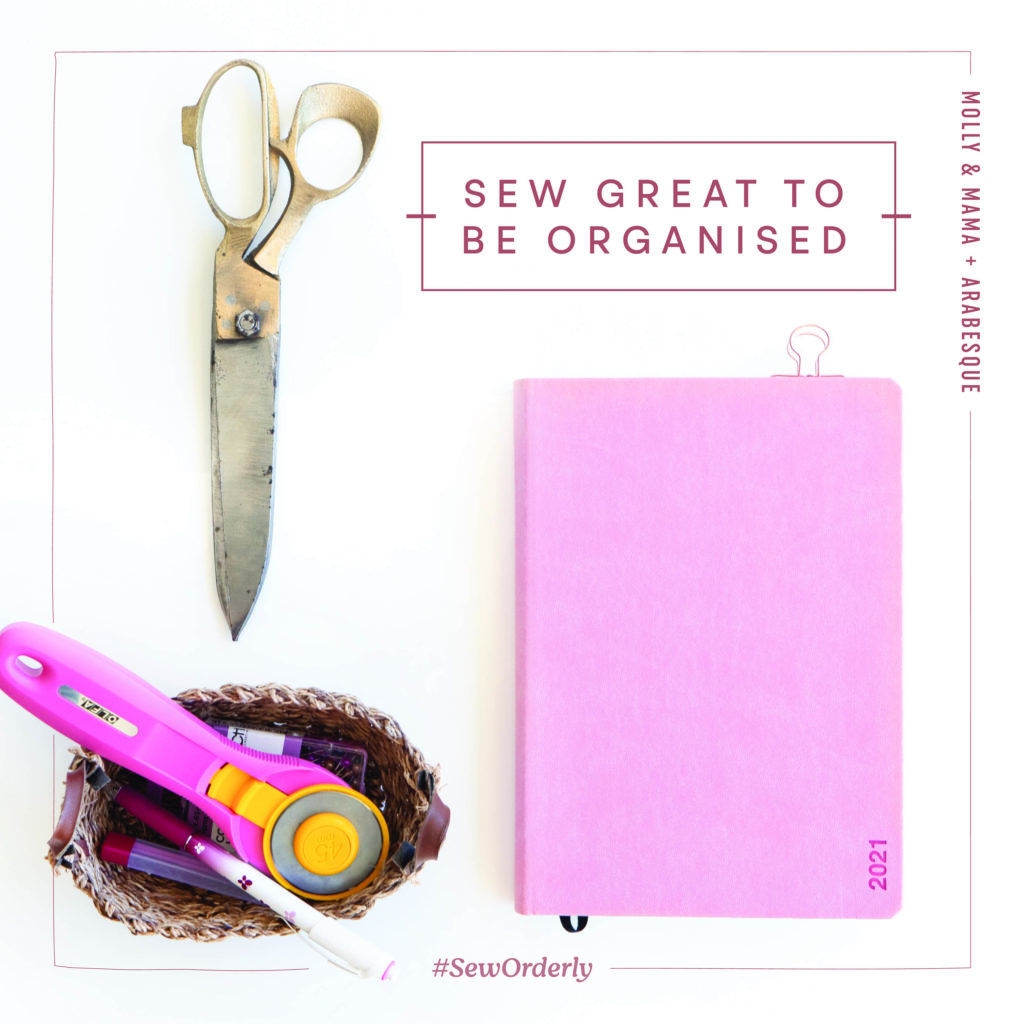 We're kicking things off on the first of February, 2020. Every Monday of the month, we'll showcase a new theme and share tips and tricks to help you keep your own sewing space organised, tidy, clean, and orderly. There's an upcoming post that will contain all the details (so stay tuned for that one) but basically, you're invited to post a photo on your public Instagram profile, either of something that you'd like help organising, or a tip or trick you'd like to share. Be sure to tag me @mollyandmama and Ali from @arabesquescissors so we can see your post, and use the hashtag #seworderly so others can find you too!
And although we have some sweet prizes up for grabs, we'd really just like this challenge to be all about helping us to use our sewing spaces in the most effective way possible, to make the best use of our supplies and create projects mindfully and with purpose.
One of the areas of my studio that can quickly get out of control is the storage of my Aurifil threads and floss. Gone are the days that I could store my precious spooled floss in a cute little decorative bowl in my studio. Or on a little thread organiser on my desk!
This floss is six stranded embroidery cotton and I just love that it comes on a spool. I can cut the length I need, divide the strands to use the required number, and wind the leftovers back on the spool so I never have stray pieces of floss floating around.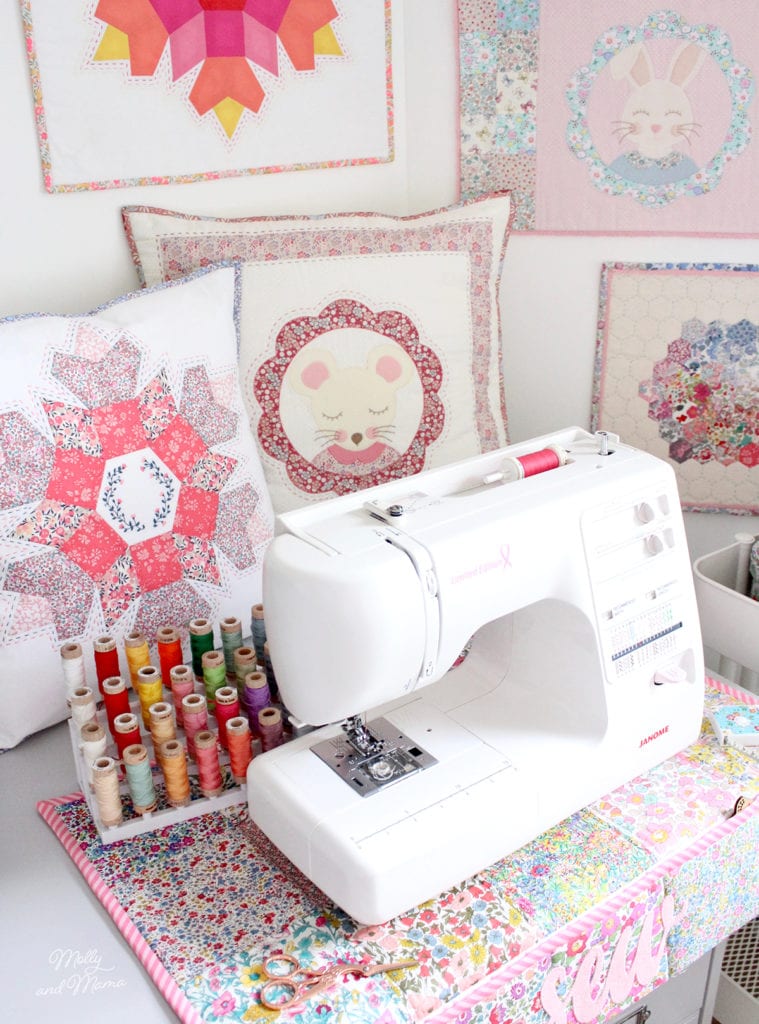 My collection has grown as I am working on more and more stitchery projects. So I want my floss to be easily accessible, suitably organised and safely stored. I have found the best way is to use a large timber thread stand.
I can see all of the threads easily, and can select the floss colours I need for embroidery (stored by colour on the left of the rack) or select the 50 weight cotton thread for everyday sewing (on the right).
I also like to keep my larger spools of 50 weight and 40 weight cotton thread handy for my everyday sewing too. All of these threads are stored in a glass fronted cabinet away from direct sunlight (to help protect them from dust and our harsh Aussie sunlight).
When I am working on a specific project, I like to audition different shades until I come up with the perfect colour palette. That's also the benefit of having lots of colours to choose from!
Stitching my first 'Nan's Garden Embroidery' was so lovely, using these gorgeous natural hues.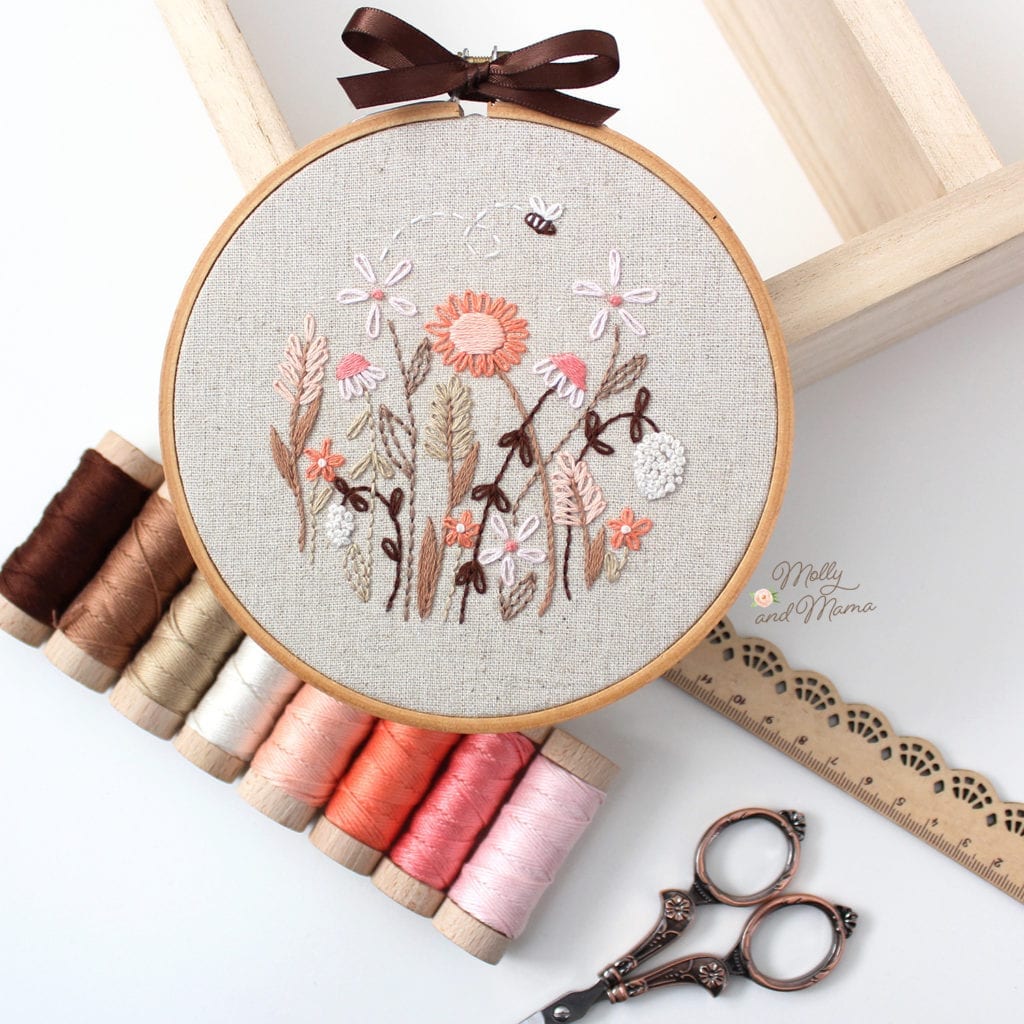 The digital pattern for this design is now available in the store.
Before the pattern is released, I like to sew a couple of different versions. To help me decide on a colourway, I like to grab my design in the hoop and pull a selection of spools in colours that I think will work together nicely.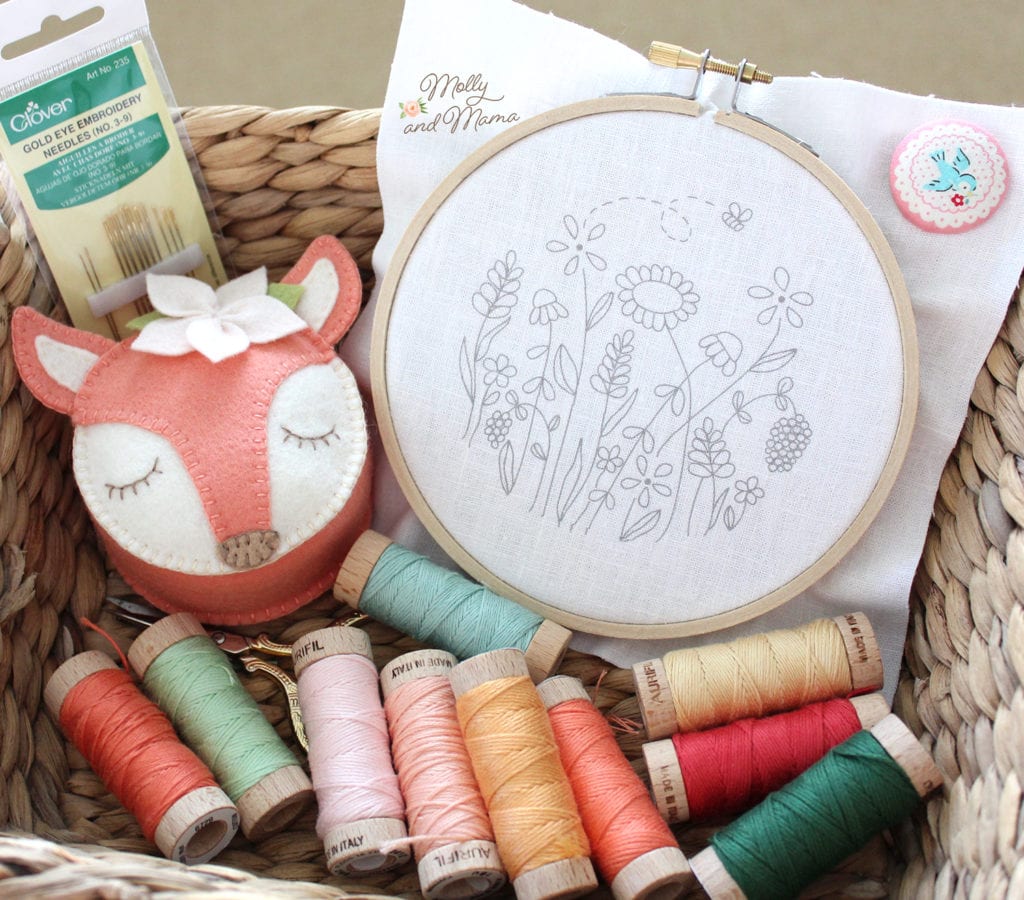 Some will make the cut, and some will be left out, but placing them beside each other and with the embroidery hoop, helps me to decide which threads to use.
I keep some fresh needles, embroidery scissors, and a needle minder or pincushion handy too. I find a basket is an easy way to carry the project around so I can always be stitching in the room with the best light!
The pincushion pictured here is my Fifi Fox pattern. Sewn in wool felt, she's a shy but sweet addition to your sewing space. I love stitching with felt, but I also love storing needles in felt too. So this pincushion is a favourite of mine.
Sometimes I'll pull floss colors to match my fabrics (how sweet is this Liberty Capel rainbow bundle from the Strawberry Thief?). I find the process helps to inspire me to create new design ideas.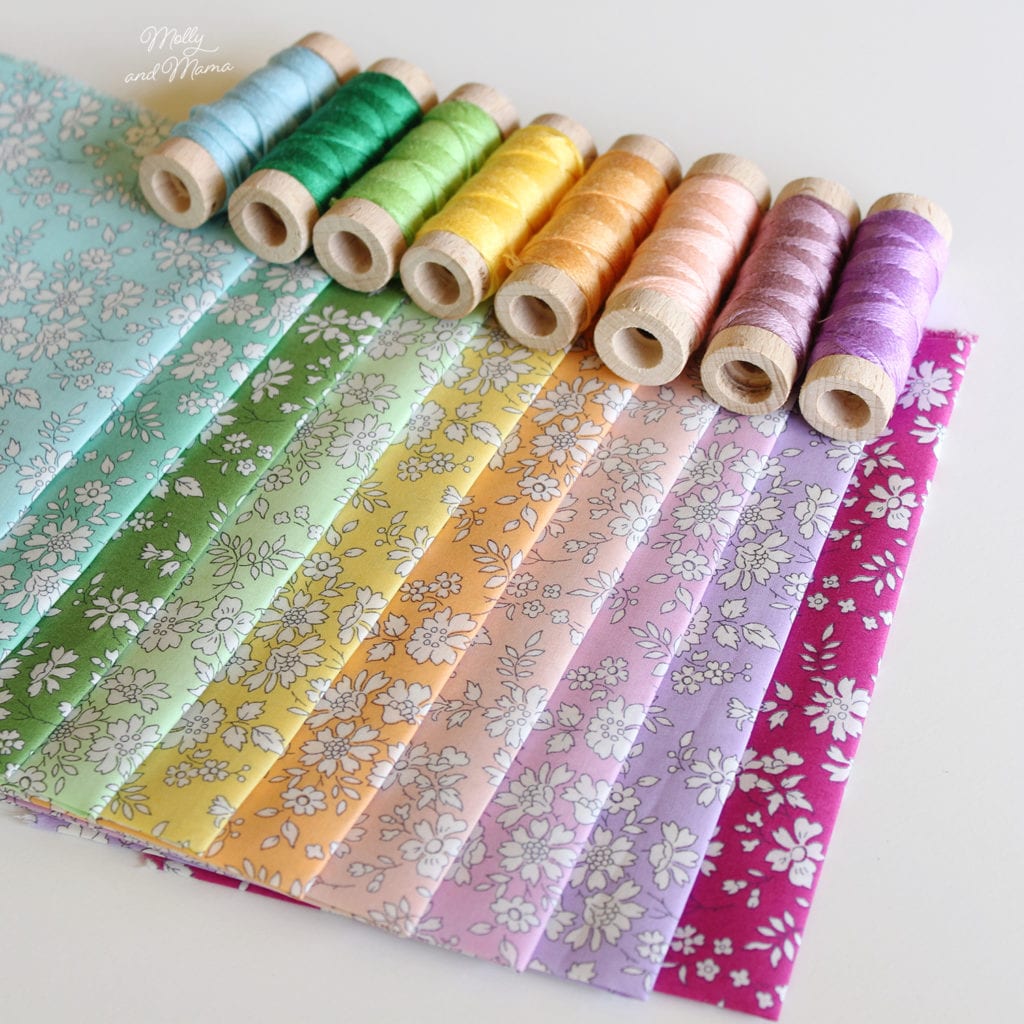 How do you like to organise your floss and thread? Do you organise by weight? Colour? Type? Brand? I'd love to hear your tips and ideas, so please feel free to leave a comment.
Happy stitching, Lauren x