Make It Mini Book Tour and Giveaway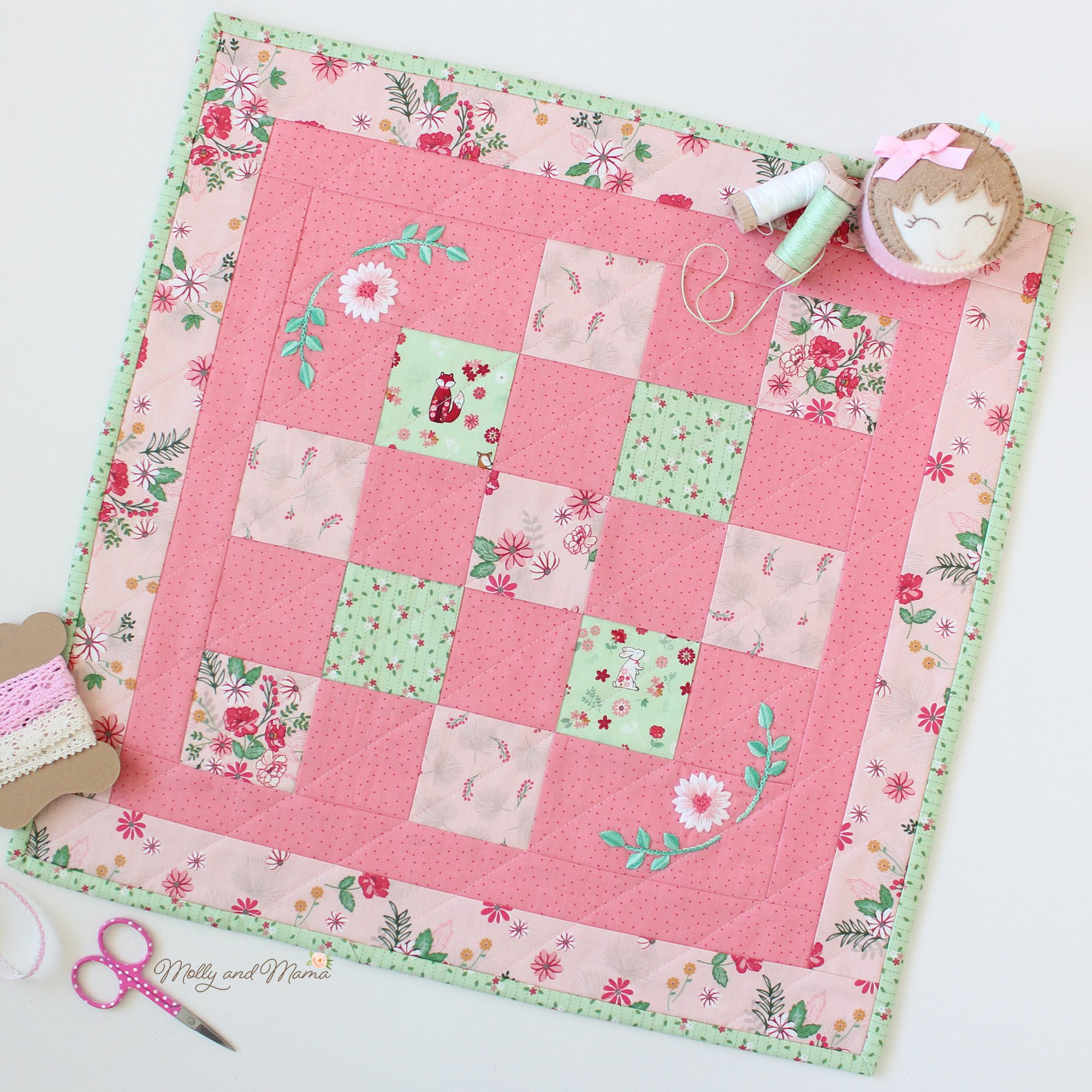 I'm so thrilled to be joining the blog tour for my lovely friend Bev's new book 'Make It Mini*'. You might know Beverly McCullough from her Flamingo Toes blog. She shares gorgeous patterns and tutorials, designs stunning fabric and this is her second sewing book.
The Make It Mini Book* contains 13 small quilt patterns that utilise a range of techniques, but that also all include an element of hand embroidery. The book has easy-to-follow instructions, clear diagrams and photos, and a section on stitching and quilting basics.
*If you make a book purchase using these affiliate links, I will earn a small commission that doesn't change your purchase price, but helps me to continue to bring you this content. Thanks for your support!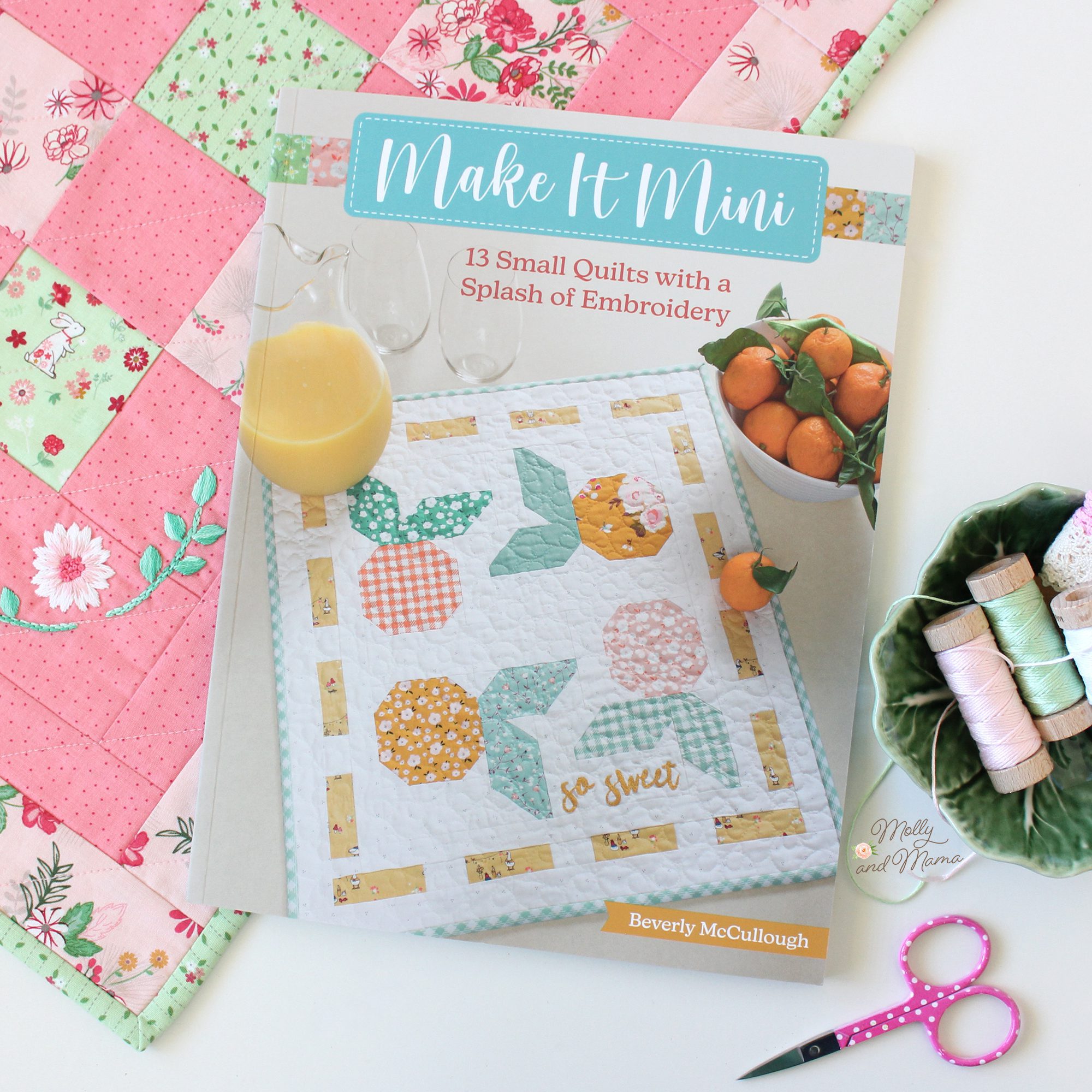 I chose to make 'Stepping Stones' on page 23. It's a gingham inspired mini quilt embellished with corner blooms. I used the pink and green prints from Bev's current fabric collection 'Enchanted Meadow' to piece this simple mini together.
For the embroidery, I used a combination of Aurifil 6 stranded cotton floss (shown on the spools below) for the flower, and Cottage Garden Threads variegated floss in Dinner Mint for the foliage.
How sweet does my Miss Molly Pin Cushion look, sitting in the photo above? You can find the pattern to make your very own felt pin cushion in my store.
This project is perfect for fussy cutting too. I love that little red fox. And then the bunny in the photo below that. Cute, right?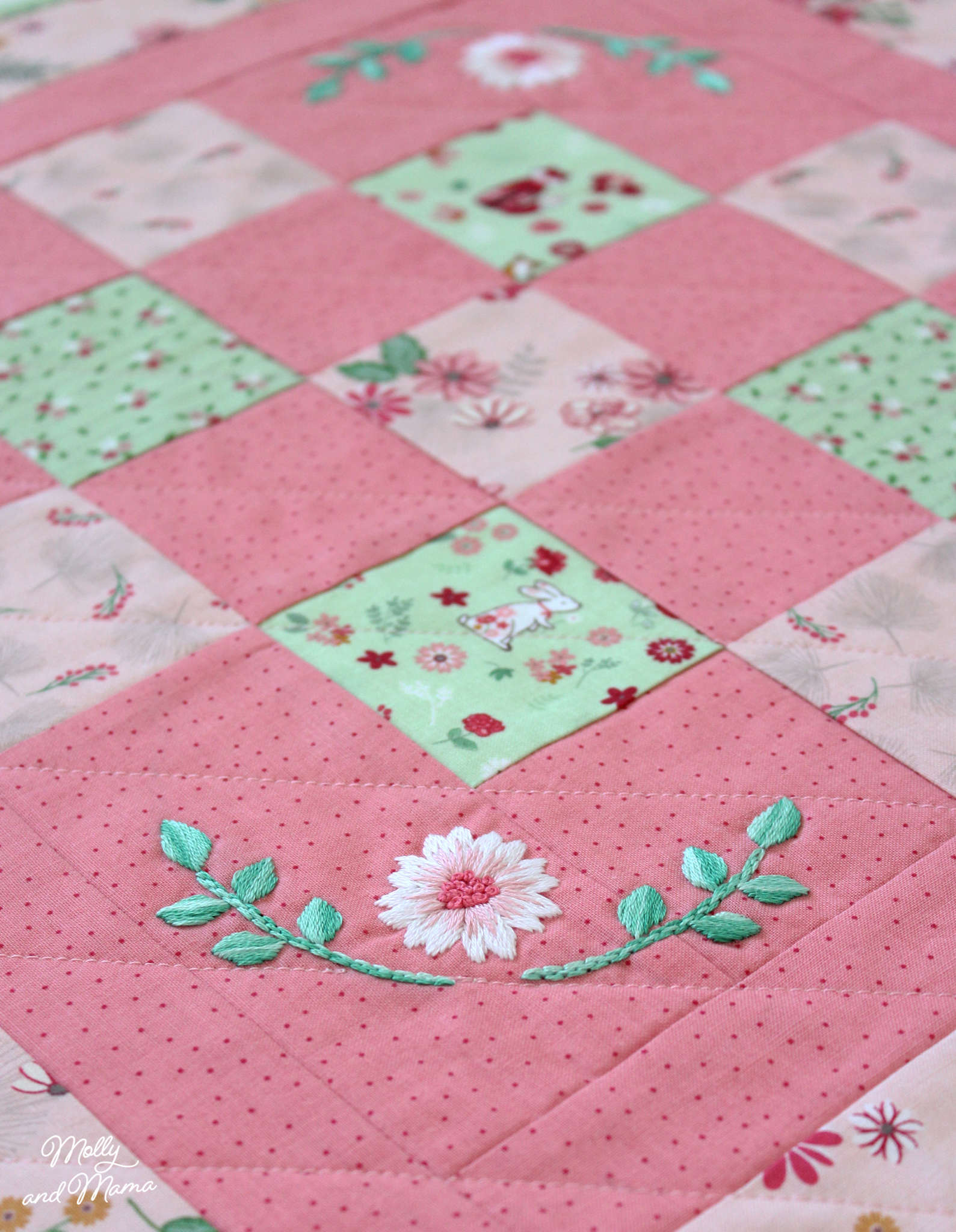 Adding a touch of embroidery to a sewing project made this such a pleasure to sew. It's a quick make but also let's you get a taste of some slow stitching too. A lovely combination.
GIVEAWAY
Very generously, Bev is offering one of my readers the chance to win their very own copy of the book. Please visit INSTAGRAM to secure your entry on the giveaway post.
TOUR SCHEDULE
The book tour continues for the next week with some of my favourite designers and makers joining the line up. Please visit these blogs and websites below to see more about this beautiful book, and to join the book giveaways that others are running.
· July 25 – Pat Sloan
· July 26 – Amy Smart – Diary of a Quilter
· July 27 – Andy Knowlton – A Bright Corner AND Lauren Wright – Molly and Mama
· July 28 – Aurifil
· July 29 – Riley Blake Designs
· August 1 – Jennifer Long – Bee Sew Inspired AND Jessica Dayon
· August 2 – Christopher Thompson – The Tattooed Quilter
· August 3 – Amanda Niederhauser – Jedi Craft Girl AND Melanie Call – A Bit of Scrap Stuff
· August 4 – Melissa Mortenson – Polkadot Chair AND Fat Quarter Shop
· August 5 – Amy Chappell – Ameroonie Designs
OTHER PROJECTS
It was such a treat to be able to use Bev's latest fabric collection Enchanted Meadow on a second project. You may recall that I also used this range when I created the Sweet Stitches Sampler Pattern but made the blue and red prints the focus for that project. You can read all about it HERE. Or use the button below to see the pattern in my store.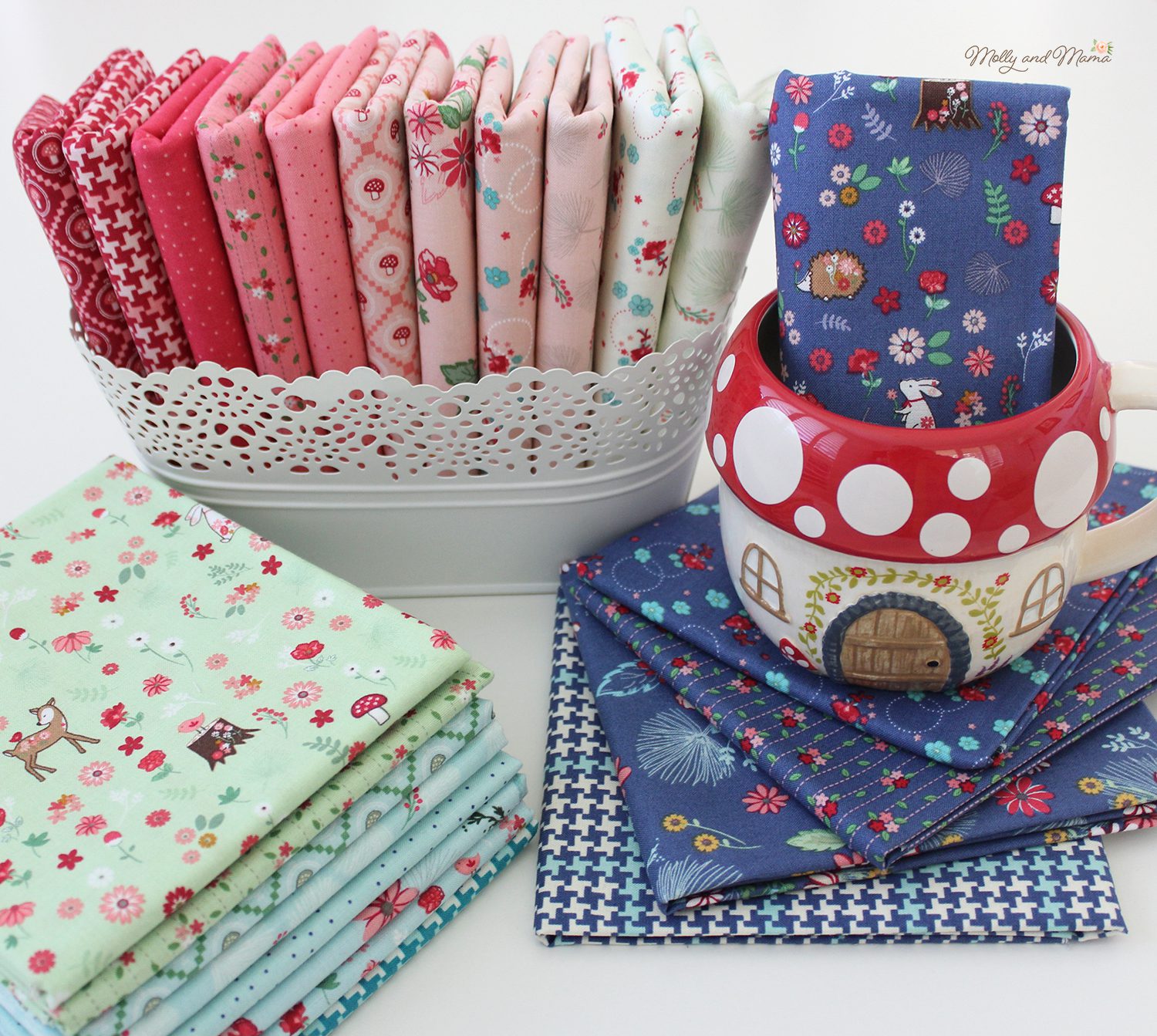 I also joined the tour for Bev's last book: Retro Stitchery* filled with vintage inspired embroidery projects. I loved using her gorgeous design to embellish my daughter's denim jacket. We both loved how it turned out. You can see more photos on the blog post.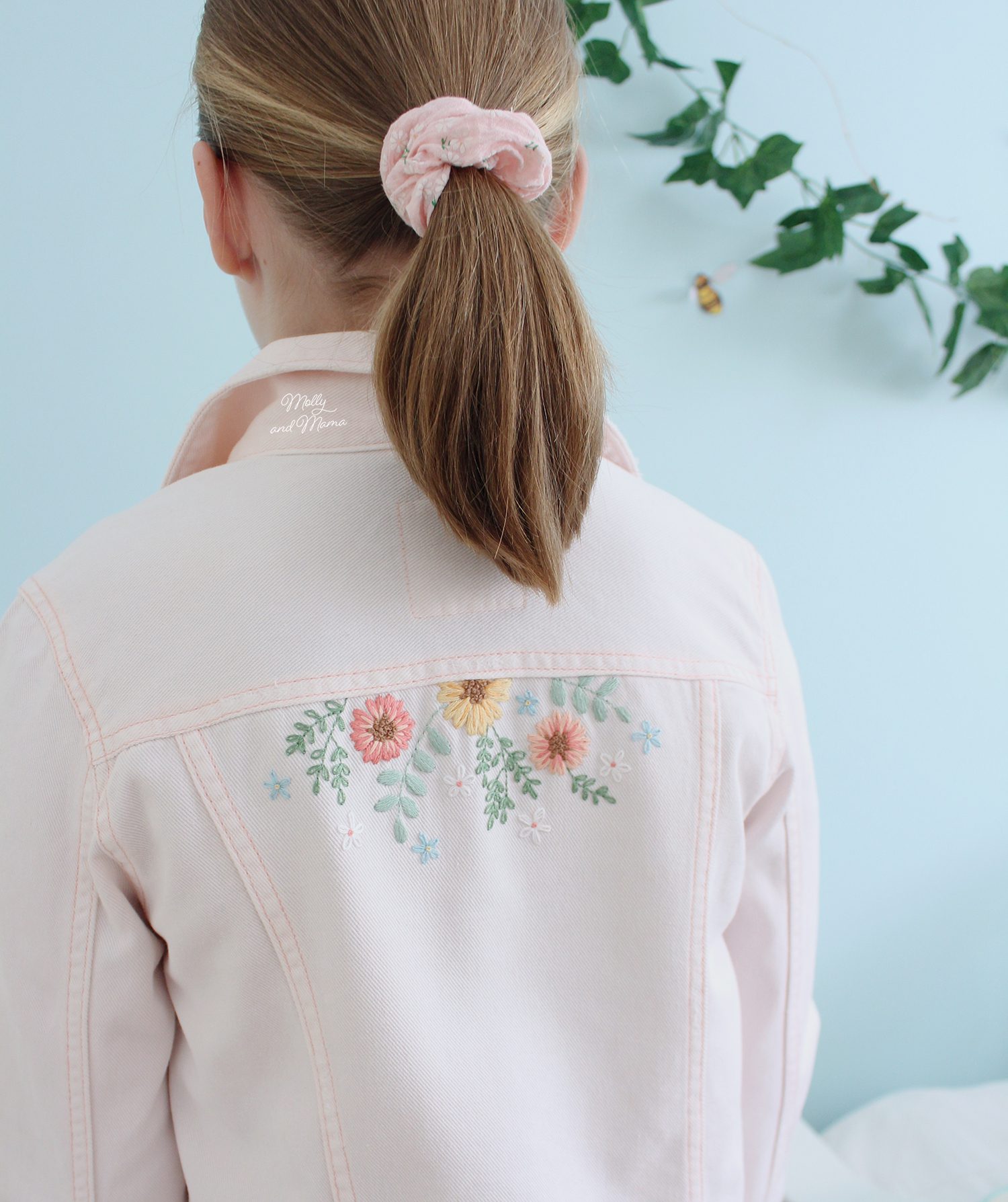 Thanks for reading along today. Happy stitching, Lauren x