In honour of our national day, Australia Day, I've created a gorgeous little felt koala. My daughter wanted a hair clip to match her 'Katie Koala' appliqué t-shirt. So I whipped up this cute little clip and thought I'd share how I put it together!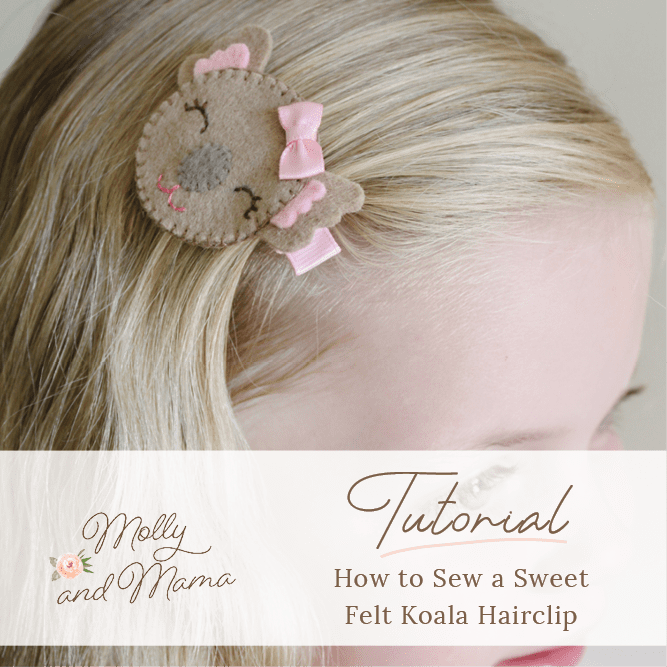 The finished koala only measures 6cm (or 2.5″) across and fits neatly on a 48mm ribbon-lined alligator clip. She's made from wool felt. If you haven't already guessed it, I'm obsessed with this medium! You can see more tips for using wool felt HERE.
YOU WILL NEED
wool felt scraps in your chosen colours. I selected taupe, brown and pale pink.
matching embroidery floss
embroidery needle
fine embroidery scissors with sharp blades
an optional mini bow (or similar) for embellishment
a 48mm alligator style hair clip
12cm of coordinating grosgrain ribbon (10mm wide)
a hot glue gun
a heat erasable pen (like a frixion pen)
a print out of the template from HERE
LETS GET STARTED
Download and save the koala template so that you can use it anytime. You can find a copy of it HERE. It's pretty basic but it does the job :-). (This project is for personal use only. Thanks for understanding).
Cut out your template pieces using small embroidery scissors. As most of the pieces are too small to pin to the felt, I just held the paper template in place while cutting. You'll need two head pieces, two ears, two ear inners and a nose.
Use whip stitch to join the pink ear inners to the ears so that it's easier to attach them to the head later. I used a single strand of bright thread to help you see this step. Be sure you sew a left ear and a right ear. Trim the excess thread away.
Now let's create Kylie's face. Thread your embroidery needle with a single strand of brown embroidery floss. Position the nose piece on one piece of the face felt. While holding it in place, carefully whip stitch the nose in place. I started stitching at the base of the nose, where my embroidery will begin.
Next, we'll embroider the facial features using back stitch. For more tips on Back Stitch head over to this tutorial HERE. This image is a great refresher too!
Thread your needle with two strands of pink embroidery floss (or whichever colour you choose). Using the template as a guide, you can stitch the mouth design on freehand. Or you can use a heat erasable pen to mark your outline first. Start at the base of the nose and make one straight stitch down, then you can branch off on either side to stitch the smile.
Now it's time to stitch the eyes. Use the same method we used for the mouth. You can see above where I marked my eye outline with the pen to help. Start each eye at the end closest to the nose, then stitch out. Add the eye lashes last.
When putting it all together, lay your other head piece on a flat surface. Lay the ears down next so that they slightly overlap inside the head piece (and you can't see your whip stitching). Place your embroidered face piece on top.
Pin the layers together carefully through the ears. Thread your needle with two strands of floss to match the koala's head colour. We're going to blanket stitch the two head pieces together. Here's a quick stitch refresher.
Begin your stitching below the right ear and then down and around the base up to the other ear. Take some time when stitching though the ears to be sure you catch both layers of the head felt and make sure the ear felt is in between.
Secure your stitching well when you return to the starting point. Then Kylie Koala is all complete! Here's how she'll look from the front and the back.
Now all that's needed is to add a teeny tiny bow. I had one already made up, and I just hot glued it on. But if you're making this for a little child, then hand stitching will make it more secure.
Then we just need to hot glue Kylie to a ribbon covered clip. Covering clips is really straightforward, and I have a great tutorial about it HERE. But this image shows the basics.
Once you've covered the clip using your glue gun, just add a line of hot glue to the top and carefully attach your koala. If the clip is for your own child, consider which side her hair is parted, and attach Kylie so that she won't be upside down when worn. My little miss wears her clips on the right of her head, so the alligator opens to the left as pictured above.
I hope you've enjoyed this sweet little tutorial. My daughter LOVES this clip! So it's sure to be a favourite! And she loves her 'Australia Day' ensemble too.
If you'd like to have a go stitching the Katie Koala applique, it's very easy too. You can pick up the instant download PDF pattern for it HERE. Feel free to share what you make on the Molly and Mama Facebook page.
Happy Australia Day to our local followers, and happy stitching! Lauren x
This post was written by Lauren Wright and appeared first on Molly and Mama http://www.MollyandMama.com.au