A Few Of My Favourite Christmas Things!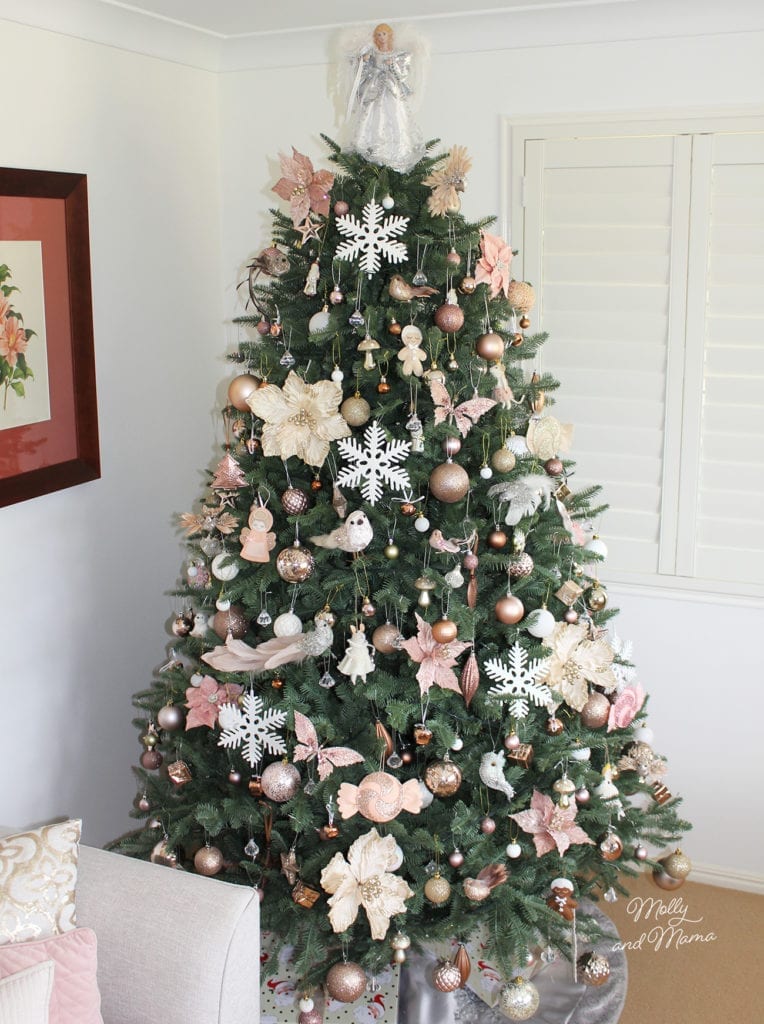 When people in our large and extended family mention Christmas, we all get excited. It's such a wonderfully special time of year that brings us all together. And it has been made more special by the traditions and magic that we've shared for generations. My grandmother Molly would be proud if she were able to see us all today!
Part of preparing for the holiday season has always involved creating handmade gifts and homemade decorations and ornaments. So it's no surprise that I have stitched, sewn, baked, glued, grown and created many Christmas goodies over the years. I wanted to share just a few favourite pieces from recent years with you all. If you celebrate Christmas, I hope they inspire you to get making… because nothing feels better than the joy of giving, especially something made with love.
These Beaded Baubles ornaments look so stunning stitched up in different shades of glitter felt! I loved adding the little seed beads for an extra sparkly effect. These decorations are actually really simple to stitch and quick too. You can find the pattern in the store.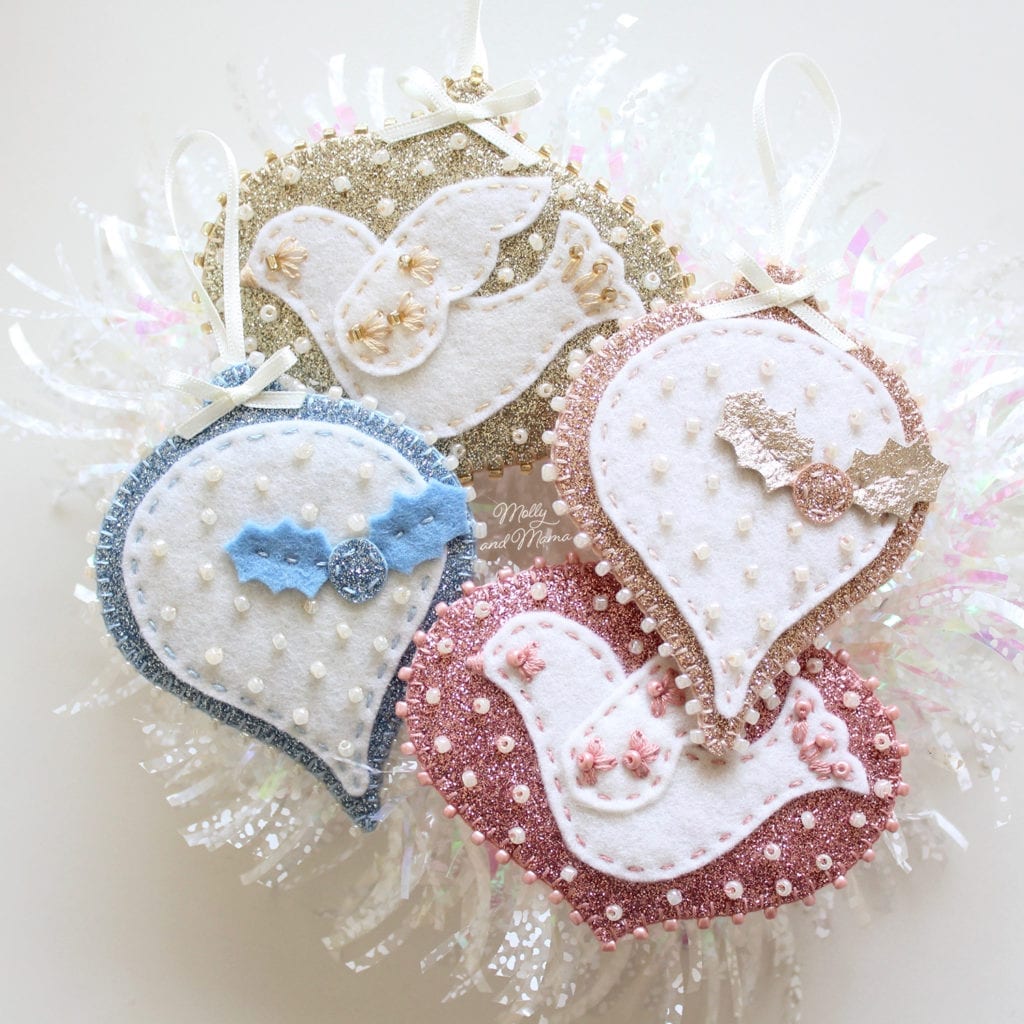 One of my most popular sewing patterns has been this sweet Christmas stocking. The front is English paper pieced with cute hexagons, then quilted. Here's a few different versions made during my recently hosted sew alongs. From left to right, they're sewn in pink Liberty tana lawn, Heather Ross' 'Trixie' fabric, Liberty 'A Festive Collection' quilting cotton and Urban Chik's 'Sweet Christmas'.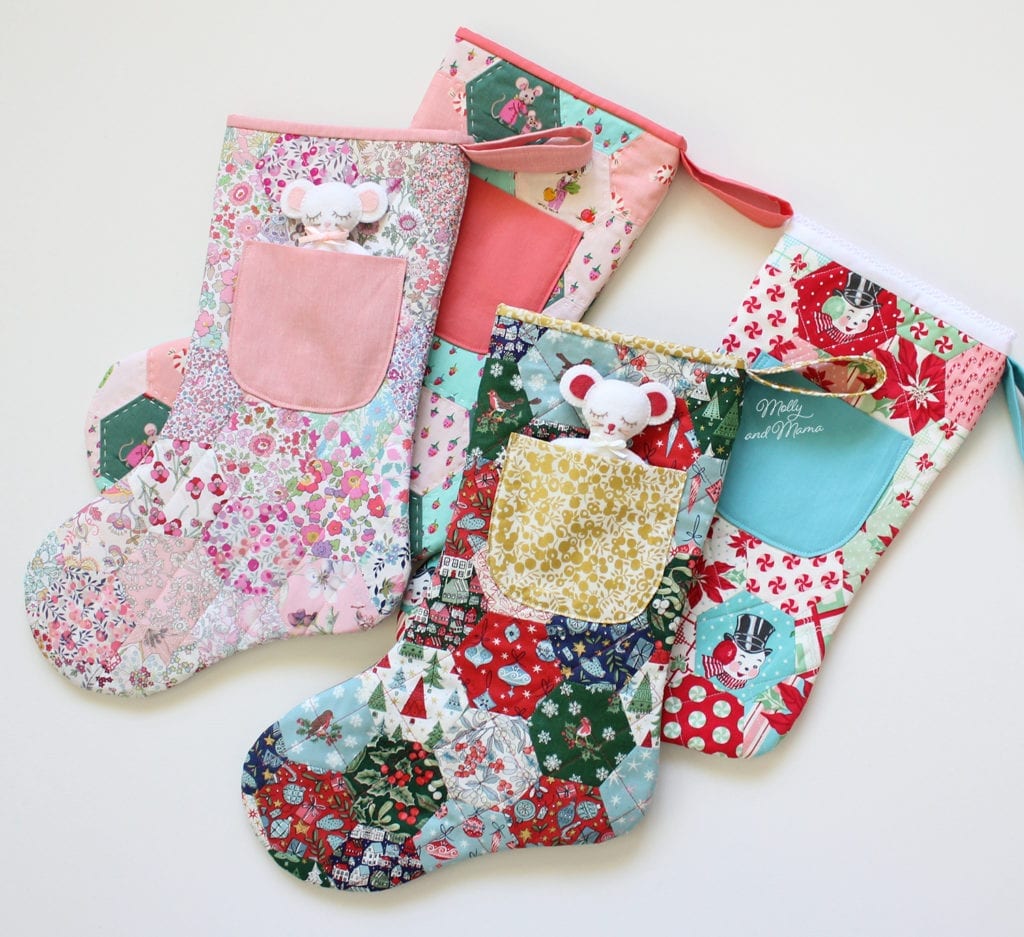 The cute front pocket holds a hand-stitched felt sugar mouse that would also make a beautiful decoration on its own.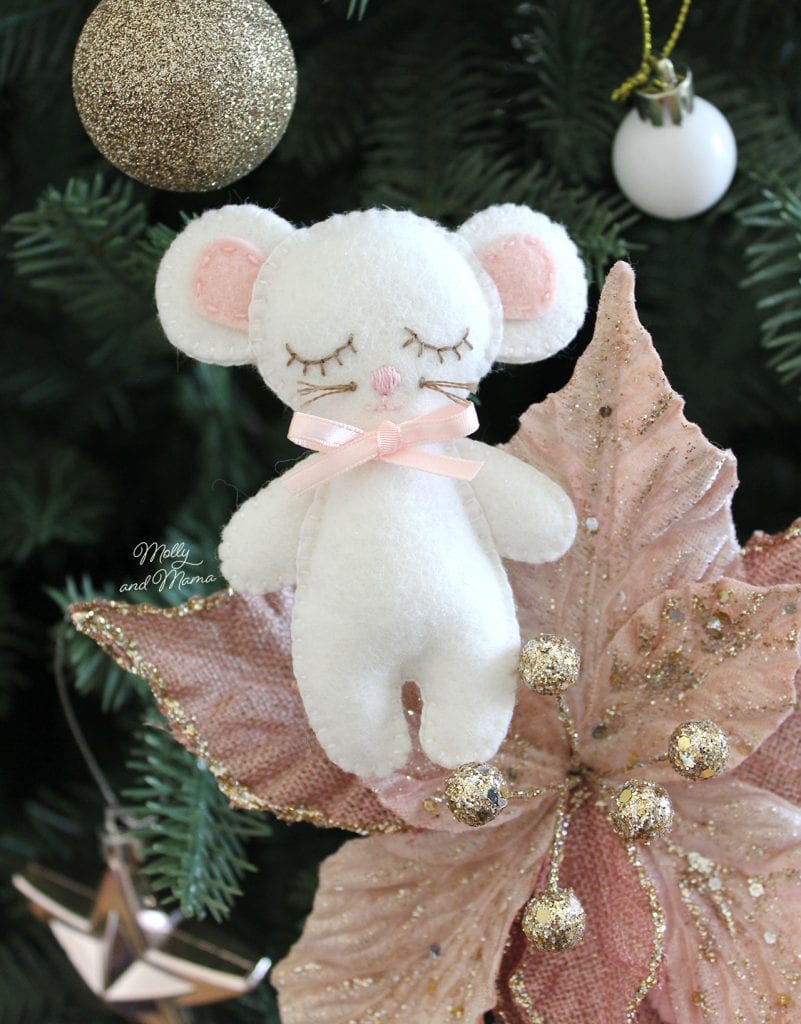 This is the pattern cover version made with Tilda 'Old Rose'. Even though the fabric isn't a Christmas collection, the colours and prints give it a festive feel. Find the pattern HERE.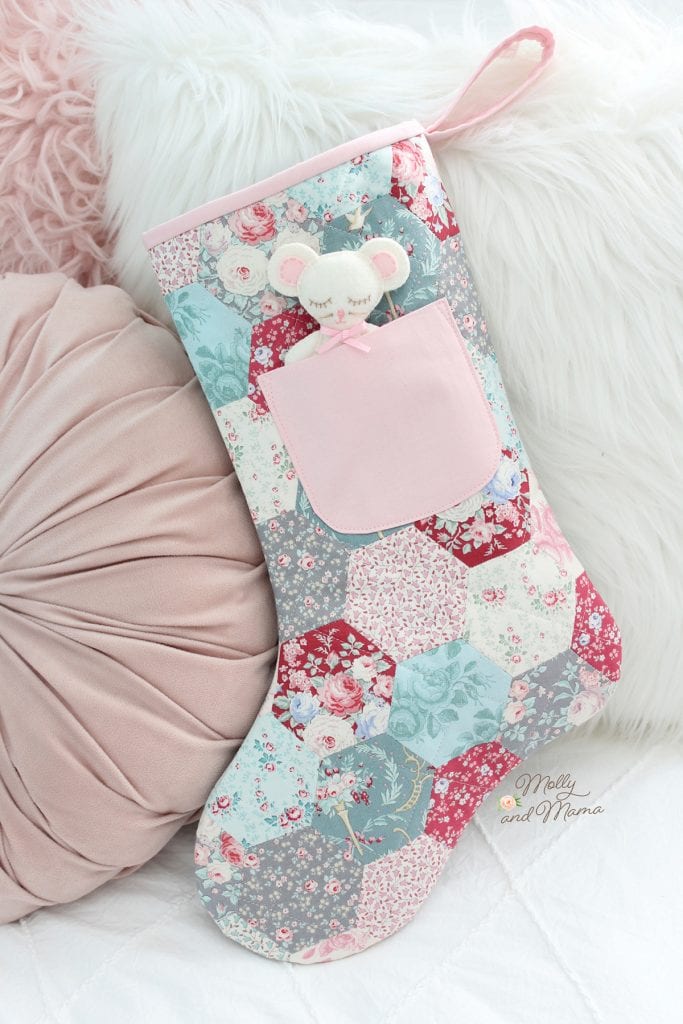 Christmas Dilly Bag
My recently released Easter Dilly Bag pattern has had a cute Christmas makeover. Liberty's 'A Festive Collection' quilting cotton was used to create this cool blue, drawstring dilly bag. I love the red robins on the sweet petals, and the gingerbread buttons on the ribbon pulls. This bag design covers lots of beginner skills from quilting to binding, fabric yoyos and more. It also features front pockets that fit cute Christmas treats.
You can sew these yummy felt gingerbread ornaments that were designed to fit perfectly in the front pockets of the Dilly Bag above. The tutorial is a freebie. Learn more HERE.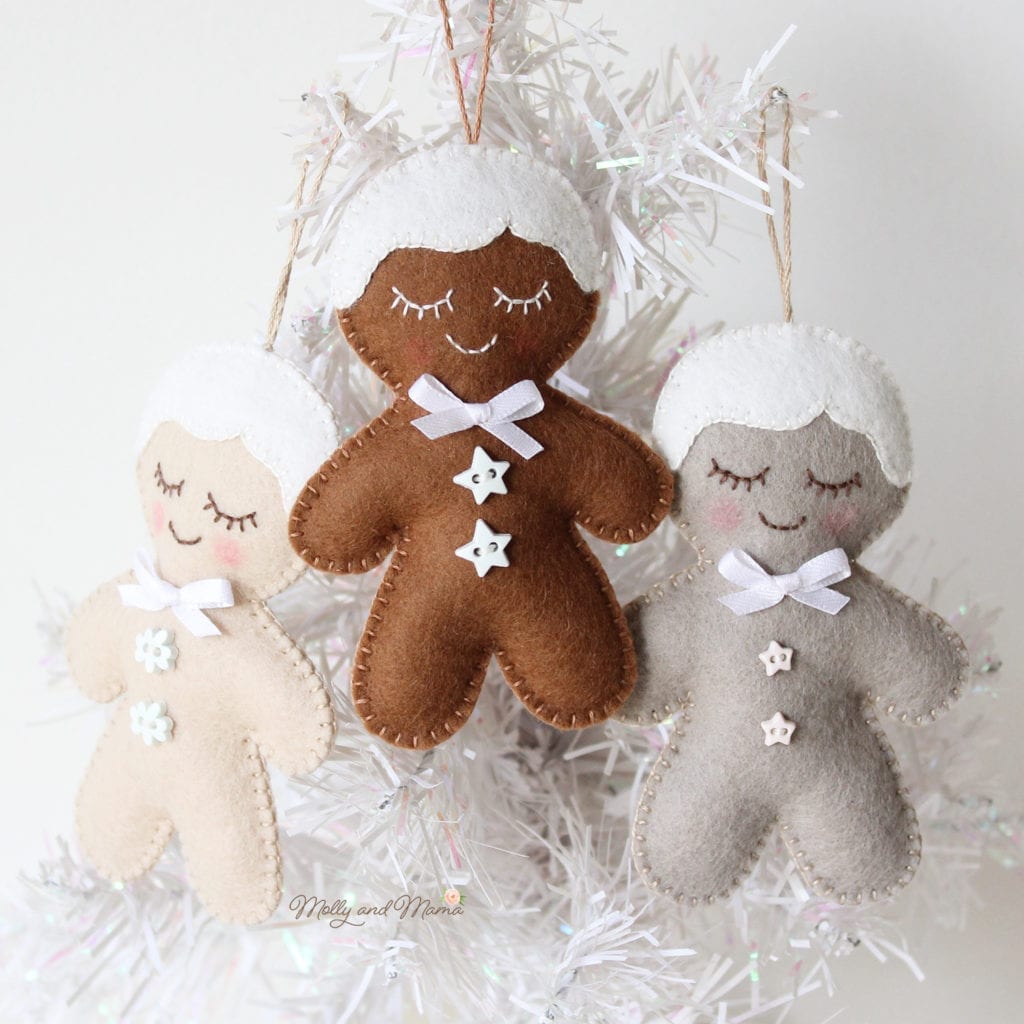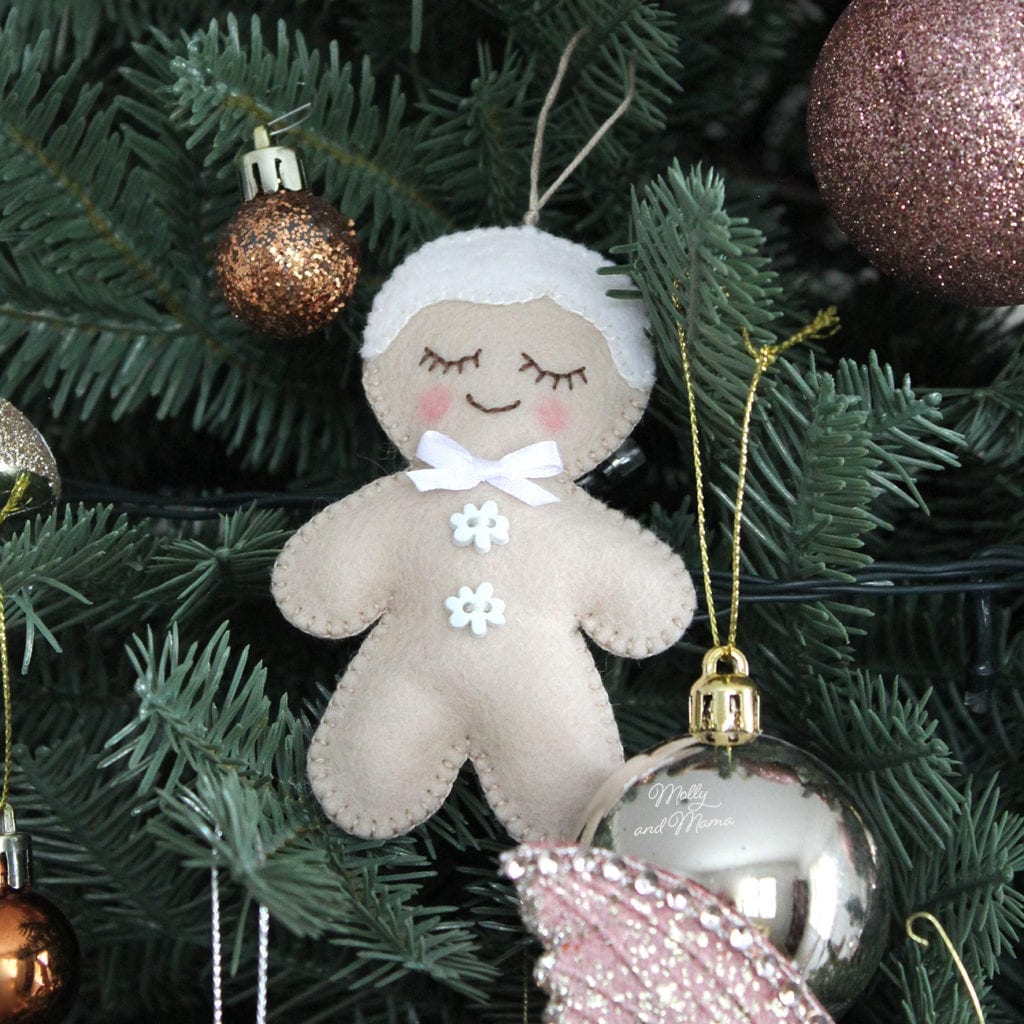 This free Christmas mouse and stocking tutorial is a few years old now, but still one of my most popular projects. The mouse and stocking are separate pieces, but look so cute together.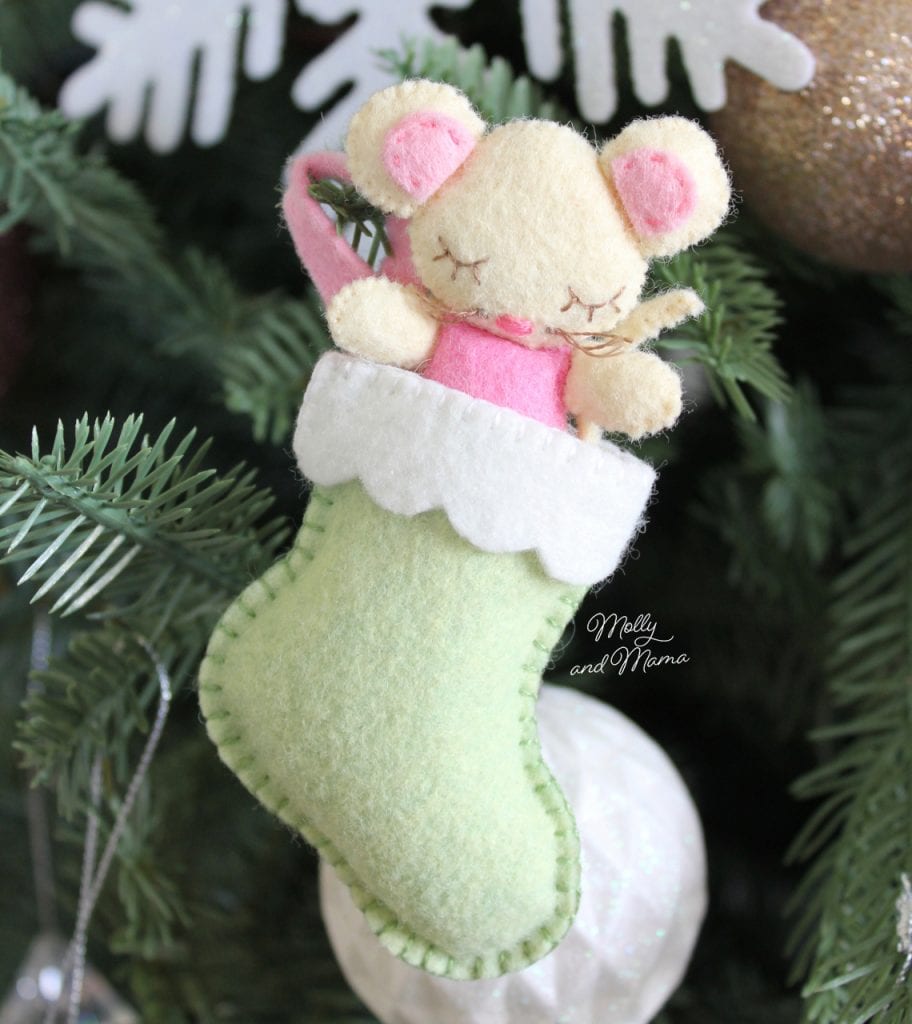 Recently updated, the free Christmas Angel Ornament tutorial is a lovely beginner's project. They have a cute little front pocket for holding Christmas treats like mini candy canes or chocolate coins. I love the beaded halos too.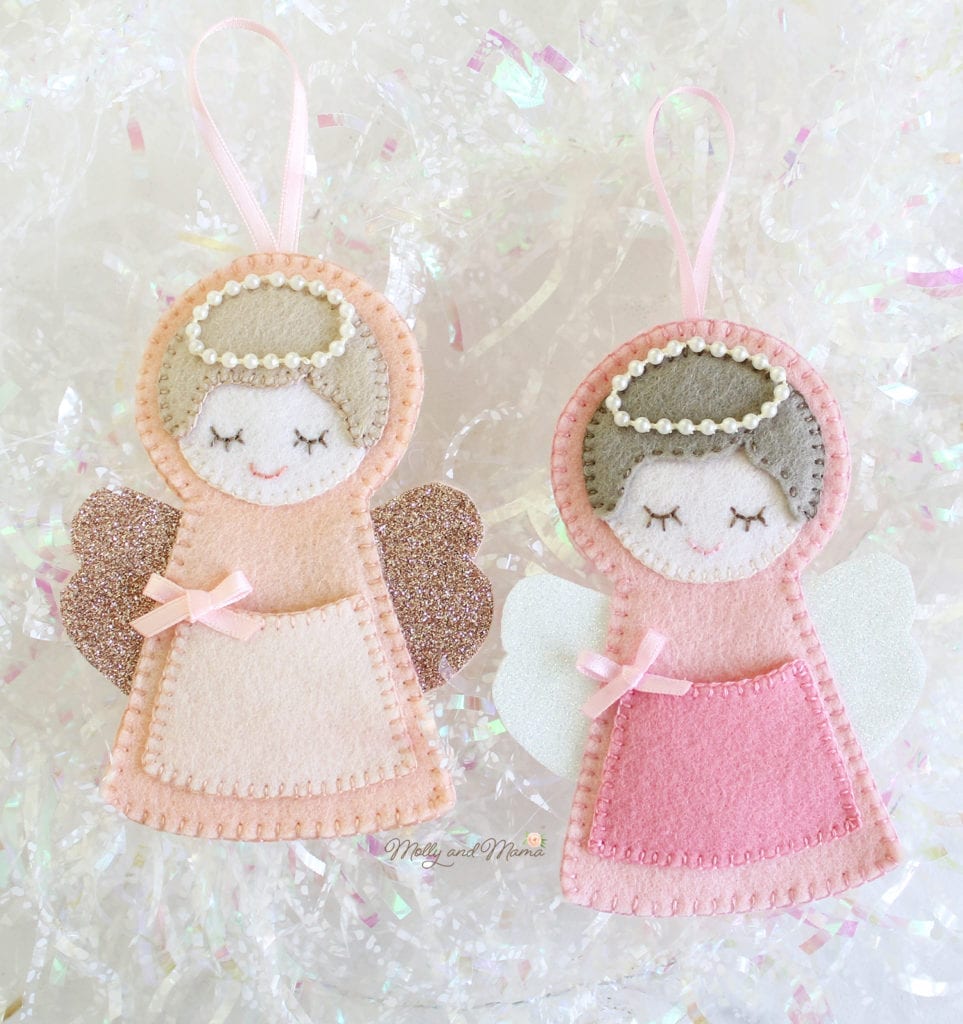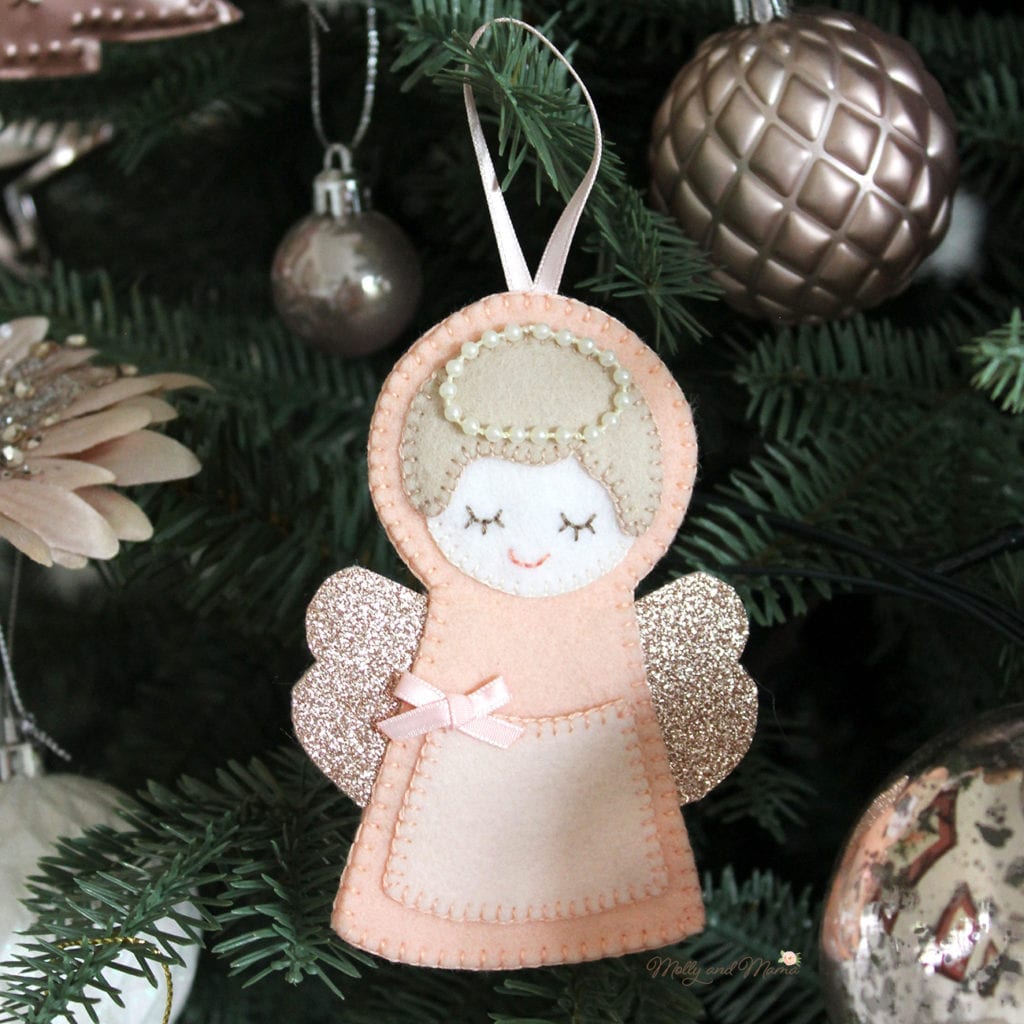 Not just for the holiday season, these cute donuts are perfect for imaginative play. But add a hanging loop and you have a fun and festive ornament too. Read the free tutorial HERE.
Sew a little reindeer, felt mouse and Christmas cupcake to create sweet ornaments, personalised gift tags, or pretty Christmas accessories. The Festive Felties pattern can be found in the store.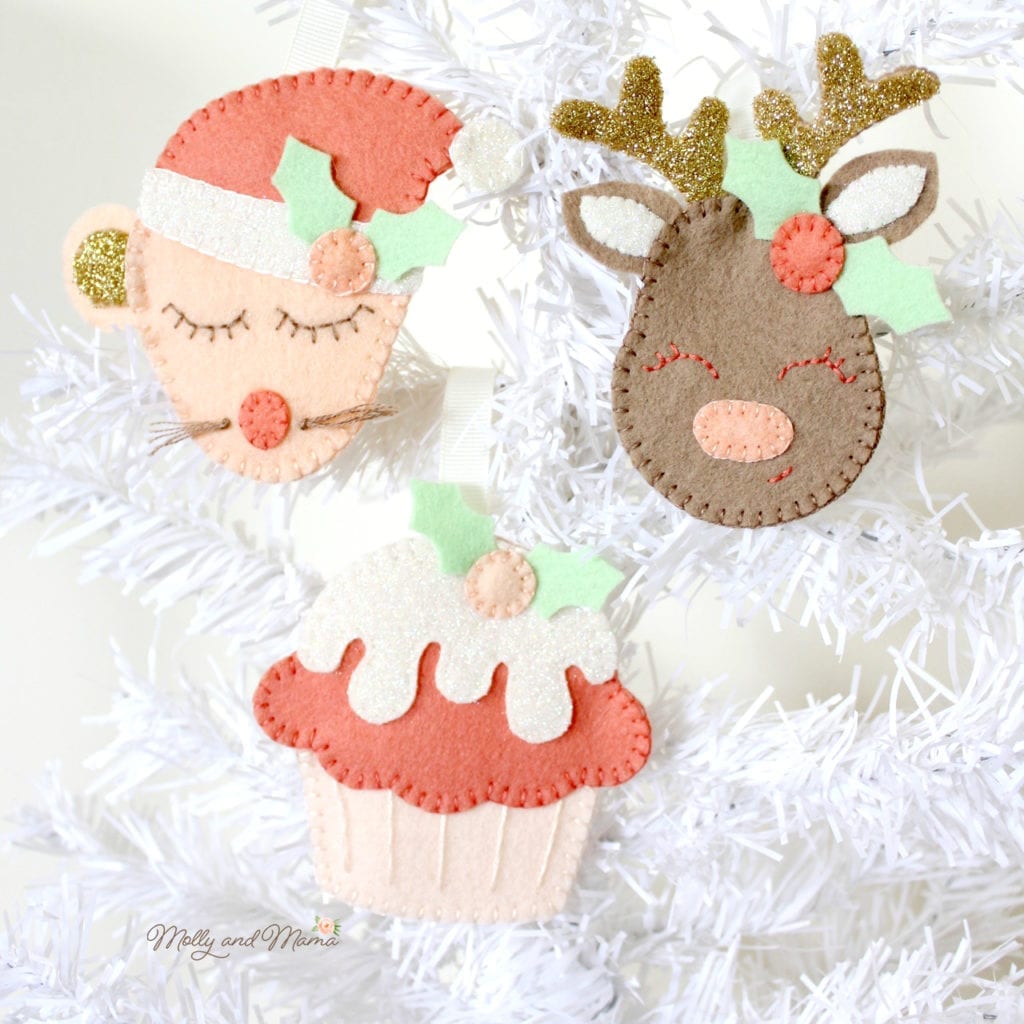 This sweet and simple hanging hexagon ornament is super quick to make. It would also make a fantastic gift tag. There's a free tutorial to explore for this project.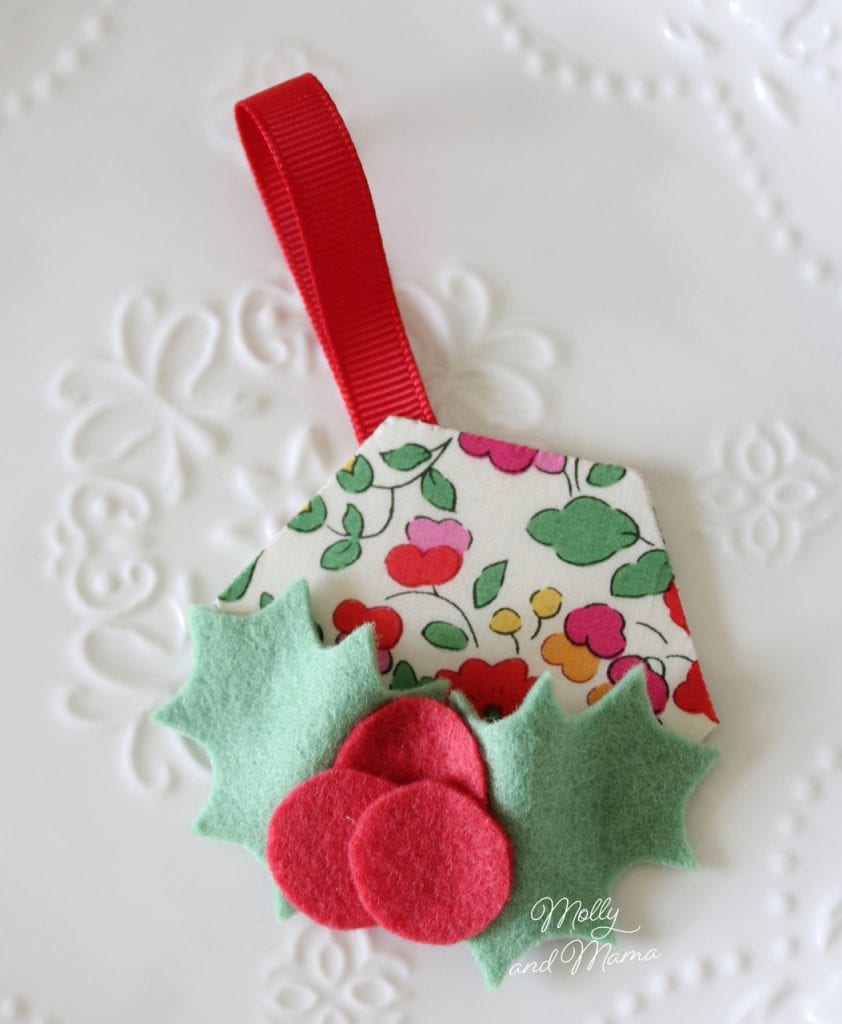 Liberty Scrap Baubles
These floral baubles are so easy to assemble. Visit my free tutorial to find out how, or to download the instructions.
Whilst blogging for ThermOWeb, I designed this Christmas cracker table runner. It was such a lovely way to use up my festive fabric scraps. Visit the ThermOWeb blog for the full instructions.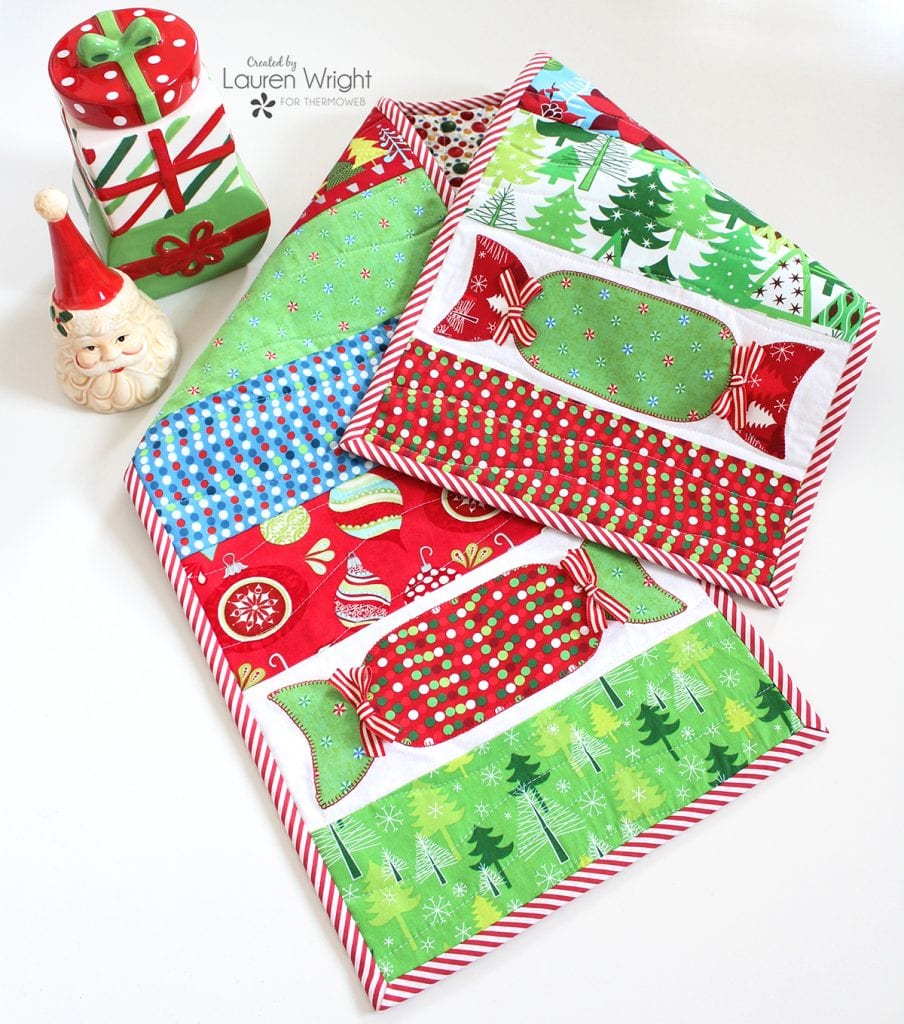 Glitter felt features in the appliqué on this holiday season cushion cover that I also designed for ThermOWeb. Visit their blog to access the free tutorial.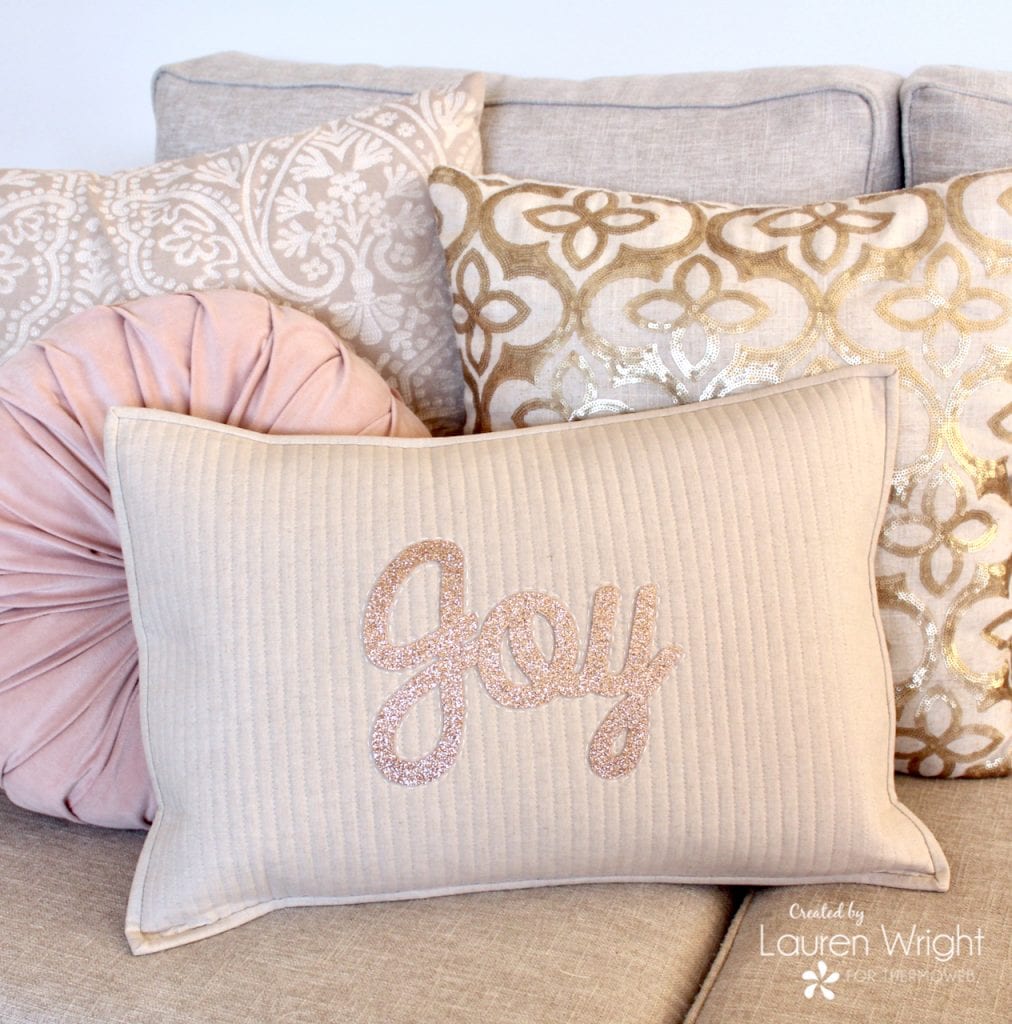 What do you love to sew for the holidays? Do you have any special traditions? I hope these projects have provided some inspiration and ideas. Be sure to visit the Tutorials Tab for more projects and helpful how-to's also.
Happy holiday stitching, Lauren x