'Zakka Wool Appliqué' Book Tour
Welcome to the Zakka Wool Applique* Book Tour! If you're new to Molly and Mama, I'm so thrilled to have you here! When you've finished reading about this beautiful new book, I'd be honoured if you spent some time to look around the blog. Enjoy x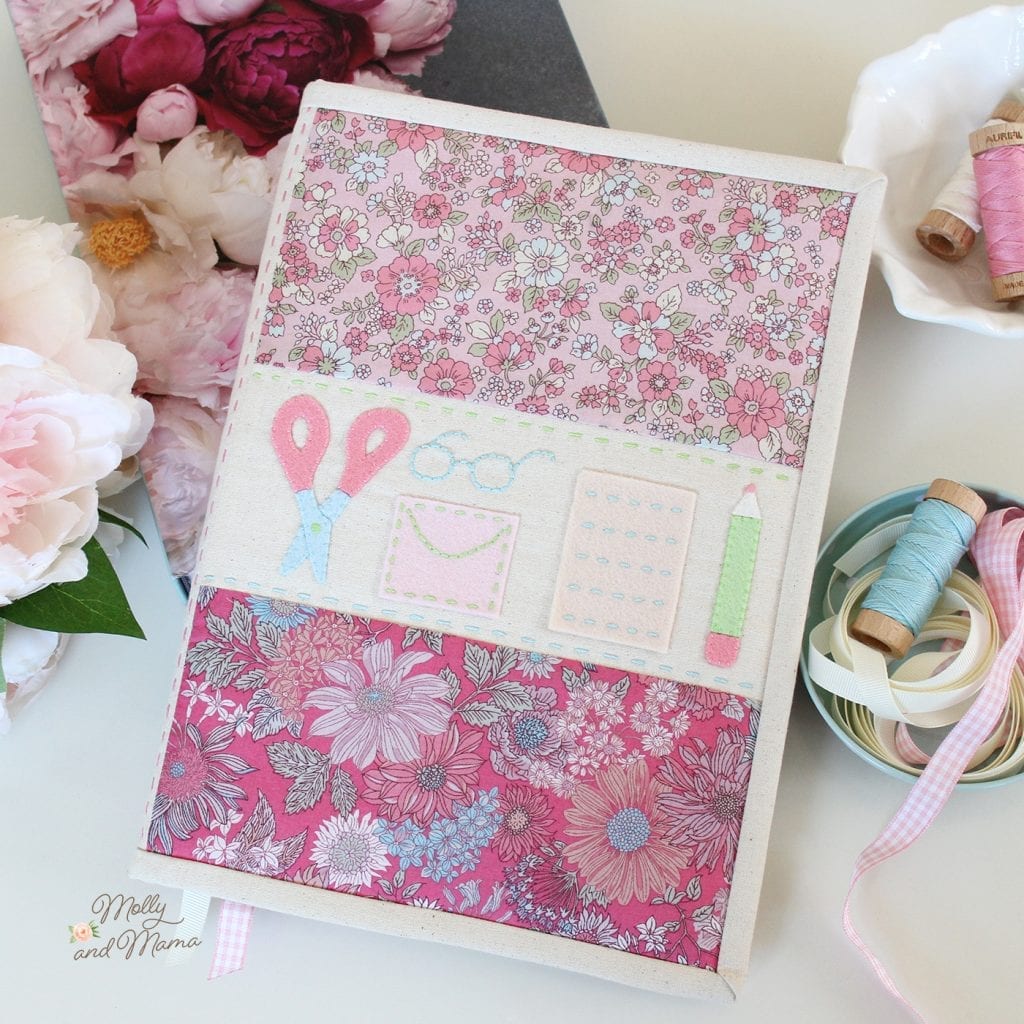 I'm so thrilled to be kicking off the book tour for my sweet friend Minki Kim who just published her fourth book, Zakka Wool Appliqué*. Released with C & T Publishing, it's available in both paperback and digital format and I was very grateful to receive an instant download version so I could get sewing right away!
*If you make a book purchase using this affiliate link, I will earn a small commission that doesn't change your purchase price, but helps me to continue to bring you free content. Thanks for your support!
If you've been around here for a while, you will know I am a huge fan of raw edge appliqué and I absolutely love working with wool felt. So the projects and motifs in Minki's new book were a perfect match for me!
Zakka Wool Appliqué contains 63 different appliqué designs or motifs that you can use to embellish the six different project patterns included in the book. These small but beautiful designs are so varied and show scenes from everyday life, sweet animals, floral emblems and the seasons too. I love that Minki also included a project gallery that gives you lots more ideas for ways to use these designs and bring your pieces to life!
Naturally, after browsing all the projects and patterns, I wanted to make everything! But I settled on the 'On My Desk' motif on page 94.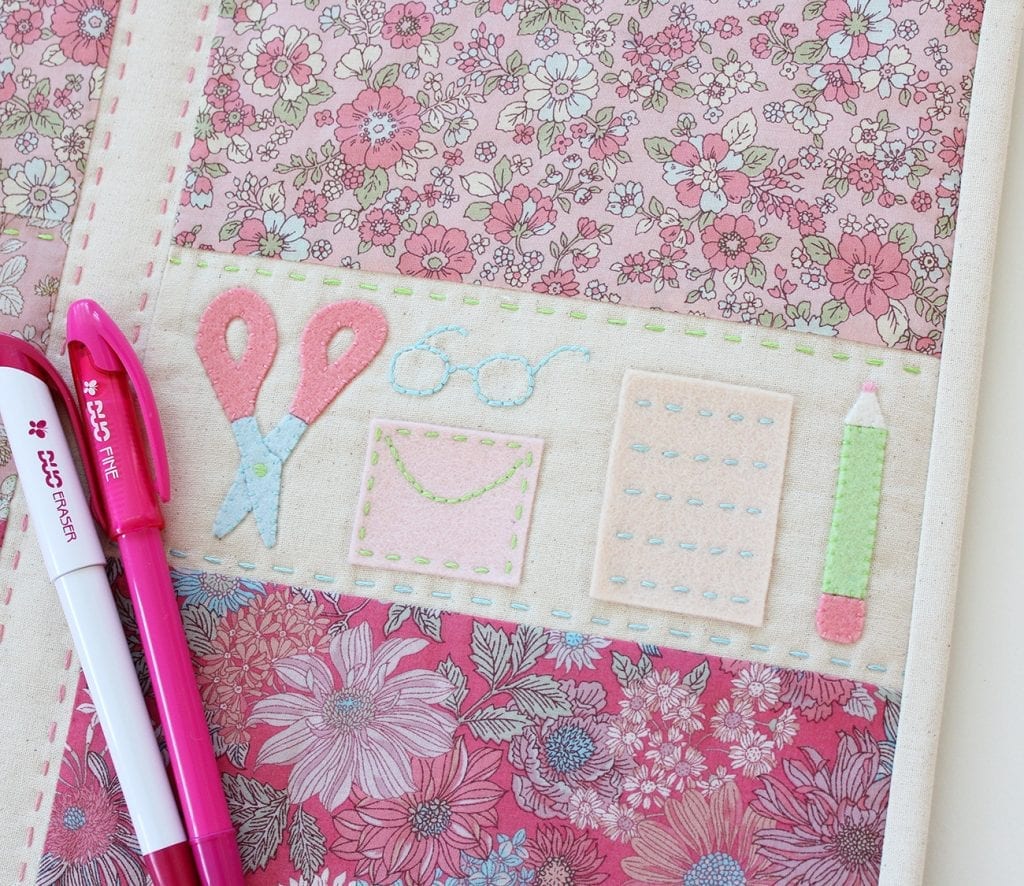 I really loved all the projects but I was especially inspired by the Sewing Time Pocket Folder on page 36. However, just having released my own sewing folder pattern, I decided to modify the idea and create a notebook cover instead.
First I needed to create the wool felt appliqué. I love the method that Minki describes in her 'Basic Techniques' section. The instructions are very clearly laid out and super easy to follow.
I grabbed my bag of wool felt scraps (keep all your scraps, as these motifs are perfect for them) and played with colour combinations first. All of my felt is 100% merino wool and comes from My Felt Lady. Ava & Neve gifted me an Origami Square pack of the 2019 'Memoire a Paris' range by Lecien. So I pulled my favourite florals to play with and matched them to the felt. Then I selected coordinating floss colours. I love using Aurifil's Aurifloss, which is a six stranded embroidery floss on wooden spools instead of the typical skeins (seen below).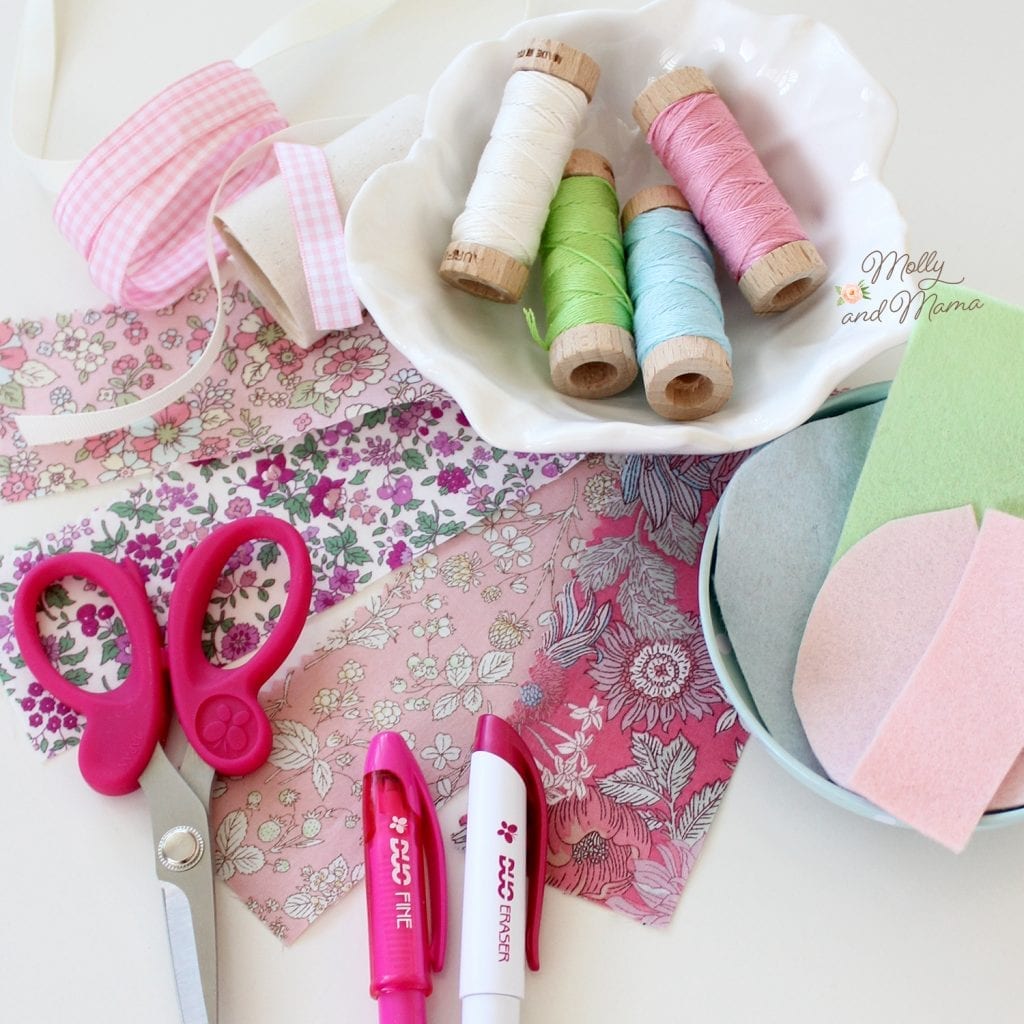 To transfer the design, I used my favourite new Sewline Duo fine fabric marker and eraser (shown above). After using these pens on a few recent projects, I prefer this system to the heat or water erasable pens now. You draw on your design using the fine tipped marker, and then remove the design with the chisel tipped eraser ink pen. It's really easy and effective.
To cut the appliqué shapes, I used my new favourite Sewline Snippet scissors – small and sharp (and also pictured above)! The appliqué was attached using Heat'n'Bond Ultra. I love using it for felt.
In designing the notebook cover, I wanted to feature the pretty florals but also wanted the appliqué to stand out. Linen was the perfect choice for the background and binding. I even added a strip along the spine and I think the hand quilted detail really sets if off.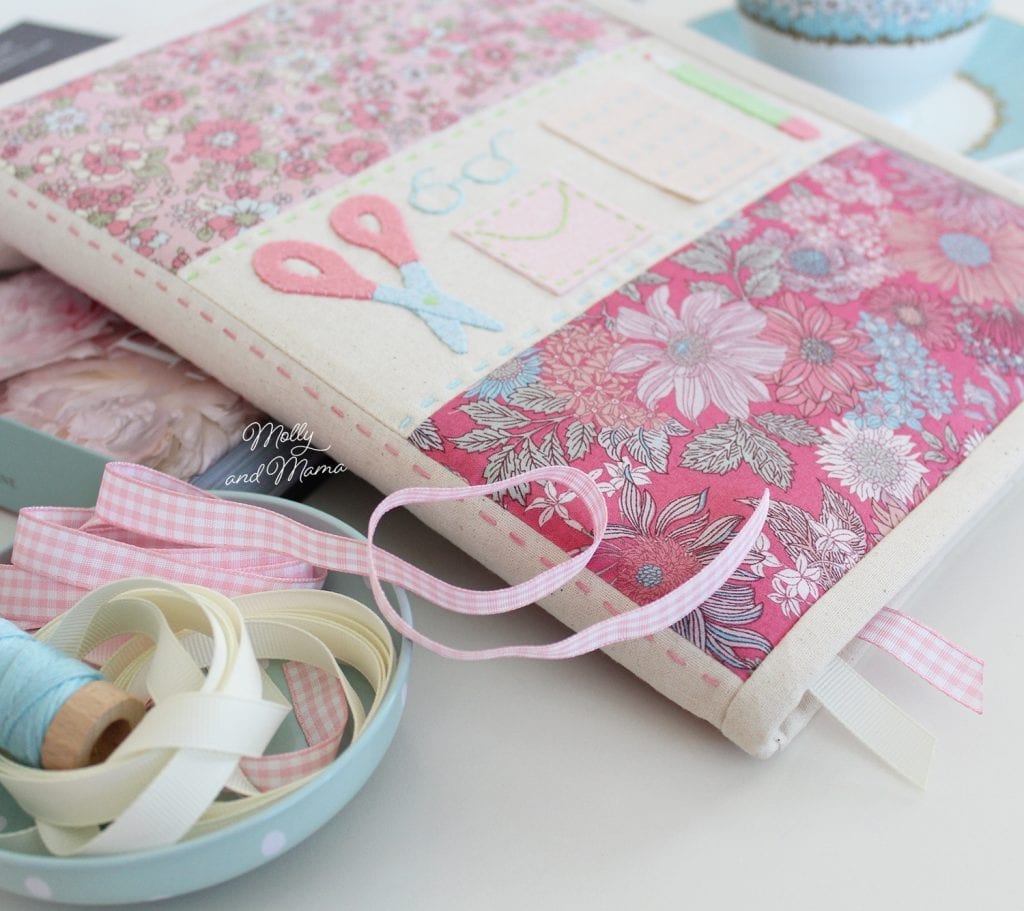 I love the patchwork effect on the interior pockets that help hold my spiral bound notebook cover in place.
I also added a little elastic tab so I can always keep a pen handy too.
I'm so pleased to have a pretty and practical piece that will get plenty of use in my studio. And when my notebook is full I can just slip it out of the cover and pop in a new book. I think I'll try a few more of the motifs too. They'll be great to have in my stash to add to gifts and future small projects too.
If you've thought about trying appliqué and love hand embroidered details, I would highly recommend this book. There's lots of help for beginners and so many ideas to help keep you slow stitching for weeks!
If you'd like your own copy, head to your favourite bookstore or visit HERE*. Or you may like to enter my giveaway which will see one lucky winner receive a digital version of Zakka Wool Appliqué by Minki Kim*. Just pop by instagram for all the details. Good luck!
Happy stitching, Lauren.
This post was written by Lauren Wright and appeared first on Molly and Mama https://www.MollyandMama.com.au