This little project is perfect if you're looking for a little shamrock inspired nod to Saint Patrick's day. You'll have your four leaf clover for luck, without having to go head-to-toe in green! All you need to do is make a felt shamrock, sew a yo yo to sit it on, and add a hair clip to the back. This shamrock clip really is the most simple craft project!
 And if you're after something similar, but a little more adventurous, you can sew the shamrock pin cushion using the tutorial HERE.
GATHER YOUR MATERIALS
48mm double-pronged alligator clip
12cm of 10mm wide grosgrain ribbon (with heat sealed ends)
a hot glue gun
a pressed fabric circle with a 16.5cm (6.5″) diameter
a needle and thread
scissors
green felt scraps (at least 5 inches x 1.25″)
button, bow or other embellishment for the top of your shamrock – I used a button that I covered with the same fabric as my yo yo
MAKE A FOUR LEAF CLOVER OR SHAMROCK
There are three stages to making these gorgeous clips. First you need to create the four leaf clover. Nothing could be simpler! And the image below really makes it clear.
Cut four squares of felt, each about 1.25″ or 3cm.
Fold each square in half and cut a little scallop in the top of each piece using small sharp scissors. You'll end up with two semi-circles at the top of each piece.
Thread a needle with green thread and stitch three small running stitches across the base of each piece of felt. (I used pink thread so that the stitches were easier for you to see).
Gently pull the thread to gather the felt. Secure the felt in place with some extra stitches. I like to stitch through each gathered piece again, just to be sure the gathering doesn't come loose.
STITCH A YO YO
Now let's stitch a pretty yo yo (you may also know it as a suffolk puff). If you haven't made these before, they are super simple. And I have very conveniently included a link HERE to a previous tutorial that explains exactly how to make them.
To make the yo yo used for this project, I used a 16.5cm fabric circle. This made a yo yo with an 8cm diameter. But you can play around and choose a yo yo size that works best for you. You simply stitch a running stitch around the outside edge of the fabric, and then pull the thread to gather the fabric into a puff. Flatten it out and secure the stitches.
LINE AN ALLIGATOR CLIP
You'll need to have a lined alligator clip ready to attach to the back of your yo yo. And guess what? I've got a tutorial for that too! You can head over HERE to find out how to make a simple bow and cover an alligator clip at the same time.
But here's the short version; Take your 12cm length of heat sealed ribbon and attach it to the 48mm double-pronged alligator clip using a hot glue gun. The numbered pictures below really demonstrate how I do this stage. Just remember to work quickly but carefully with hot glue!
PUT IT ALL TOGETHER
First, stitch your shamrock securely onto the centre of the yoyo. Glue the fabric covered button on with a small dab of hot glue. Then attach your clip to the back of the yo yo. Press a line of hot glue onto the top of the clip. Turn it over and gently press it into place on the yo yo back. At this stage it's important to consider which direction you're placing the clip on the back. Does the fabric pattern on your yo yo or button embellishment have to face a certain way?
You're all done! Were you surprised by how simple it was? You could wear this as a hair accessory or add a brooch clasp instead.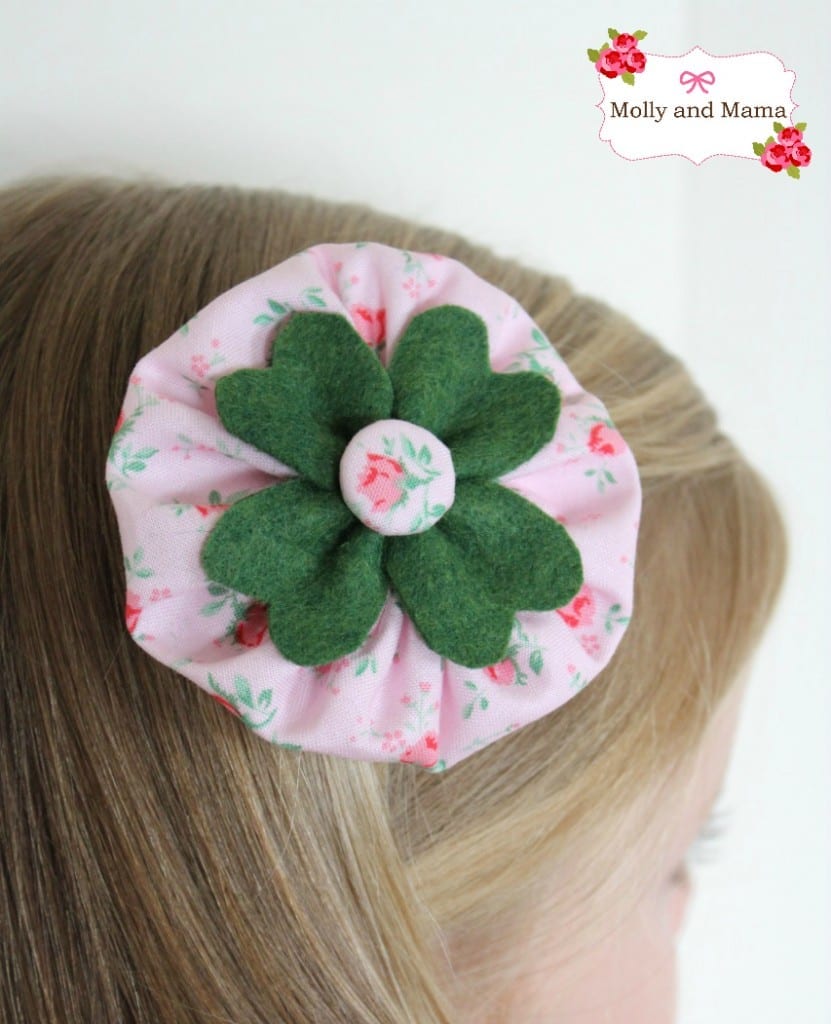 The beauty of this piece is that it can be worn all year round! But it has an added touch of luck for Saint Patty's day!
For more St Patrick's inspired craft you can visit the tutorials for 2 pin cushions HERE and HERE.
Wishing you all the luck in the world on the 17th March!
Enjoy, Lauren x
This post was written by Lauren Wright and appeared first on Molly and Mama http://www.MollyandMama.com.au